The Borneo Post, Kuching, 30 June 2012
Driver, security guard get 17 years, rotan for rape
By Anasathia Jenis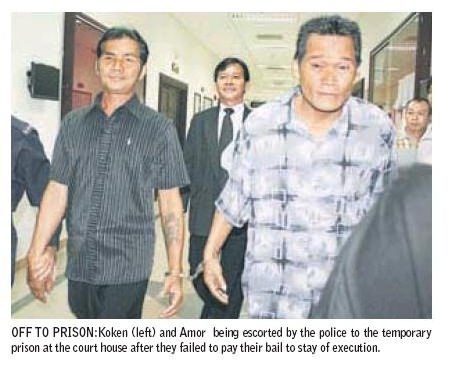 KUCHING: A local council driver and a security guard were sentenced to 17 years imprisonment and ordered to be given six strokes of the rotan each after they were found guilty of gang raping a college student last year.
The security guard will be serving an additional eight years imprisonment and a further five whippings for an attempted rape charge.
Koken Ham, the driver, and Amor Singit, who worked with a local security firm, appeared calm when the decision was handed down by Judge Dayang Ellyn Narisa Abang Ahmad in the Sessions Court.
Koken, 40, and Amor, 45, were found guilty of raping the 17-year-old victim under a tree near the Semariang Cemetery between 2am and 4.45am on Oct 6, 2011.
Amor was also guilty of attempting to rape the same victim at an abandoned house at Bamfylde Road between the same time on the same day.
DPP Steven Beti and ASP Carl Patrick Ramesh prosecuted while both accused were represented by lawyer Anga Joseph Lawrence.
In his submission, Steven urged the court to impose deterrent sentences against both accused.
"Rape cases are very rampant in the society, and I urged the Court to impose a deterrent sentence to deter others from committing such crimes.
"We don't accept rapists in the society. A long imprisonment should be given to them as a lesson for them as well as to potential offenders."
Steven added that the victim was traumatised by the life-threatening experience and after being left in horror and pain while in the hand of the culprits.
Besides, he added, the victim was slapped, beaten and dragged out of the car. She was also threatened that her body would be disposed off in the pond if she didn't cooperate with them.
This had led her to suffer an emotional trauma.
By taking public interest into account, he stressed that rape cases had left the people, especially women, feeling insecure while at recreational and other public places.
In her judgment, Judge Dayang Ellyn said the evidence recorded from Koken and Amor were mere denials.
She said they had failed to rebut and raise reasonable doubts on the prosecution's case.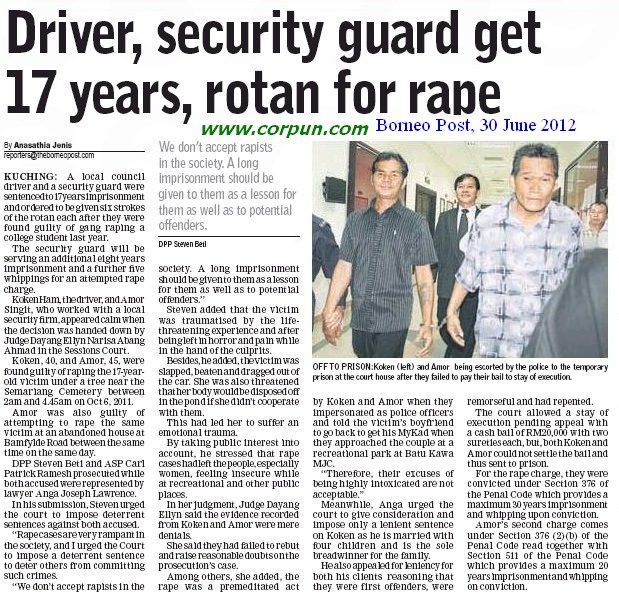 Click to enlarge
Among others, she added, the rape was a premeditated act by Koken and Amor when they impersonated as police officers and told the victim's boyfriend to go back to get his MyKad when they approached the couple at a recreational park at Batu Kawa MJC.
"Therefore, their excuses of being highly intoxicated are not acceptable."
Meanwhile, Anga urged the court to give consideration and impose only a lenient sentence on Koken as he is married with four children and is the sole breadwinner for the family.
He also appealed for leniency for both his clients reasoning that they were first offenders, were remorseful and had repented.
The court allowed a stay of execution pending appeal with a cash bail of RM20,000 with two sureties each, but, both Koken and Amor could not settle the bail and thus sent to prison.
For the rape charge, they were convicted under Section 376 of the Penal Code which provides a maximum 30 years imprisonment and whipping upon conviction.
Amor's second charge comes under Section 376 (2)(b) of the Penal Code read together with Section 511 of the Penal Code which provides a maximum 20 years imprisonment and whipping on conviction.
Copyright 2010-2011 BorneoPost Online. All Rights Reserved.