The Borneo Post, Kuching, 18 May 2012, p.2
Govt mulls abolishing whipping for illegal foreign workers -- Nazri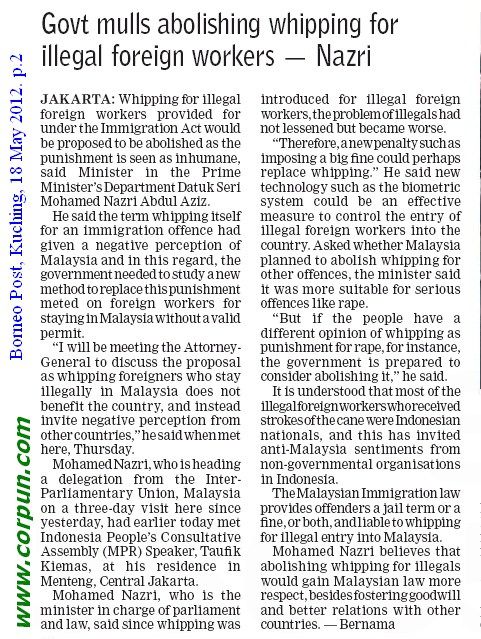 Click to enlarge
JAKARTA: Whipping for illegal foreign workers provided for under the Immigration Act would be proposed to be abolished as the punishment is seen as inhumane, said Minister in the Prime Minister's Department Datuk Seri Mohamed Nazri Abdul Aziz.
He said the term whipping itself for an immigration offence had given a negative perception of Malaysia and in this regard, the government needed to study a new method to replace this punishment meted on foreign workers for staying in Malaysia without a valid permit.
"I will be meeting the Attorney-General to discuss the proposal as whipping foreigners who stay illegally in Malaysia does not benefit the country, and instead invite negative perception from other countries," he said when met here, Thursday.
Mohamed Nazri, who is heading a delegation from the Inter-Parliamentary Union, Malaysia on a three-day visit here since yesterday, had earlier today met Indonesia People's Consultative Assembly (MPR) Speaker, Taufik Kiemas, at his residence in Menteng, Central Jakarta.
Mohamed Nazri, who is the minister in charge of parliament and law, said since whipping was introduced for illegal foreign workers, the problem of illegals had not lessened but became worse.
"Therefore, a new penalty such as imposing a big fine could perhaps replace whipping." He said new technology such as the biometric system could be an effective measure to control the entry of illegal foreign workers into the country. Asked whether Malaysia planned to abolish whipping for other offences, the minister said it was more suitable for serious offences like rape.
"But if the people have a different opinion of whipping as punishment for rape, for instance, the government is prepared to consider abolishing it," he said.
It is understood that most of the illegal foreign workers who received strokes of the cane were Indonesian nationals, and this has invited anti-Malaysia sentiments from non-governmental organisations in Indonesia.
The Malaysian Immigration law provides offenders a jail term or a fine, or both, and liable to whipping for illegal entry into Malaysia.
Mohamed Nazri believes that abolishing whipping for illegals would gain Malaysian law more respect, besides fostering goodwill and better relations with other countries. -- Bernama
Copyright 2010-2011 BorneoPost Online. All Rights Reserved.
---
---
New Straits Times, Kuala Lumpur, 25 May 2012
14 years' jail, rotan for rape and robbery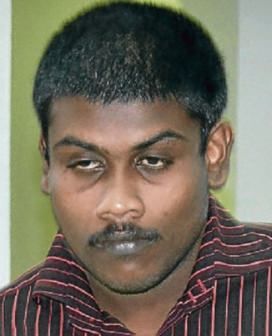 G. Thanaraj pleaded guilty to robbing and raping a Thai woman in Hulu Selangor last November
SHAH ALAM: An unemployed man was sentenced to 14 years' jail and ordered to receive eight strokes of the rotan for robbing and raping a Thai woman.
Sessions Court judge Mohammed Mokhzani Mokhtar sentenced G. Thanaraj, 28, yesterday after he pleaded guilty to the offences.
He admitted raping and robbing the 42-year-old mother of four of her white Perodua Viva, her passport, RM350 cash, jewellery and her mobile phone, all worth RM35,000.
He committed the offences in the victim's car, which was parked at a vacant land behind the Serendah Golf Club in Hulu Selangor, between 6am and 7am on Nov 7 last year.
Thanaraj's friend, Mohd Suhairi Mohd Sani, 29, was jailed 10 years for abetting in the rape.
He admitted abetting Thanaraj by not trying to stop him from sexually assaulting the victim.
(Suhairi is currently serving a nine-year jail term at Kajang Prison for robbing the same victim. He was also ordered to receive five strokes of the rotan after he pleaded guilty to the offence in March).
Click to enlarge
Mokhzani sentenced Thanaraj to nine years' jail and three strokes for the robbery and 14 years' jail and five strokes for the rape, the sentences to run concurrently.
Both accused were also ordered to serve the sentences from the date of their arrest on Nov 12 last year.
According to the facts, the victim was in front of a restaurant in Selayang when both accused approached her and dragged her into her car. They then assaulted her and pushed her down into the back seat so that no one could see her.
Suhairi then drove her car to the vacant land where Thanaraj raped her at the back seat. They left the victim there after the assault. The victim later walked to the main road and sought help.