Corpun file 24108 at www.corpun.com
The Voice, Francistown, 2 September 2012
Cell phone thief busted and lashed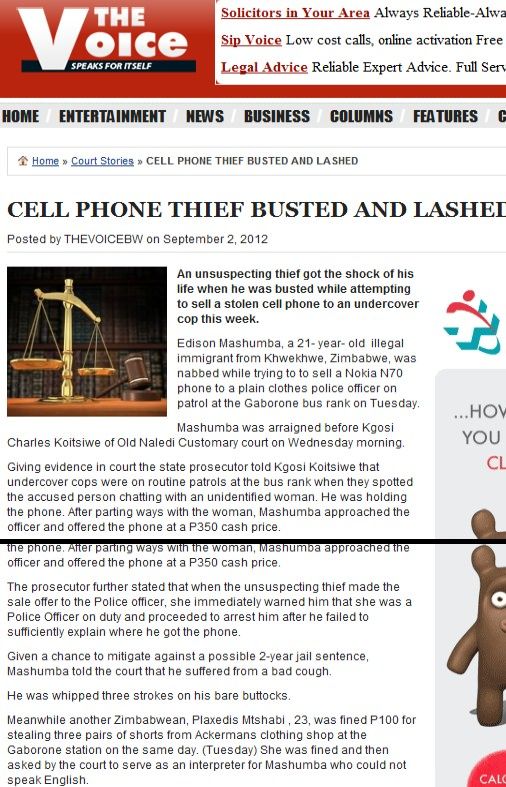 Click to enlarge
An unsuspecting thief got the shock of his life when he was busted while attempting to sell a stolen cell phone to an undercover cop this week.
Edison Mashumba, a 21-year-old  illegal immigrant from Khwekhwe, Zimbabwe, was nabbed while trying to sell a Nokia N70 phone to a plain clothes police officer on patrol at the Gaborone bus rank on Tuesday.
Mashumba was arraigned before Kgosi Charles Koitsiwe of Old Naledi Customary court on Wednesday morning.
Giving evidence in court the state prosecutor told Kgosi Koitsiwe that undercover cops were on routine patrols at the bus rank when they spotted the accused person chatting with an unidentified woman. He was holding the phone. After parting ways with the woman, Mashumba approached the officer and offered the phone at a P350 cash price.
The prosecutor further stated that when the unsuspecting thief made the sale offer to the Police officer, she immediately warned him that she was a Police Officer on duty and proceeded to arrest him after he failed to sufficiently explain where he got the phone.
Given a chance to mitigate against a possible 2-year jail sentence, Mashumba told the court that he suffered from a bad cough.
He was whipped three strokes on his bare buttocks.
[...]
Copyright © 2012 The Voice. All rights reserved.