Corpun file 24113 at www.corpun.com
The Voice, Francistown, 10 August 2012
Orphan spared prison sentence
RELIEVED: Gosaitse Meshack
By Staff Reporter
A first time offender who is also an orphan escaped a 10-year jail term after Francistown Magistrate Sijabuliso Siziba feared that time behind bars would turn the 18-year-old into a hard core criminal.
Siziba also put into consideration Gosaitse Meshack's background, that of being an orphan who lost father and mother in 2002 and 2007 respectively.
Meshack who hails from Tutume was arraigned before courts after him [sic] and another suspect who did not appear before court broke [in] and stole clothes and two cameras from a dwelling house in April this year.
In mitigation the teenager who is a former drought relief worker said: "I committed this crime only because I was hungry and needed something to eat. I am asking the court to forgive me for what I did."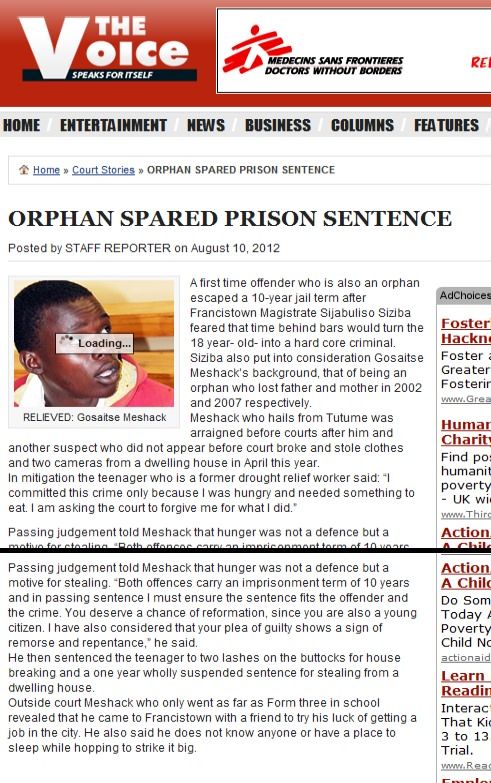 Click to enlarge
Passing judgement Siziba told Meshack that hunger was not a defence but a motive for stealing. "Both offences carry an imprisonment term of 10 years and in passing sentence I must ensure the sentence fits the offender and the crime. You deserve a chance of reformation, since you are also a young citizen. I have also considered that your plea of guilty shows a sign of remorse and repentance," he said.
He then sentenced the teenager to two lashes on the buttocks for house breaking and a one year wholly suspended sentence for stealing from a dwelling house.
Outside court Meshack who only went as far as Form three in school revealed that he came to Francistown with a friend to try his luck of getting a job in the city. He also said he does not know anyone or have a place to sleep while hoping to strike it big.
Copyright © 2012 The Voice. All rights reserved.
---
---
Corpun file 24112 at www.corpun.com
The Voice, Francistown, 17 August 2012
Whipped
Escape from custody earns innocent man six lashes
By Daniel Chida
Click to enlarge
A Zimbabwean youngster learnt the hard way not to escape from custody when he was lashed three times on the buttocks for running away from the police.
Elvis Sibanda, 23 was a suspect in a burglary he did not commit but he went ahead and committed a crime when he escaped from police custody while awaiting trial.
Sibanda was accused together with his friend, Mduduzi Ncube, 28, but was later proven innocent after Ncube pleaded guilty to stealing and absolved Sibanda.
Appearing before Kgosi Oleyo Ledimo of Maun Customary Court, Ncube told the court that his friend was not involved in the said crime.
The court heard that on the 6th of July 2012 Ncube broke into Baruti Molelo's house while he was away and stole a home theatre system worth P1 200 and a DVD player. On the 11th of the same month Ncube went back to Molelo's house with the intention to steal some more but found the house owner at home.
Security Systems guards who came to Molelo's rescue followed the thief's footprints to Ncube's house where they recovered the stolen sound equipment.
In mitigation Ncube asked for a lenient sentence because he was the bread winner in his family. He was lashed six times on the bare buttocks.
Meanwhile Kgosi Ledimo lectured young Sibanda on the dangers of escaping from custody.
"Had you not escaped from custody, you would have walked away freely but now you should know that you are no longer a first offender because of your conviction. I wonder why you escaped when you knew very well that you were not guilty."
Copyright © 2012 The Voice. All rights reserved.