Corpun file 23821 at www.corpun.com
wbtv.com (WBTV3 News), Charlotte, N. Carolina, 7 December 2011
Middle school teacher accused of spanking students released from jail
By Chris Dyches
Web Content Producer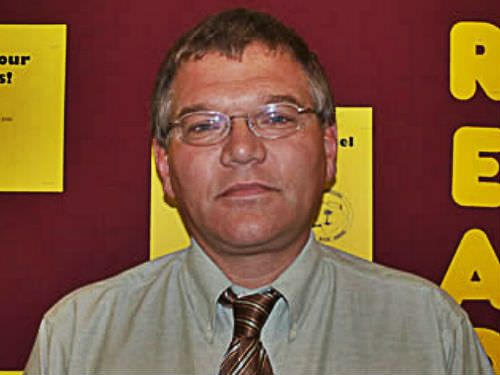 Chris Petrasek (Source: Oakridge Middle School website)
LAKE WYLIE, SC (WBTV) - A York County middle school teacher who is accused of spanking three male students has been released from jail, just six hour after turning himself in to deputies.
Chris John Petrasek, 48, was booked in the York County Detention on Wednesday morning at 11:35 a.m., charged with two counts of Assault and Battery 3rd Degree. Petrasek, with his attorney, came into speak with investigators around 10 a.m. Wednesday morning.
During a bond hearing at 4 p.m. on Wednesday, Petrasek was released on a written promise to appear in court.
Investigators say several 12-year-old students at Oakridge Middle School claim Chris Petrasek bent them over his lap and spanked them with his bare hand. One victim told investigators that he was held by the neck and leaned forward over the desk and struck by Petrasek.
This was allegedly punishment for things like getting a low grade or talking out of turn in class.
Accusers told investigators that blows on the buttocks stung and they were extremely embarrassed by the spankings and intimidated by Petrasek. The alleged incidents occurred between September and November 2011.
School officials say Petrasek has not been at school since Monday, November 21.
The Clover School District policy does not allow the use of corporal punishment, district spokesman Mychal Frost told WBTV.
"Corporal punishment is not acceptable and will not be tolerated in any fashion as a form of punishment," said Frost.
Petrasek, a 7th grade math teacher and wrestling coach at the school, was placed on administrative leave from his teaching job. He has been a teacher in the district since 2007.
As a part of his release, a judge has ordered Petrasek not to have any contact with any of the alleged victims in the case.
He is scheduled to be back in a York County courtroom on January 5th.
Copyright 2011 WBTV. All rights reserved.
---
RELATED VIDEO CLIP

Two-minute report from WBTV, Charlotte, North Carolina (although the story is about South Carolina), 7 Dec 2011. This is the news item of which the above is an abbreviated text version. Scenes from the courtroom, interview with parent.

HERE IS THE CLIP:

IMPORTANT: Copyright in this video material rests with the original copyright holders. This brief excerpt is reproduced under the "fair use" doctrine for private, non-profit, historical research and education purposes only. It must not be redistributed or republished in any commercial context.
---
---
Corpun file 23820 at www.corpun.com
Times Record News, Wichita Falls, Texas, 10 December 2011
WFISD not yanking spanking rule
But school board tweaks the policy
By Ann Work
Click to enlarge
One new stipulation slated for the Wichita Falls Independent School District's spanking policy is difficult to enforce, according to district staff members.
An update to student discipline rules following the 82nd Legislative Session says when corporal punishment is used, it must be administered by a principal or a designee who is the same sex as the disciplined student.
However, many of the district's schools are led by women, making the requirement problematic when boys must be disciplined that way.
Spanking is done sparingly in WFISD schools, according to Superintendent George Kazanas, and then only with written parental approval given during the school year.
In a work session Tuesday, Kazanas recommended to board members that the same-sex requirement recommended by the Texas Association of School Board's Policy Service be stricken in WFISD's updated policy.
However, board members disagreed.
Board member Ken Hines urged caution because spanking by a same-sex staff member had been recommended by the Texas Association of School Boards. "It seems like wise counsel," he said Tuesday.
He suggested that the policy at least say that, whenever possible, it be done that way.
He said he was mostly concerned about a situation where a man would spank a female student.
The policy update also requires a spanking be given in the presence of one other district professional employee and in a place that is out of the view of other students.
Board member Kevin Goldstein suggested the policy require that the second district employee who must be present be of the same sex as the disciplined student.
Kazanas recommended that both suggestions by board members Hines and Goldstein be added to the update.
WFISD's spanking policy requires that parents submit a signed statement for the current school year to allow or disallow spanking.
The student must first be told the reason for the spanking.
The instrument used for the spanking must be principal-approved.
The student's disciplinary record should include details about the use of corporal punishment and any related disciplinary actions, the name of the person who administered the spanking, the name of the witness present and the date and time of punishment.
© 2011 Scripps Newspaper Group
---
---
Corpun file 23808 at www.corpun.com
The Clarion-Ledger, Jackson, Mississippi, 10 December 2011
Use of corporal punishment in Miss. schools declines
By Marquita Brown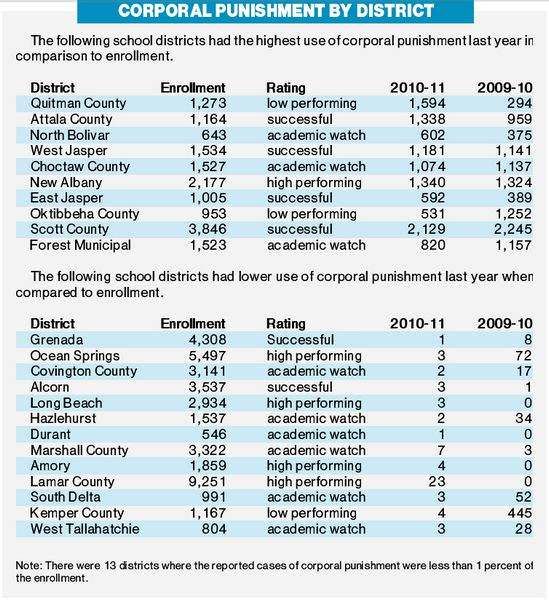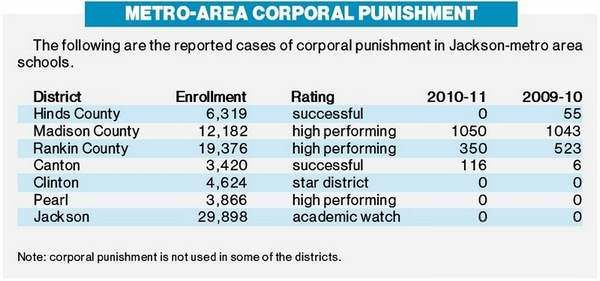 The day her son came home with a five-inch bruise on his rear, Barbara Touchton's views of corporal punishment changed.
Touchton said her son was 14 and a freshman at West Lauderdale County High School when he was paddled by his teacher. In the related disciplinary report, it was explained the boy was "rude, discourteous."
Four days later, the bruises were still there.
Her son had been paddled before in middle school, choosing that over detention, she said.
"No marks were left on him," Touchton said. "It was according to procedure. That was fine."
But with the last incident, she said, her son was unable to comfortably sit on one side. His doctor agreed excessive force had been used, she said.
"If I had done that, if I had left a mark like that on my child, I would have been reported to (Child Protective Services)," Touchton said.
The teacher "can do that to my child and I can't," she said.
Experiences like Touchton's have helped fuel debate over use of corporal punishment in schools. And Mississippi has long had one of the nation's highest number of corporal punishment cases.
Of Mississippi's 152 school districts, 100 reported use of corporal punishment to the state Department of Education, according to figures obtained by The Clarion-Ledger through an open records request.
More than half of those districts reported significant decreases in the incidences of corporal punishment. For example, in the Oktibbeha County School District, there were 1,252 incidences of corporal punishment in school year 2009-10. Last year, that number fell to 531.

Click to enlarge
But there were some districts that saw sharp increases in their reported use of corporal punishment. In Quitman County, a district of 1,273 students, there were 1,594 reported cases of corporal punishment last year -an increase of about 1,300 cases from the previous year.
The overall reported cases for the state has [sic] dropped over the years. Last year, the number of reported incidences in 110 districts fell to 41,228 from 46,968 in 2009-10 and 57,953 the year before.
Some school district officials have said they are trying to rely more on other forms of discipline.
Oktibbeha County schools Superintendent James Covington said the discipline focus in his district is shifting to rewarding good behavior. Corporal punishment is used as a last resort, he said.
Students' good behavior is rewarded with parties and other recognition. When other students see their peers being rewarded, they want good recognition, too, Covington said.
Parents still have to consent to corporal punishment, and the overwhelming majority in Oktibbeha County schools do, he said.
"And even with that, it (corporal punishment) can only be done by a certified person with a witness," Covington said. He said that's usually offered as an alternative to a suspension, which would help the district keep up its average daily attendance and its graduation rate.
Corporal punishment is still allowed in Hinds County schools, but the district is one of several that reported some use of corporal punishment in 2009-10 but none last year. The district has been focusing more on counseling and preventative measures, spokesman John Neal said. There is a psychologist on staff in the district.
"We've probably got more counseling going on now than we ever did before," Neal said.
A federal lawsuit was filed last year to seek a ban on paddling in Mississippi because of alleged gender and racial bias in its use.
The use of corporal punishment in Mississippi spurred a march and protest rally at the state Capitol in the spring.
Jackson Public Schools is being sued in federal court by a group of Murrah High School parents whose sons were whipped with a weight belt in basketball practice by their coach, Marlon Dorsey, despite a ban on corporal punishment in the district since 1991. The parents had filed simple assault charges against Dorsey, but those charges were dismissed.
Two years after her son was bruised from a paddling at school, Touchton has documented everything he said happened and all of the responses in her mission to have the matter resolved. Still, she said she has gotten virtually no response to her complaints.
When she tried to pursue criminal simple assault charges against the teacher, they were dismissed. She said she was never granted a parent-teacher conference about the incident.
She can't afford to send her son to private school. She works during the day, so she can't home school him.
"There's really nothing else I can do," Touchton said. "West Lauderdale is a good school, but I don't know who to trust."
Assistant Superintendent Ed Mosely said students aren't paddled without parents' consent. He said the incident involving Touchton's son was not ignored.
"When we reprimand people, we can't tell people what we do because that's a personnel issue," Mosely said.
In Lauderdale County, there were 201 fewer reported incidences of corporal punishment over the past two years.
The intention behind using corporal punishment is to reduce discipline problems in school, he said.
"We have to have order. Our first priority is to have safe and orderly schools."
"We expect and require our staff ... to follow our policy that governs the school district," Mosely said. "So if they break the policy, they will be dealt with accordingly."
Touchton said she no longer trusts corporal punishment will be administered in the correct way, following policy and not leaving marks.
She said she still has trouble sleeping at night knowing she couldn't protect her son and worrying she can't protect her children when she sends them to school each day.
"I don't feel like justice was done here," she said.
Copyright © 2011 www.clarionledger.com. All rights reserved.
---
---
Corpun file 25835 at www.corpun.com
DailyTrib.com, Marble Falls, Texas, 12 December 2011
Does spanking belong in MFISD schools?
MARBLE FALLS -- When it comes to pairing modern education with old-time discipline, the Marble Falls Independent School District -- like most in Texas -- still allows students to be spanked for misbehavior.

And though there's a growing body of psychological thought that says spanking -- or corporal punishment -- might not be the best way to correct a child, the school district doesn't plan on changing the policy anytime soon.

But that doesn't mean teachers are whipping out paddles -- once known to generations of schoolboys everywhere as "the board of education" -- every time a student talks back or passes a note.

"Let's first use some forms of discipline that enhances our educational process," said School Board President Rick Edwards, who supports the paddling rule. "But there may be times or circumstances where the principal may feel that paddling, or spanking, is appropriate."

As a father of two MFISD students, he also signed a release giving campus principals the authority to paddle or spank his children as a disciplinary method.
---
---
Corpun file 26116 at www.corpun.com
Waxahachie Daily Light, Texas, 14 December 2011
Ennis ISD eyes policy changes
By Mike Sackett
Daily Light correspondent
(extract)
Click to enlarge
ENNIS -- Several changes to district policies were considered by the Ennis Board of Trustees during its December meeting Tuesday.
Polices including changes in election schedules, high school honor graduate status and discipline procedures were discussed by the trustees.
A revision to local board policy clarified the administration of corporal punishment.
District Superintendent Dr. Barbara Qualls began the discussion with describing the recommended policy change.
The initial recommendation was for students where receiving corporal punishment was the choice, the punishment must be by a person of the same sex, Qualls said. The recommendation was for all the grades in the entire district.
The problem, according to Quallls, was in the lower grades where there are very few men teachers or administrators on the campus.
"In the upper grades, this is not an issue," Qualls said.
Continuing her discussion, she said the results of a meeting of the district principals came to unanimous decision on the policy.
The agreed policy unanimously approved by the board was students in grades pre-k through sixth could receive corporal punishment by a male or female teacher or administrator. Students in grades seven through 12 would require to receive punishment by a teacher or administrator of the same sex.
[...]
---
---
Corpun file 24287 at www.corpun.com
The Gazette, Cedar Rapids, Iowa, 16 December 2011
Former Mount Vernon principal faces disciplinary charges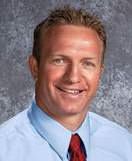 Terry Eisenbarth
Could lose Iowa teaching license if found guilty in 'birthday spankings' incidents
By Meredith Hines-Dochterman
Former Mount Vernon Washington Elementary School Principal Terry Eisenbarth is facing disciplinary charges of unethical practice and physical abuse of a student for his controversial birthday celebrations.
An Iowa Board of Educational Examiners investigation has found probable cause to hold a hearing on the matter, scheduled for Jan. 23.
If found guilty, Eisenbarth would face disciplinary action, up to and including the loss of his Iowa teaching license.
Eisenbarth resigned from the Mount Vernon school district soon after word of his birthday celebrations was made public.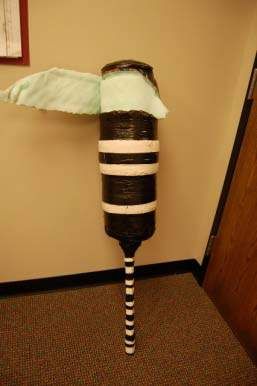 Photo of the birthday paddle Mount Vernon Principal Terry Eisenbarth used for his birthday taps. The photo was given to parents last month with a letter about the birthday spankings from Eisenbarth.
Eisenbarth had routinely called Washington students into his office on their birthday for a celebratory spanking. He used a padded hockey stick to deliver his birthday "taps" or "pats." The stick was wrapped in plastic foam, according to Mount Vernon police.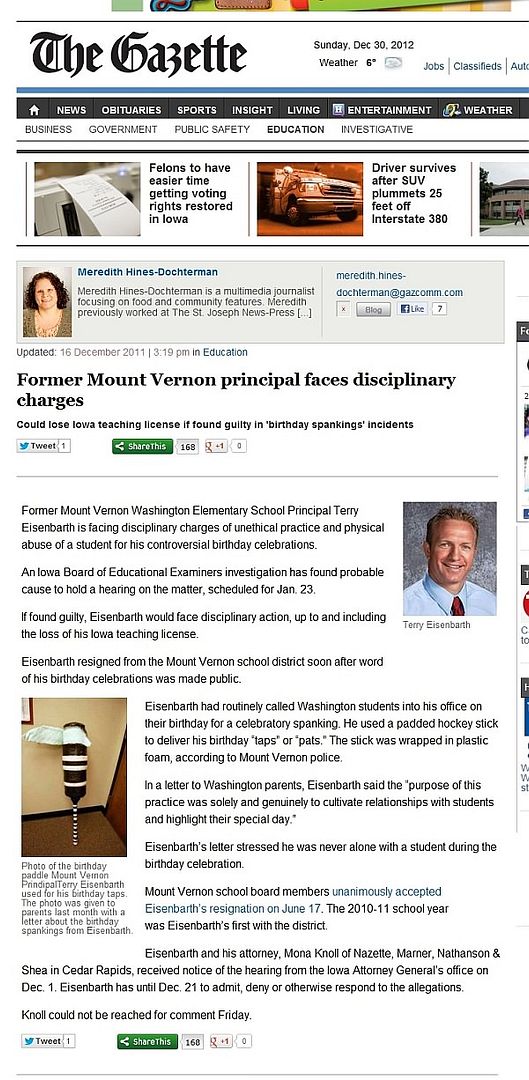 Click to enlarge
In a letter to Washington parents, Eisenbarth said the "purpose of this practice was solely and genuinely to cultivate relationships with students and highlight their special day."
Eisenbarth's letter stressed he was never alone with a student during the birthday celebration.
Mount Vernon school board members unanimously accepted Eisenbarth's resignation on June 17. The 2010-11 school year was Eisenbarth's first with the district.
Eisenbarth and his attorney, Mona Knoll of Nazette, Marner, Nathanson & Shea in Cedar Rapids, received notice of the hearing from the Iowa Attorney General's office on Dec. 1. Eisenbarth has until Dec. 21 to admit, deny or otherwise respond to the allegations.
Knoll could not be reached for comment Friday.
Copyright 2011 SourceMedia Group. All rights reserved.
---
---
Corpun file 23835 at www.corpun.com
The Times-Picayune, New Orleans, 23 December 2011
St. Aug board struggle is settled; paddling is banned
By Bruce Nolan
The Times-Picayune
Local directors of St. Augustine High School and its Josephite founders said Friday they have settled their legal struggle over control of the school with a new leadership structure -- and agreement that the days of corporal punishment are over. "There will be no attempt to reinstate corporal punishment," said Dan Davillier, a board member who helped fashion the out-of-court settlement with the Josephites, who founded the school 60 years ago.

Ted Jackson, Times-Picayune archive
A suit of armor stands guard in the entrance of St. Augustine High School next to a flag emblazoned with the Josephites seal.
"It hasn't been at the school for the last year and a half. We want St. Aug to maintain its track record for strict discipline. I'm confident that we can maintain that high level without paddling,"  Davillier said.
In addition, the board of directors next month will begin a search for a new school president to replace the Rev. John Raphael, a casualty of the paddling dispute.
Whether to paddle or not -- and who would decide the question -- became the issue that roiled the school for most of 2011.
The Josephites, with the emphatic support of Archbishop Gregory Aymond, wanted it stopped.
The Josephites ordered an end to it in the fall of 2010.
A broad coalition of parents, alumni and local board members, led by Raphael, wanted it continued, with new controls.
They asserted that the paddling was a key ingredient in St. Aug's character-building tool kit, one that sent black men from modest backgrounds on to top-flight universities and positions in business and the professions.
The issue quickly morphed well beyond paddling.

Click to enlarge
For Aymond and the Josephites, the issue touched on St. Aug's identity as a place of Catholic values.
For the supporters of paddling, at stake was St. Aug's degree of respect and self-governance, and whether the Josephites sufficiently honored the child-rearing rights of African-American families.
Weeks of public rallies and petitions culminated in late June when the local directors unilaterally attempted a legal takeover of the board of trustees, the school's ownership entity.
The Josephites responded with the blocking lawsuit that ended with Friday's new leadership structure.
The essentials remain in place: St. Augustine remains a Catholic high school owned by the Josephites.
But now, neither the board of directors nor the trustees can amend the school's bylaws or articles of incorporation without the assent of two-thirds of both bodies, said Davillier and the Rev. Tom Frank, the Josephites' consultor general, or No. 3 man in the order.
In the struggle over corporal punishment, the Josephite trustees unilaterally banned it; and the board of directors retaliated by unilaterally attempting to expand the trustees.
Now they are more tightly wed.
"This insures much better communication and spirit of cooperation" between the two bodies, Davillier said.
The settlement also calls for the 12-person board of directors, which includes three Josephites, to be enlarged with parents, alumni or friends of St. Aug to head new committees on academics, fundraising or other topics.
Frank said the Josephites will also appoint a chief religious officer to oversee religious instruction and the spiritual life of the school.
St. Augustine is currently running without a president, Raphael having been called back to Josephite headquarters in Baltimore during the dispute.
Finding a replacement will be a top priority when the board meets in January, Davillier said.
He said the board of directors will conduct a search and recommend a replacement and present him or her to the trustees for approval.
© 2010 New Orleans Net LLC. All Rights Reserved.