Corpun file 23717 at www.corpun.com
Pensacola News Journal, Florida, 4 November 2011
School Notes: Spanking in schools, supply grants, All-Stars
By Erin Kourkounis
(extract)
Do local schools use corporal punishment to discipline students? Teachers receive grants for classroom projects. And the Escambia County All-Star Academic Team is announced.
Corporal punishment
A recently released video shows a Texas judge disciplining his then-16-year-old daughter by hitting her with a belt for seven minutes.
The video, taken in 2004 and released by the judge's now-23-year-old daughter, has generated conversation about how much is too much when it comes to disciplining children.
Here's the corporal punishment situation in local schools: Escambia County schools do not use it. But Santa Rosa County schools do, although increasingly less and less.
"We got out of it several years back," Escambia Superintendent Malcolm Thomas said. "There were too many cases where it put the staff in jeopardy."
Students in Escambia are disciplined in other ways, such as suspension.
Santa Rosa Superintendent Tim Wyrosdick said three licks with a paddle can be administered, but usually only if parents request it.
"We don't outlaw it, but it's something that's slowly removing itself," Wyrosdick said. "Ten years ago, it was the norm. We're moving away from it as a disciplinary tool simply because of the difficulty it places our employees in."
[...]
---
---
Corpun file 23719 at www.corpun.com

The New York Times (New York edition), 5 November 2011, p.D1
L.S.U. Star Toughened at New Orleans School
By Pete Thamel
(extract)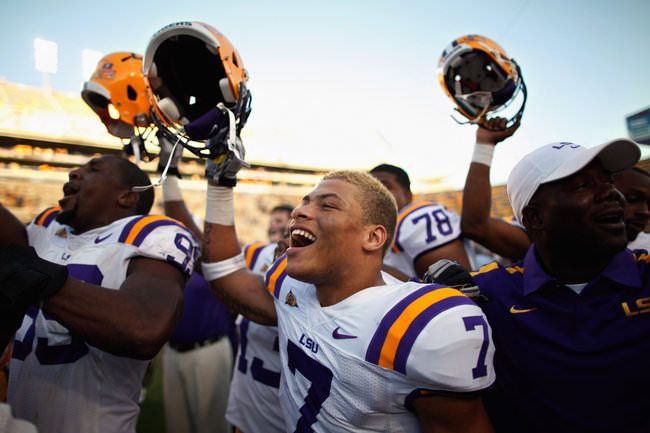 Chris Graythen/Getty Images. Tyrann Mathieu's path was forged by the strict inner-city Catholic school that just two years ago banned corporal punishment with wooden paddles.
NEW ORLEANS -- The practice field used by the St. Augustine High School football team is not a practice field at all. It is a park in this city's Seventh Ward, complete with a slide, a jungle gym and the smell of marijuana wafting through the air courtesy of loitering locals.
There are no lines, yard numbers or goal posts on the yellowed field. A chain-link fence, with a pit bull tied to it, gives the St. Augustine kicker a target to clear. The neighborhood backdrop is filled with boarded-up houses, many of them marked by a black X, an artifact from the search-and-rescue effort after Hurricane Katrina.
Click to enlarge
Improbably, this moribund piece of earth also doubles as one of the country's most fertile football recruiting grounds. A field with no boundaries has become a parade route for recruiters from elite college football programs.
The Louisiana State star Tyrann Mathieu honed his trade here before graduating in 2010, his path forged by St. Augustine, a strict Catholic school that only two years ago banned corporal punishment with wooden paddles.
St. Augustine Coach David Johnson, who saw 14 of his players receive college football scholarships last season, smiles when recalling coaches from universities like Nebraska and Oklahoma pulling up in rental cars next to police cruisers and saying, "This is where you practice?"
Johnson laughed as his players ran drills in mismatched uniforms and errant field-goal attempts clanged into the chain-link fence: "They don't even realize it. This is all they've known."
When No. 1 L.S.U. plays No. 2 Alabama on Saturday night, Mathieu, a sophomore cornerback, will return from a one-game suspension, reportedly for failing a drug test. He has emerged this season as college football's consummate pest and one of its most intriguing characters -- a 5-foot-8, 175-pound dynamo with a blond dye job, a Twitter obsession and an uncanny knack for on-field thievery.
His Honey Badger nickname, stemming from a popular YouTube video about that ferocious animal, has become so widely known that Senator David Vitter of Louisiana referred to it on the floor of the United States Senate this week.
"He definitely has the attitude of a superstar," L.S.U. safety Eric Reid said of Mathieu. "If there's a ball to be got, he wants to get it. If there's a receiver on the field, he wants to cover them."
Mathieu, who was not made available for interviews this week, has forced four fumbles, scored two touchdowns and snared two interceptions, ball-hawking his way to the fringes of the Heisman Trophy conversation. Mississippi State Coach Dan Mullen said he was most impressed that L.S.U. would line up Mathieu as a slot corner or even an outside linebacker, positions typically reserved for much bigger players.
There will be no way for the inexperienced Alabama quarterback A J McCarron to avoid Mathieu, either, because L.S.U.'s front seven is suffocating and the opposite corner position is manned by Mo Claiborne, considered a possible top-10 N.F.L. draft pick.
"You can't really game-plan against any individual on that team," Mullen said.
Mathieu has not forgotten his roots on his way to stardom. Reid said that Mathieu often wore a safari-style St. Augustine hat. "He's proud of where he's from," Reid said.
Raised in East New Orleans by his aunt and uncle in a working-class home, Mathieu was molded at St. Augustine, an all-boys school where the graduates take just as much pride in the wooden paddles once used for discipline as they do in the successful sports teams. Students abide by a strict uniform code, wear military-style shoes and must keep their hair cropped short.
Late for class? Uniform shirt untucked? Forgot your textbook? During Mathieu's time, those offenses resulted in a paddle to the posterior, with the whacks aggressive enough to discourage repeat violators.
The paddling became such a part of the St. Augustine culture that the students held a rally to keep it. The New Orleans archbishop, Gregory M. Aymond, banned the paddling two years ago, but generations of graduates like Mathieu remain bonded by blistered bottoms.
"It offers a foundation, structure and discipline," New England Patriots running back BenJarvus Green-Ellis, a 2003 St. Augustine graduate, said of the school. "We're not treated lightly; it's kind of like around here," he said, referring to playing for Bill Belichick.
St. Augustine, which celebrates its 60th anniversary this year, has long been a vital part of New Orleans. There are 15 sitting judges who graduated from the school, which counts among its alumni figures as diverse as mayors, ambassadors and the N.B.A. coach Avery Johnson. Eddie Compass, the police superintendent in New Orleans during Katrina, is a graduate and works daily with the team as its strength coach.
"They have a disciplined style of athlete," said L.S.U. Coach Les Miles, who has coached at least five St. Augustine players. "They have guys who were brought up to do great things."
St. Augustine's band has played for presidents and popes. Academics are stressed so much that the principal, Don Boucree, said that the school required a minimum 2.5 grade point average for athletes to remain eligible to play, well above the city minimum of 1.5. He proudly shows off a cover of the school's football game program that includes the G.P.A., not the height and weight, of the team's star players. (About half the team's players have a G.P.A. above 3.0.)
"It was a great steppingstone to what I've become," said Hollis Price, who led Oklahoma to the 2002 Final Four. "It taught me discipline." 
[...]
---
---
Corpun file 23725 at www.corpun.com
The Dothan Eagle, Alabama, 9 November 2011
Ozark school board approves corporal punishment
By Ebony Horton
Click to enlarge
After more than a month of review, the Ozark City School Board approved re-establishing a corporal punishment policy for at least a year.
The board voted on Tuesday, with Chris Eckert as the dissenting vote, to try the policy for one year before approving a permanent policy. Parents are expected to receive letters soon notifying them of the policy. They will have the option of writing a letter to opt out their child.
According to the policy, principals or their designees at all of the district's schools will be able to paddle students with up to three "licks" if they "commit a rules infraction that does not warrant suspension or expulsion." The paddle will be approved by the superintendent before it is used and at least one school official will witness the discipline, according to the policy.
If parents opt out of the policy, then a student will be suspended for one day instead, unless the parent wishes to personally administer corporal punishment on the school grounds.
Ozark City Schools Superintendent Mike Lenhart said the policy was active Tuesday but it would likely not begin until January, when school administrators have received training concerning corporal punishment.
City School Board Attorney Henry Steagall said corporal punishment has caused multiple lawsuits and legislation, and asked the board to consider the policy carefully.
Corporal punishment is legal in 19 states and is incorporated in all other Wiregrass school districts. Ozark had done away with its policy after a parent complained about large bruises being left on her daughter by a wooden paddle.
Dothan Eagle © Copyright 2011 Media General Communications Holdings, LLC. A Media General company.
---
---
Corpun file 23727 at www.corpun.com
klfy.com (KLFY-TV), Lafayette, Louisiana, 10 November 2011
School Paddling Update
By Caroline Balchunas
Corporal punishment has been a hot topic of discussion lately as some parents have been vocal about the way their children have been disciplined in schools. According to Louisiana law each parish in the state is allowed to practice corporal punishment; however some parishes do opt out. We combed through a few parish policies to discover what the law allows.
Paddling public school students is allowed under Louisiana law. It's a tool used in some parishes, and some parents do give permission for their child to be paddled. But what some parents may not know is by default under law administrators have the right to paddle students. It's up to the parents to retract permission if that's their wish.
TV10 looked at the policies of five parishes around the Acadiana area. Evangeline, Iberia, St. Landry, and Vermillion Parish allow corporal punishment. However Lafayette Parish does not. A recent incident out of St. Landry begs the question: what happens if a parent says no, and a school still says yes.
"Louisiana courts have held that even when parents request their kids not be corporally punished, sometimes the need of the district in protecting the general student population requires that discipline be given to students" says UL Professor Dr. Rick Swanson.
So, how many times can a child be paddled? How hard, and to what degree is up to administrators who are protected under policies that have vague terminology.
"Every case is different. Every defendant is different. Every time you paddle a student the situation is going to be different. Different offenses, different students...so there's got to be a lot of discretion and leeway given to administrators" says Dr. Swanson.
So, after looking through the different policies it seems any issues regarding how a child is disciplined by school administrators has [sic] to be looked at in [sic] a case-by-case basis.
All content © Copyright 2000 - 2011 WorldNow and KLFY. All Rights Reserved.