The Borneo Post, Kuching, 2 April 2011, p.19
Pirate taxi driver gets 15 years for another rape offence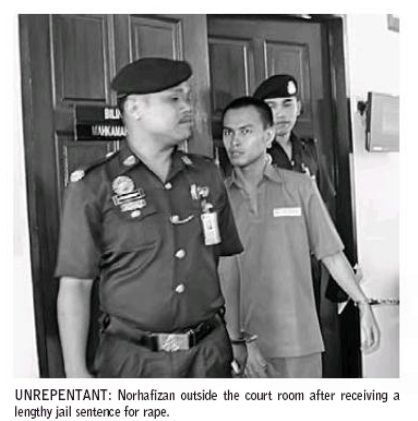 KOTA KINABALU: A local pirate taxi driver, now serving sentence for a rape conviction, received another 15 years' jail and four strokes of the cane for committing a similar offence five years ago.
Sessions Court judge Caroline Bee Majanil meted out the sentence after finding Norhafizan Mohd Fairuz guilty of raping a 19-year-old girl inside a car at the roadside near a school in Kota Marudu on March 13, 2007.
In her reserved judgment yesterday, Caroline ruled that the prosecution had proved its case beyond reasonable doubt.
The 27-year-old was convicted under Section 375(b) punishable under Section 376 of the same Code which carries a maximum 20 years' jail and shall also be liable to whipping upon conviction.
The court also ordered the accused who was defended by counsel Rahimah Malik, to serve his jail term consecutively with his previous sentence.
In mitigation, the accused pleaded for a lighter sentence as he regretted what he had done and requested his jail sentences to run concurrently.
The counsel told the court that no violence was used in this case, adding that the accused truly believed it was consented sex.
In replying to the counsel, deputy public prosecutor Afzan Abd Kahar said the utmost consideration to be given by court in assessing the appropriate sentence was public interest.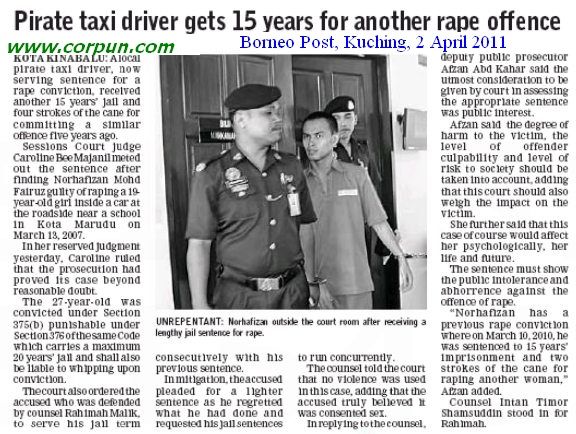 Click to enlarge
Afzan said the degree of harm to the victim, the level of offender culpability and level of risk to society should be taken into account, adding that this court should also weigh the impact on the victim.
She further said that this case of course would affect her psychologically, her life and future.
The sentence must show the public intolerance and abhorrence against the offence of rape.
"Norhafizan has a previous rape conviction where on March 10, 2010, he was sentenced to 15 years' imprisonment and two strokes of the cane for raping another woman," Afzan added.
Counsel Intan Timor Shamsuddin stood in for Rahimah.
---
---
The Star, Kuala Lumpur, 13 April 2011, p.N1
Rocker jailed for drugs
Ameng also ordered to be given 10 strokes of the rotan
By R.S.N. Murali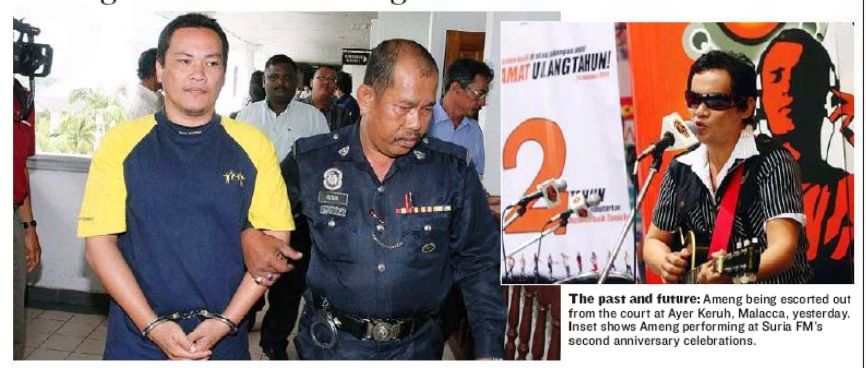 MALACCA: Ameng Spring, lead vocalist of rock group Spring, was sentenced to 13 years in jail and ordered to be given 10 strokes of the rotan by the Sessions Court here on three counts of drug possession and abuse.
Ameng, whose real name is Wan Aminuddin Wan Ismail, 42, was almost in tears when Judge Abu Bakar Katar meted out the sentence yesterday.
The court also ordered the sentence to run concurrently from the date the accused was arrested on Feb 1.
On Feb 14, Ameng was jointly charged with his wife Sabariah Zakaria, 41, at the same court here under Section 39a (2) and Section 15 (1) (a) of the Dangerous Drugs Act 1952.
Yesterday, however, Sabariah was freed on the recommendation of the prosecution.
Ameng was sentenced to 10 years in jail and 10 strokes of the rotan for possessing 105.90gm of cannabis-type drug substance during a police operation at a hotel here on Feb 1.
He was also jailed for two years for the second offence for possessing 0.22gm of methamphetamine-type drug at the same place and time.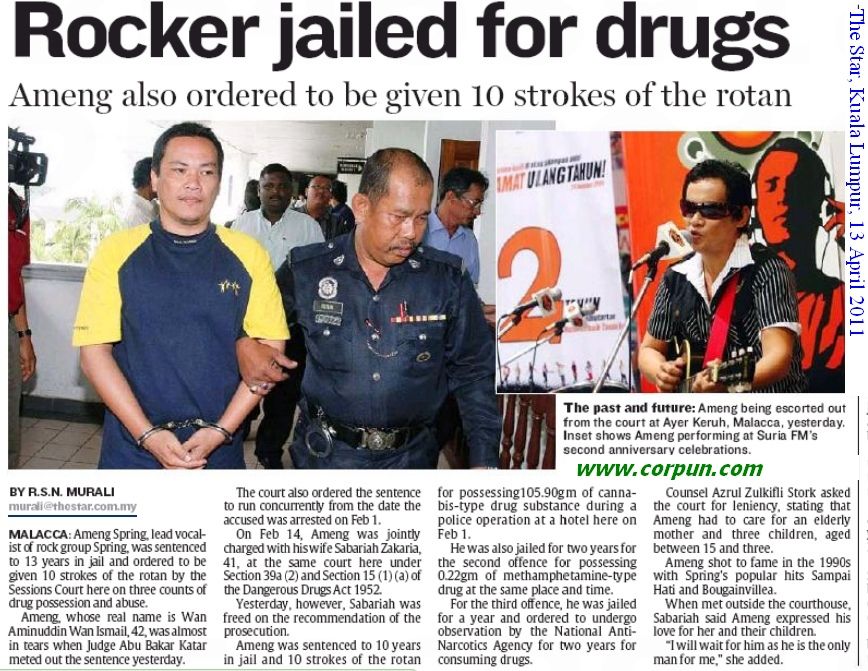 Click to enlarge
For the third offence, he was jailed for a year and ordered to undergo observation by the National AntiNarcotics Agency for two years for consuming drugs.
Counsel Azrul Zulkifli Stork asked the court for leniency, stating that Ameng had to care for an elderly mother and three children, aged between 15 and three.
Ameng shot to fame in the 1990s with Spring's popular hits Sampai Hati and Bougainvillea.
When met outside the courthouse, Sabariah said Ameng expressed his love for her and their children.
"I will wait for him as he is the only man for me," she added.
---
---

New Straits Times, Kuala Lumpur, 26 April 2011
Jailed for rape, robbery
By Jason Gerald John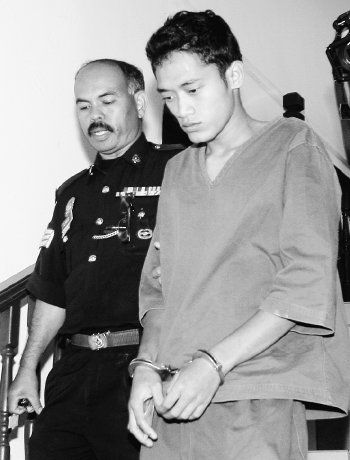 Mohd Karimi Kamal Arifin being led out of court yesterday. -- NST picture by Rasul Azli Samad
MALACCA: An unemployed youth was sentenced by the Sessions Court yesterday to a maximum 30 years' jail and 16 strokes of the rotan for rape, robbery and breaking into a hostel of an undergraduate.
Mohd Karimi Kamal Arifin, 22, of Lorong Mata Kuching here, was found guilty of raping a 19-year-old Universiti Teknologi Mara student at Kolej Siswi Tun Mutahir at 2.20pm on April 18.

Judge Abu Bakar Katar sentenced him to a maximum 30 years' jail and 10 strokes of the rotan.
On the second charge of robbing the girl of a handphone and RM133, besides causing her grievous hurt at 2.25pm at the same place and date, Karimi was sentenced to 12 years' jail and six strokes of the rotan.
On the third charge of breaking into the hostel on the same day, he was sentenced to two years' jail.

Karimi was not represented while deputy public prosecutor Mahmoodah Abdul Latiff prosecuted.
In mitigation, Karimi told the court that he had repented and would not commit any criminal offence in the future.

Mahmoodah urged the court to impose the maximum sentence as the offence was serious.

"Not only did the accused break into the hostel and rob the victim, he also raped her and caused her grievous hurt by punching her face and hitting her head against the wall," he said, adding that the student was traumatised by the whole incident and had been forced to take a break from her studies.
Bakar also ordered the sentences to run concurrently from the date of arrest, April 18.
Copyright © 2011 The New Straits Times Press (Malaysia) Berhad. All rights reserved.