The Borneo Post, Kuching, 4 March 2011, p.14
Unemployed man gets four years, cane for robbing woman
KOTA KINABALU: A local man was yesterday jailed four years and ordered to be whipped once by the Sessions Court here for robbing a woman.
Datu Azman Datu Amil, 23, pleaded guilty before judge Caroline Bee Majanil to robbing the 22-year-old woman of a cellphone, RM52 cash and a silver necklace in front of a hotel at Jalan Sulaman on Dec 12, 2010.
The unemployed accused who was charged under Section 395 of the Penal Code, had committed the offence with an accomplice who is still at large.
The offence is punishable by a maximum 20 years' jail and whipping upon conviction.
Deputy public prosecutor Afzan Abd Kahar told the court that Datu Azman, who was with his friend, approached the victim who was sitting at the said place waiting for her friends and suddenly restrained her and snatched her cellphone.
Datu Azman then took out all the victim's belongings from her wallet, while his friend watched over so that no one would notice what they were doing.
Afzan further said that Datu Azman then pulled the victim's necklace, adding that soon after that, the victim's friends came and screamed after seeing their friend being robbed.
Click to enlarge
Datu Azman and his friend then fled the scene with all the belongings but he was arrested by police who conducted a patrol near the area and the victim identified Datu Azman as one of the robbers.
Afzan added that the victim's cellphone was found in the pocket of Datu Azman's trousers.
In mitigation, the undefended Datu Azman prayed for a lighter sentence saying that he was drunk when he committed the crime.
Afzan pressed for a heavier sentence as this is a serious offence which is rampant in Sabah.
Copyright 2010-2011 BorneoPost Online. All Rights Reserved.
---
---
The Borneo Post, Kuching, 11 March 2011
Snatch thief gets five years' jail, three strokes
TAWAU: The Sessions Court here yesterday sentenced a 28-year-old man to five years' jail and three strokes of the cane for robbing a 17-year-old female student of her Sony Ericsson K530 cell phone.
Abd Samad B Kumut, a birth certificate holder, pleaded guilty before judge Hajah Egusra Ali to a charge under Section 392 of the Penal Code which carries a jail term of up to 14 years and fines or whipping, if convicted.
Deputy prosecuting officer Tania Arissa told the court that the accused committed the offence at a road near the Tawau Sports Complex, Utara road here about 3.15 p.m on March 6.
Police revealed that the female student, Deana Binti Dopuinge was walking along the road together with her friends towards the sports complex when the incident happened.
The accused tried to snatch the cell phone worth RM600 from the victim but she resisted.

Click to enlarge
The accused then punched the victim on the mouth and ran away with the cell phone.
The victim and her friends shouted for help and a few men inside a car got out and chased the accused.
They managed to detain the accused after a 20 metre chase and handed him over to the police upon their arrival.
---
---
The Sydney Morning Herald, Australia, 14 March 2011
Malaysia reveals 30,000 foreigners caned
Agence France-Presse
Click to enlarge
Malaysia says it has caned nearly 30,000 foreigners since 2005, a revelation that drew condemnation from rights groups who demanded an end to the "barbaric" practice.
Amnesty International says that caning has hit epidemic proportions in Malaysia, where the beatings are administered with a long stick that leaves permanent physical and mental scars.
Rights groups were outraged after it emerged that the government said in a statement to parliament last week that a total of 29,759 foreign workers were caned between 2005 and 2010 for various immigration offences.
"Judicial caning is a form of torture and ill-treatment against human beings because it causes physical suffering, psychological problems and constant trauma," Andika Abdul Wahab from rights watchdog Suaram said in a statement.
"This form of barbaric solution is prohibited" by international law, he added.
Suaram said the foreign workers were usually picked up during large-scale crackdowns on illegal migrants. Malaysia is one of Asia's biggest importer of labour, with workers mostly coming from neighbouring Indonesia.
London-based Amnesty also urged Malaysia to immediately halt judicial caning, which is meted out for serious crimes including murder and rape, as well as for immigration violations.
"The government's figures confirm that Malaysia is subjecting thousands of people to torture and other ill-treatment each year," said Sam Zarifi, Asia-Pacific director of Amnesty International.
"While most countries have abolished judicial caning, Malaysia has expanded the practice. Parliament has increased the number of offences subject to caning to more than 60," the group said.
Home Minister Hishammuddin Hussein declined to comment on the issue on Monday but an aide confirmed the minister's statement made to parliament.
Corporal punishment has become a hot topic in Malaysia, particularly after a Muslim mother of two was sentenced to six strokes of the cane and a fine for drinking alcohol in 2009.
However, caning for such religious offences - ordered by Islamic courts which run in parallel with civil courts in the Muslim-majority country - is much lighter than in the civil justice system.
Kartika Sari Dewi Shukarno's sentence for drinking alcohol was eventually reduced to community service but three other women then received between four and six strokes of the cane after being convicted of sex outside marriage.
The penalties triggered uproar among women's activists and human rights advocates.
---
RELATED VIDEO CLIP

"Malaysia not sorry for caning of asylum seekers", two-minute news report from ABC TV news in Australia, Feb 2011. Interview with an illegal refugee who got caned, and a Malaysian official. Comments also by somebody from Amnesty International.

HERE IS THE CLIP:

This video clip is not currently available.

IMPORTANT: Copyright in this video material rests with the original copyright holders. This brief excerpt is reproduced under the "fair use" doctrine for private, non-profit, historical research and education purposes only. It must not be redistributed or republished in any commercial context.
---
---
The Borneo Post, Kuching, 31 March 2011, p.15
Rapist uncle gets 51 years' jail, whipping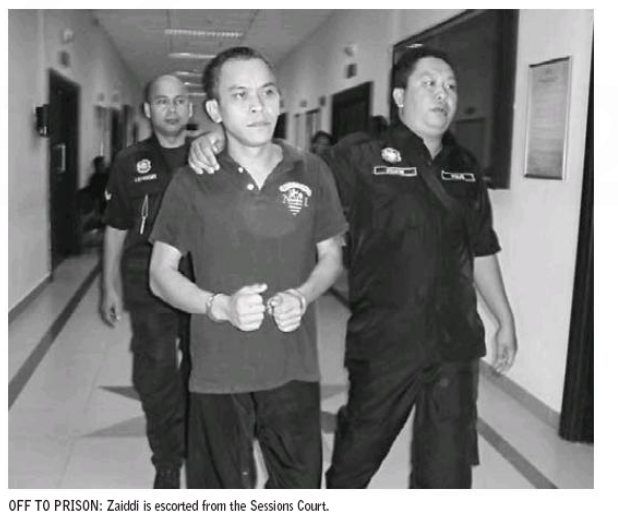 KUCHING: The Sessions Court here yesterday sentenced a rapist uncle to 51 years' jail and 21 strokes of the rotan after he changed his plea to guilty for three incest charges.
Judge Amelati Parnell meted the sentence against Zaiddi Obeng, 34, who pleaded guilty to all charges for raping his 16-year-old niece three years ago.
Zaiddi, an unmarried labourer from Kampung Sg Bedil Besar, had initially claimed trial, which began on Monday, but changed his plea yesterday.
For each of the three incest charges under Section 376B (1) of the Penal Code, he was sentenced to 17 years' jail and seven strokes of the rotan.
The jail term takes effect from the date of his remand on Feb 2 and would run consecutively.
He appeared calm during sentencing, but his mother and siblings, who were present during the proceedings, were all in tears.

Click to enlarge
Zaiddi committed the offences at an empty house near Jalan Siol Kandis, in the bushes behind a petrol station in Petra Jaya, and in their house between January and December 2009.
In mitigation, he begged for leniency because he suffers from a heart condition and requires medication.
"I regret the offence I committed and will apologise to the victim for causing the hardship," he said, adding that his charge under Section 354 of the Penal Code for molestation was still pending.
However, DPP Stella Augustine Druce requested the appropriate sentence as a lesson for Zaiddi and also to serve as a message for would-be offenders that the law does not tolerate such a heinous act.
In passing the verdict, Amelati said pleading guilty does not enable the offender to escape the consequences.
"Incest is a social problem -- The uncle should be the role model and pillar of strength of the victim."
The victim is due to deliver her baby in May.
---
Follow-up: 16 June 2011 - Court reduces jail-rotan sentence of rapist uncle