The Malay Mail, Kuala Lumpur, 7 October 2010
Cook gets jail, rotan for drug possession
By Marhalim Abas
CHARGED: Ng (left) and Yong at the courts this morning -- Pic: Samsul Said
SHAH ALAM: A cook was sentenced to seven year's jail and 10 strokes of the rotan by the High Court here this morning after he pleaded guilty to a drug possession charge.
Ng Yau Fatt, 35, was earlier charged with trafficking drugs following his arrest on Oct 12, 2008.
He was charged together with Yong Sin Chong, 61, with trafficking 70.4 grammes of methamphetamine at the KFC restaurant, Stesen Minyak Petronas KM9 Federal Highway at about 12.10am on Oct 12, 2008.
However, at the trial which was supposed to go on yesterday, Ng pleaded guilty to an alternative charge of possessing drugs under Section 39A of the Dangerous Drugs Act 1952.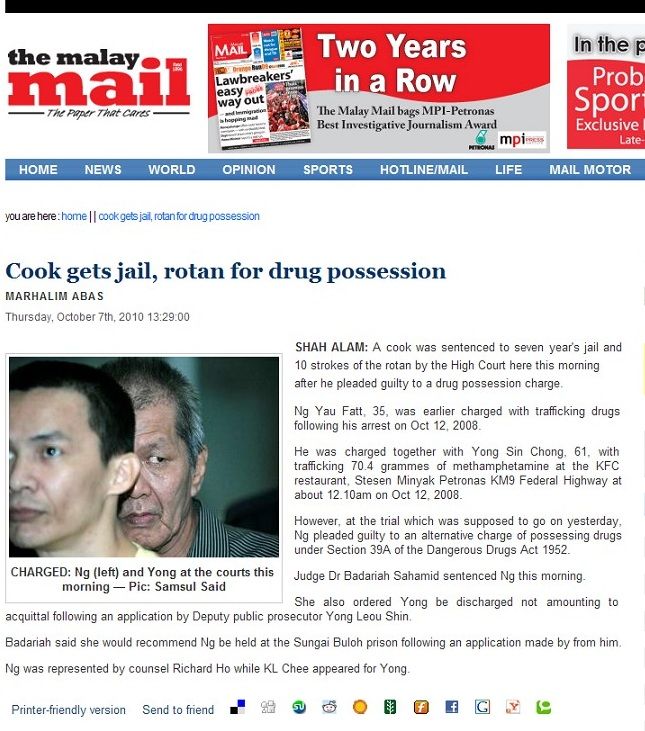 Click to enlarge
Judge Dr Badariah Sahamid sentenced Ng this morning.
She also ordered Yong be discharged not amounting to acquittal following an application by Deputy public prosecutor Yong Leou Shin.
Badariah said she would recommend Ng be held at the Sungai Buloh prison following an application made by from him.
Ng was represented by counsel Richard Ho while KL Chee appeared for Yong.
---
---
The Borneo Post, Kuching, 9 October 2010
Lorry driver gets six years' jail, whipping for drug possession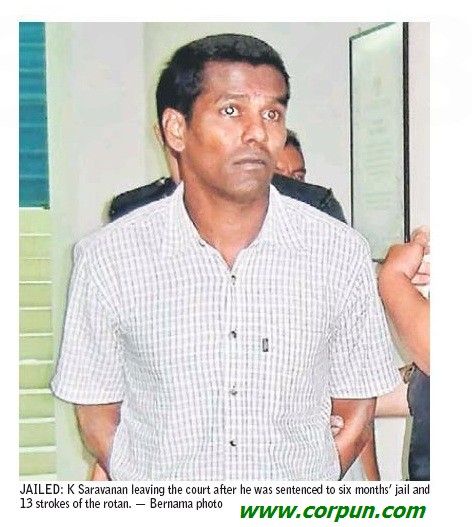 SHAH ALAM: A lorry driver was sentenced to six years' jail and 13 strokes of the rotan by the Sessions Court here yesterday after he pleaded guilty to two counts of possessing drug two years ago.
Judge Hasbi Hasan sentenced K Saravanan, 33, to three years' jail and three strokes of the rotan for the first count of possessing two cannabis plants which were planted in two pots.
She also sentenced Saravanan to six years' jail and 10 strokes of the rotan for possession of 11 packets of cannabis, weighing 50.42gm.
Both the offences were committed at No: 30, Jalan Widuri 1A, Section BB18, Bukit Beruntung, Hulu Selangor, about 12.40am on April 2, 2008.
However, Hasbi ordered the jail sentence to be served on Saravan concurrently from the date of his arrest on April 2, 2008.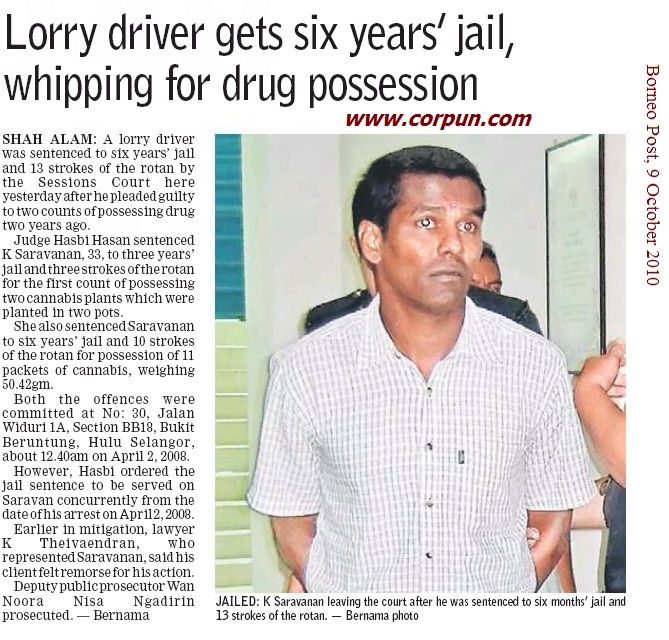 Click to enlarge
Earlier in mitigation, lawyer K Theivaendran, who represented Saravanan, said his client felt remorse for his action.
Deputy public prosecutor Wan Noora Nisa Ngadirin prosecuted. -- Bernama
Copyright 2010 BorneoPost Online. All Rights Reserved.
---
---
The Borneo Post, Kuching, 20 October 2010
Gang robbery accused gets five years plus canning [sic]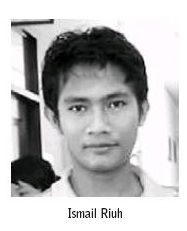 KOTA KINABALU: The Sessions Court here yesterday sentenced a local youth to five years' imprisonment and one stroke of the cane for gang robbery last year.
Court judge Zaini Fishir @ Fisal meted out the sentence on Ismail Riuh, 21, after the latter pleaded guilty to robbing Jabar Shah Toti Shah, a businessman, of a wallet, cellphone and garments at Kampung Tanjung Pasir in Kota Belud on Oct 27, 2009
Ismail, who committed the offence with another four friends still at large, was charged under Section 395/34 of the Penal Code which carries a maximum jail of 20 years and whipping, on conviction.
Prosecuting officer ASP Sabrina Jinius told the court that police investigation revealed that Ismail, with his four friends, had robbed Jabar Shah while he was on his way home.
Sabrina said Jabar Shah had stopped his motorcycle as there was a piece of wood on the road and he had wanted to remove it.
Then four men suddenly came out from the bushes and attacked him.
Click to enlarge
Sabrina said five men, one of them was Ismail, then beat Jabar Shah and took his belongings before fleeing the scene.
Police managed to arrest Ismail on Oct 5 and the latter admitted to committing the offence, Sabrina added.
In pleading for a lenient sentence the unrepresented accused said he had saved the court's time by pleading guilty, adding that he cooperated with police during the investigation.
Sabrina applied for a deterrent sentence taking into account that this case was a serious crime which is rampant in Sabah.
"The police also had difficulty to catch Ismail, which took one year, and a deterrent sentence would serve as a lesson for him," said Sabrina.
---
---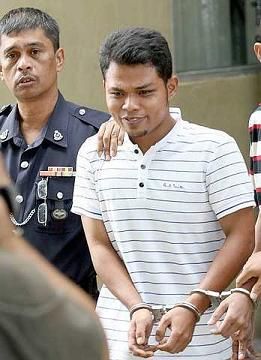 Unrepentant: Mohd Shukri smiling as he is led out of the Sessions Court after sentencing.
The Star Online (web only), Kuala Lumpur, 29 October 2010
Man gets five years and whipping for acid attack
BUTTERWORTH: A lorry attendant was sentenced to five years jail and ordered to be given two strokes of the rotan by a Sessions Court here for splashing acid on a 21-year-old woman.
Mohd Shukri Mohd Suib, 26, from Tasek Chempedak, Simpang Ampat near Nibong Tebal, pleaded guilty when the charge was read out to him before Judge Mohd Zairan Aman.
He was charged under Section 326 of the Penal Code with splashing acid on Nor Azni Mohd Ameerdin outside her grandmother's house on Lorong 12, Taman Cenderawasih in Nibong Tebal at about 11pm on Oct 17 this year.
Nor Azni sustained serious facial and bodily injuries in the incident.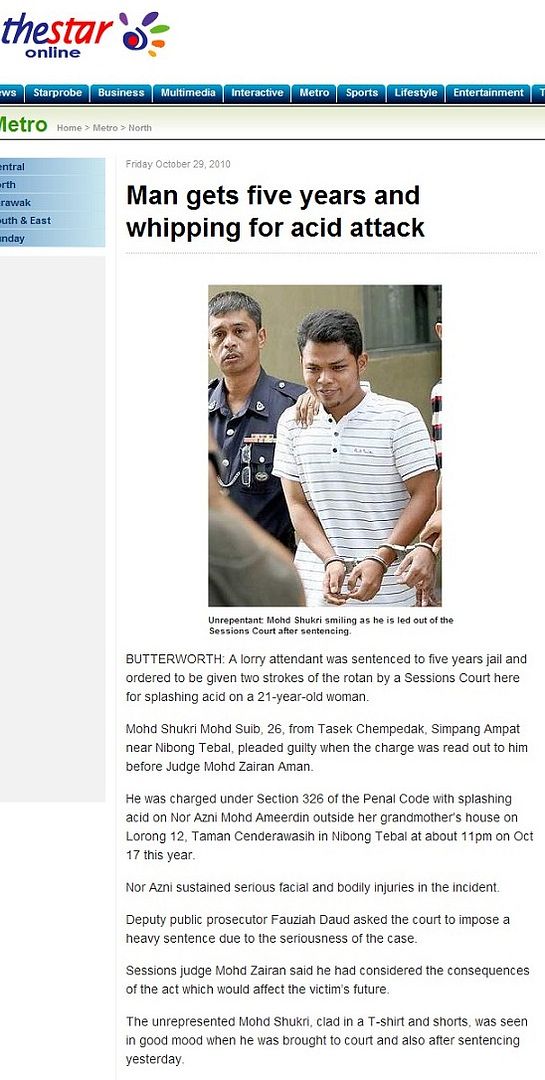 Click to enlarge
Deputy public prosecutor Fauziah Daud asked the court to impose a heavy sentence due to the seriousness of the case.
Sessions judge Mohd Zairan said he had considered the consequences of the act which would affect the victim's future.
The unrepresented Mohd Shukri, clad in a T-shirt and shorts, was seen in good mood when he was brought to court and also after sentencing yesterday.
Copyright © 1995-2010 Star Publications (M) Bhd