The Borneo Post, Kuching, 7 September 2010
Local man jailed, whipped for gang robbery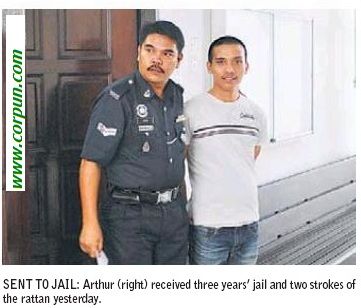 KOTA KINABALU: A jobless local man was jailed for three years and ordered to be whipped twice by the Sessions Court here for gang robbery. Judge Caroline Bee Majanil meted out the sentence on Arthur Julian, 25, after he pleaded guilty to his charge when his trial was supposed to resume yesterday.
Arthur, who initially claimed trial to the charge, admitted to robbing Wong Siaw Yen, 27, of her plastic bag which contained a hand phone and a wallet containing RM150 and personal documents.
He was armed with a knife when he committed the offence with an accomplice who is still at large at a shortcut road to the night market in Inanam at 1.20pm on Aug 28, 2009.
The prosecution had so far called a witness to testify against Arthur who was charged under Section 395/397 of the Penal Code which provides for a jail term of up to 20 years and whipping, upon conviction.
Click to enlarge
In pleading for a lenient sentence, Arthur from Kampung Bambangan, Inanam told the court that he was a first time offender and had regretted what he had done. Deputy public prosecutor Afzan Abd Kahar, however, applied for a heavy sentence as Arthur had committed a serious offence. She also told the court that such a case is rampant nowadays.
The facts of the case stated that while Wong and her friend were walking, two men suddenly appeared and ordered them to sit down.
One of them pointed a knife at Wong and her friend while the other man grabbed Wong's plastic bag.
After that the two accused fled the scene. Arthur was arrested by police but the stolen plastic bag was not recovered.
The complainant recognised Arthur as one of the robbers during an identification parade which was held on Dec 24, 2009.
Arthur was unrepresented by a lawyer.
Copyright © 2010 BorneoPost Online. All rights reserved.
---
---
The Borneo Post, Kuching, 10 September 2010
Filipino jailed four months and whipped three times for illegal entry into Sabah
KOTA KINABALU: A Filipino was jailed for four months and ordered to be whipped three times by the Sessions Court here yesterday for entering Sabah illegally.
Judge M. Rajalingam imposed the sentence on Abdul Ghaffar Tara, 35, after he pleaded guilty to his charge under Section 6(1)(c) of the Immigration Act 1959/63 which carries a fine of not exceeding RM10,000 of a maximum jail of five years, on conviction.
Deputy public prosecutor Uma Devi Balasubramaniam told the court that the accused was arrested at Karamunsing police station on Sept 8, after he failed to produce any valid travel document to the police.
[...]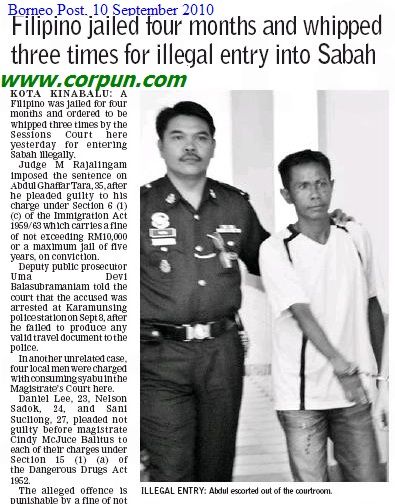 Click to enlarge