The Borneo Post, Kuching, 9 June 2010
Jobless men get 12 years' jail, whipping for drug possession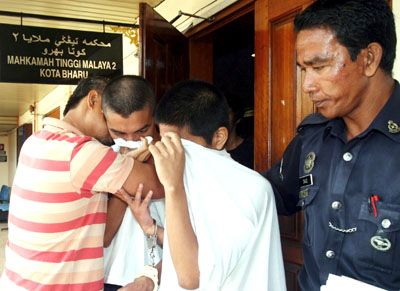 ALTERNATIVE CHARGE: A family member hugs Mohd Azuwan (second left) while Mohd Redzuan (second right) stands nearby. -- Bernama photo
KOTA BAHARU: Two jobless men were handed 12-year jail sentences and 10 strokes of the rotan each by the High Court here yesterday for being in possession of 3,920 methamphetamine pills weighing 65.98g here, three years ago.
Judge Azman Abdullah handed down the punishment to Mohd Azuwan Mohd Zain, 24, and Mohd Redzuan Che Yasin, 27, both of them from here, after they pleaded guilty to an alternative charge of being in possession of the drugs.
Prior to this, they had been charged with drug trafficking under Section 39B of the Dangerous Drugs Act 1952, which carries the mandatory death sentence, if convicted.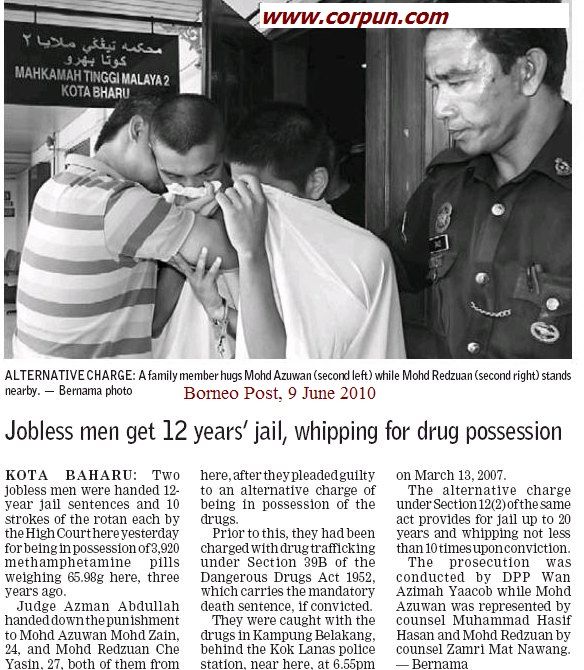 Click to enlarge
They were caught with the drugs in Kampung Belakang, behind the Kok Lanas police station, near here, at 6.55pm on March 13, 2007.
The alternative charge under Section 12(2) of the same act provides for jail up to 20 years and whipping not less than 10 times upon conviction.
The prosecution was conducted by DPP Wan Azimah Yaacob while Mohd Azuwan was represented by counsel Muhammad Hasif Hasan and Mohd Redzuan by counsel Zamri Mat Nawang. -- Bernama
Copyright © 2009 The Borneo Post. All rights reserved.
---
---
The Borneo Post, Kuching, 11 June 2010
Rape and kidnap: Man gets 16 years' jail, whipping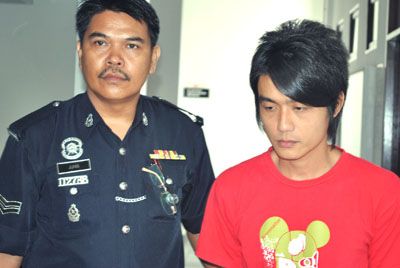 SERIOUS CRIME: Han outside the court after the sentencing yesterday.

KOTA KINABALU: A local man was handed a total of 16 years jail and ordered to be whipped thrice for two counts of raping an 11-year-old girl and kidnapping her three years ago.

Sessions Court judge Duncan Sikodol found Han Chee Pin, 29, guilty of both the charges after the former ruled that the latter had failed to cast a reasonable doubt on the prosecution's case.

For the first charge of raping the girl at a house in a village in Papar on April 12, 2007, Han received 13 years' jail and three strokes of the cane.

Han was charged under Section 376 of the Penal Code which provides for up to 30 years jail and whipping.

For the second count, he was jailed another three years for kidnapping the same girl at a village in Putatan at 1.30pm on the same day.

The offence comes under Section 363 of the Penal Code and is punishable with up to seven years jail and a fine.

Duncan ordered Han to serve his jail terms consecutively.

Before the court passed the sentence, counsel Yong Pei Yii urged the court to impose a lenient sentence on Han.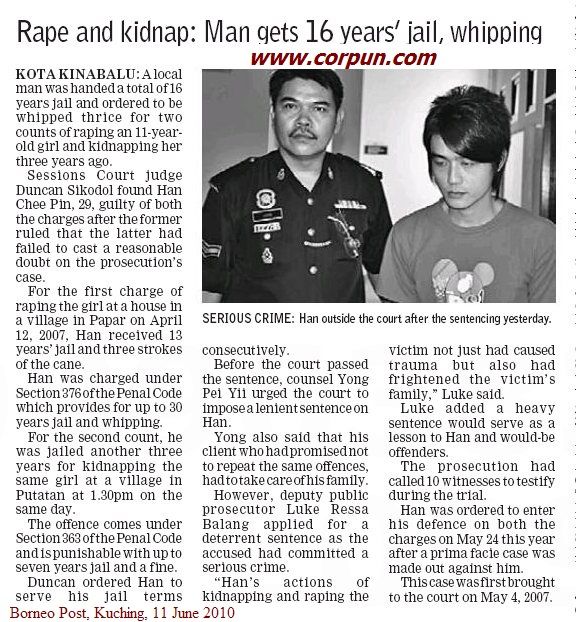 Click to enlarge
Yong also said that his client who had promised not to repeat the same offences, had to take care of his family.
However, deputy public prosecutor Luke Ressa Balang applied for a deterrent sentence as the accused had committed a serious crime.
"Han's actions of kidnapping and raping the victim not just had caused trauma but also had frightened the victim's family," Luke said.
Luke added a heavy sentence would serve as a lesson to Han and would-be offenders.
The prosecution had called 10 witnesses to testify during the trial.
Han was ordered to enter his defence on both the charges on May 24 this year after a prima facie case was made out against him.
This case was first brought to the court on May 4, 2007.
Copyright © 2009 The Borneo Post. All rights reserved.
---
---
Daily Express, Kota Kinabalu, 15 June 2010
Teenager gets jail, cane for robbing boy
Click to enlarge
Tawau: A teenager was jailed three years and ordered to given three strokes of the cane by the Session's Court here Monday for robbing a 14-year-old boy of two handphones worth RM400 last month.
Jobby Basri, a birth certificate holder, pleaded guilty before Judge Egusra Ali to committing the offence against the boy at the building in Jalan Hj Sahabudin, Fajar on May 28 at about 1.30pm.
Jobby was charged under Section 395 of the Penal Code, which provides 20 years jail and whipping, on conviction.
Deputy Public Prosecutor Mohamad Hanafi Basri told the court that Jobby was detained at Kedai Perkampungan Maspul, Mile 2 Jalan Apas here on June 5 at about 6.50pm.
Hanafi said, Jobby and another accomplice still at large, riding a motorcycle at the said place, approached the boy and later asked him to surrender his handphones.
The boy, scared, surrendered his items to Jobby.
Jobby and his accomplice fled but left their motorcycle at the scene of the crime.
© Copyright 2010 Sabah Publishing House Sdn. Bhd.
---
---
The Borneo Post, Kuching, 22 June 2010
Man sentenced to 10 years' jail, 10 strokes for drug possession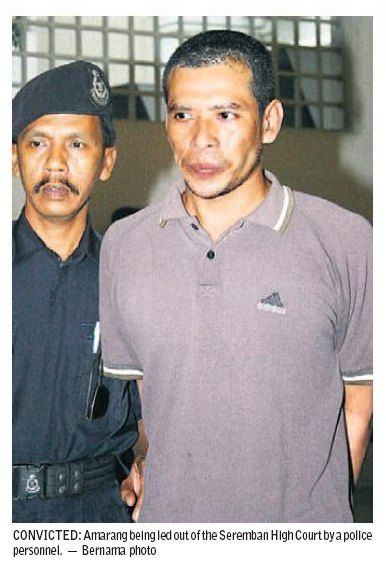 SEREMBAN: A father of six was sentenced to 10 years' jail and 10 strokes of the rotan for drug possession after he pleaded guilty at the Seremban High Court here yesterday.
Shaharizam Amarang, 35, who has children aged between two and 14 years, was charged with possession of four slabs of cannabis weighing 372 grams.
He was arrested at a restaurant in Batu 8, Jalan Mantin, Seremban at 1.15am on Dec 20 last year and led the police to his car where the drug was found.
Judicial Commissioner Datuk Ahmad Nasfy Yassin said the accused should be aware of the danger of drugs as he was a family man.
"Normally, any accused would express remorse after they were caught and found guilty. However, remorseness takes a back seat if they not arrested," he said.
Click to enlarge
Admitting remorse, Shaharizam, who was represented by lawyer Mohd Tajudin Abd Razak pleaded for a lenience sentence as it was his first offence.
Ahmad Nafsy ordered the sentence to start from the date of arrest.
Deputy public prosecutor Nur A'minahtul Mardiah Md Nor appeared for the prosecution. -- Bernama
Copyright © 2009 The Borneo Post. All rights reserved.
---
---
The Borneo Post, Kuching, 30 June 2010
Duo get jail, cane for hurting colleague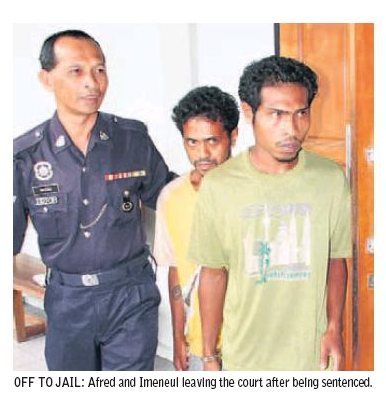 SIBU: The Sessions Court yesterday sentenced two Indonesians to eight years' jail and three strokes of the rotan for causing grievous hurt to a colleague. High Court deputy registrar M Rajalingam said the sentence was given in the interest of the public, and to convey the message that the law must be obeyed by citizens as well as foreigners.
"Though you are foreign workers, you must abide by the law of this country and not take the law into your own hands," he stated.
Afred Tepi, 29, and Imeneul Lakapu, 26, were charged under Section 326 of the Penal Code, which provides for an imprisonment that may be extend to 20 years and liable to a fine and whipping.
The accused committed the offence on June 22 at 11.15am in a plantation here.
A fight broke out between them and a colleague, Yonathan Foeney, who complained that he was given more work to do than them.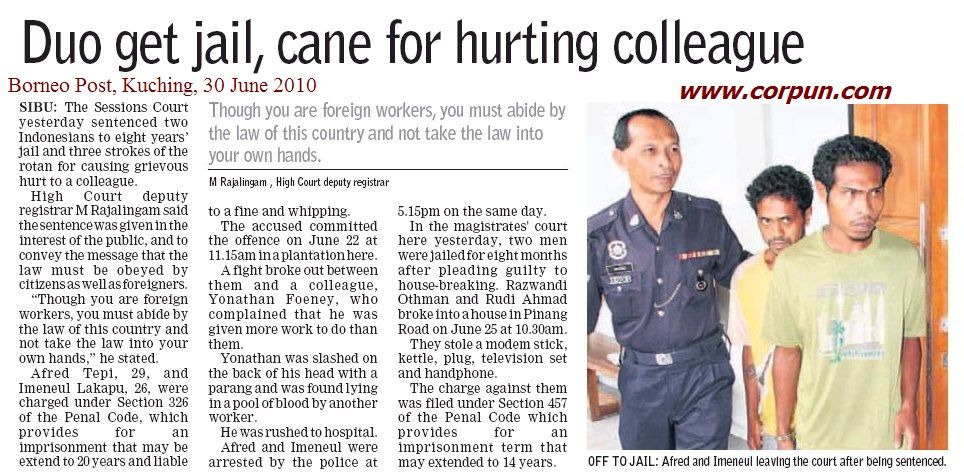 Click to enlarge
Yonathan was slashed on the back of his head with a parang and was found lying in a pool of blood by another worker.
He was rushed to hospital.
Afred and Imeneul were arrested by the police at 5.15pm on the same day.
Copyright 2009 The Borneo Post. All rights reserved.