The Star, Kuala Lumpur, 5 May 2010
Cake seller gets jail and cane for robbing student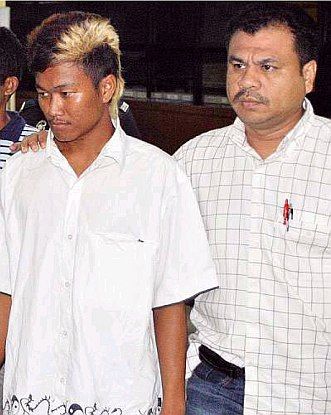 Off to jail: Mohd Qayyum (left) being led away after his conviction yesterday.
JOHOR BARU: A 21-year-old kueh seller was sentenced to three years' jail and three strokes of the cane after he admitted to robbing a student of RM40 so that he could play computer games.
According to the facts of the case, Mohd Qayyum Ibrahim approached the 15-year-old student and asked him for RM10. When the student refused, he forcefully grabbed RM40 from his pocket.
The boy was on his way to school in Taman Sri Orkid here at about 12.35pm on May 3.
Pleading for leniency at the night court yesterday, Mohd Qayyum said he had only wanted the money to play Counter Strike with his friends and his daily allowance was not enough.
"My mother works as a kueh seller at a hypermarket here and I help her sometimes.
"She only gives me RM10 a day and it is not enough as I also need money to buy fuel for my motorcycle," said Mohd Qayyum.
When Sessions Court judge Aliman Musri asked him about the cost to play the game, Mohd Qayyum explained that the cyber café would charge RM1.30 an hour.
All you need is RM1.30. Don't tell me that the allowance that you are getting is not enough. Did you know what you did was wrong?" he asked.
Mohd Qayyum answered that he knew his offence, adding that the other two teenagers who were with him did not know of his intention.
(He was charged with robbery with two others, aged 15 and 17, who claimed trial.)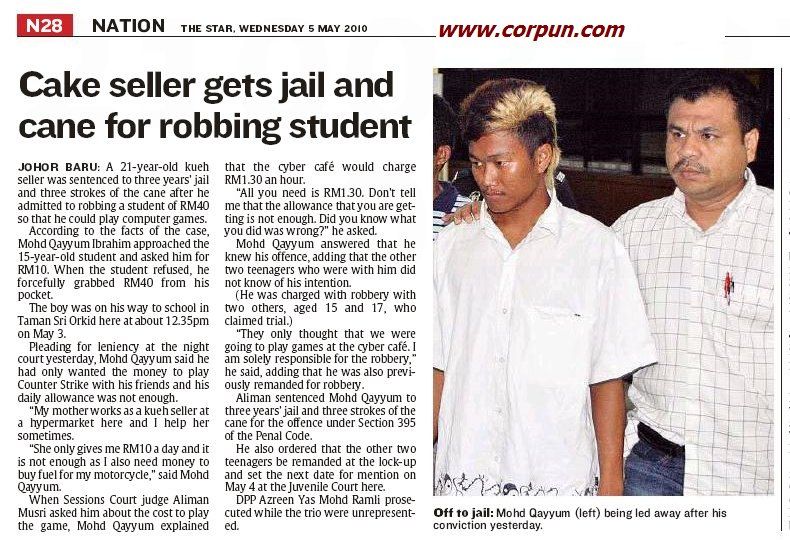 Click to enlarge
"They only thought that we were going to play games at the cyber café. I am solely responsible for the robbery," he said, adding that he was also previously remanded for robbery.
Aliman sentenced Mohd Qayyum to three years' jail and three strokes of the cane for the offence under Section 395 of the Penal Code.
He also ordered that the other two teenagers be remanded at the lock-up and set the next date for mention on May 4 at the Juvenile Court here.
DPP Azreen Yas Mohd Ramli prosecuted while the trio were unrepresented.
---
---
Borneo Post, Kuching, 12 May 2010
Indonesian cab driver gets eight years' jail and 10 strokes
SHAH ALAM: An Indonesian illegal immigrant was sentenced to eight years imprisonment and 10 strokes of the rotan by the High Court here yesterday for possessing 889gm of cannabis five years ago.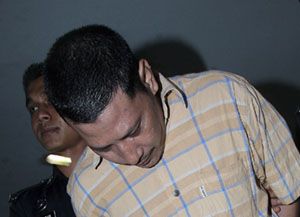 OFF TO JAIL: Irfan escorted out of the High Court. -- Bernama photo
Justice Dr Badariah Sahamid ordered the sentence on Irfan Putih, 35, from Aceh, to run from the date of his arrest on Feb 25, 2005.
Irfan pleaded guilty to committing the offence at the main road, Taman Kota Cheras, 9th Mile Kajang at 6.30pm on Feb 25, 2005.
He was originally charged with trafficking, which carries the mandatory death sentence, but pleaded guilty yesterday after the charge was reduced to one of possession.
The court was told that the drug was found near the footrest on the driver's side of the taxi which he was driving when police stopped him by the roadside that day.
In mitigation, his counsel, Gurubachan Singh Johal, asked for a lighter sentence of six-and-a-half to seven years because Irfan was a first offender, was very remorseful for what he had done and his plea of guilt had saved the court valuable time and costs.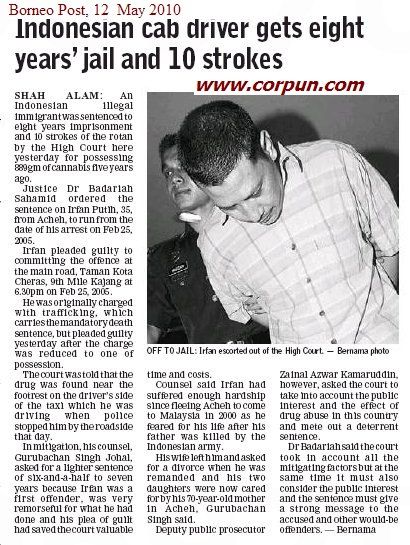 Click to enlarge
Counsel said Irfan had suffered enough hardship since fleeing Aceh to come to Malaysia in 2000 as he feared for his life after his father was killed by the Indonesian army.
His wife left him and asked for a divorce when he was remanded and his two daughters were now cared for by his 70-year-old mother in Aceh, Gurubachan Singh said.
Deputy public prosecutor Zainal Azwar Kamaruddin, however, asked the court to take into account the public interest and the effect of drug abuse in this country and mete out a deterrent sentence.
Dr Badariah said the court took in account all the mitigating factors but at the same time it must also consider the public interest and the sentence must give a strong message to the accused and other would-be offenders. -- Bernama
Copyright © 2009 The Borneo Post. All rights reserved.
---
---
Borneo Post, Kuching, 21 May 2010
Whipping added to habitual thief's sentence
KOTA KINABALU: A habitual thief's application to withdraw his appeal against his jail sentences on three charges including theft, yesterday ended with him being ordered to be whipped thrice by the High Court here.
Judicial Commissioner Datuk Abdul Rahman Sebli, in handing down the verdict on Hasbi Boamin, 35, held that the learned magistrate had failed to take into account Hasbi's previous conviction before passing sentence.
"In the circumstance, I exercise my revisionary powers. I order that in respect of the appellant's (Hasbi) conviction for theft under Section 379 of the Penal Code, the appellant is to be sentenced with three strokes of the rattan in addition to the three years imprisonment imposed by the Magistrate's Court," he held. Hasbi, who was unrepresented by a lawyer, had earlier on stated his intention to withdraw his appeal against his custodial sentences on the three charges, which was supposed to be heard yesterday.
The theft charge under Section 379 of the Penal Code, stated that he stole Tai Sin Nee's laptop worth RM1,500 at a car park in front of Taman Iramanis in Luyang on Nov 9, 2009 at 7pm.
The two other charges were under Section 414 and Section 411 of the Penal Code respectively.
For the charge under Section 414 of the Penal Code, he was sentenced to two years for assisting in concealing Sait Malibas @ Mohd Farriedzal's laptop at Likas Kosan on July 23, 2009.
Meanwhile for the charge under Section 411 of the Penal Code for dishonestly receiving two watches worth RM800 belonging to Abdul Lali Abah on July 23, 2009 in Kolombong, he received 20 months' jail.
The magistrate ordered the custodial sentence for the three charges to run consecutively, bringing a total of six years and eight months.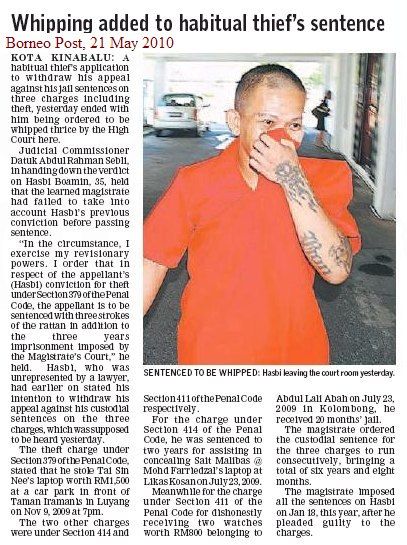 Click to enlarge
The magistrate imposed all the sentences on Hasbi on Jan 18, this year, after he pleaded guilty to the charges.
However, Abdul Rahman instead ordered the latter to be given three strokes of the cane in addition to the three years imprisonment for theft  because he was a habitual thief.
"This offender can only be described as a habitual thief. He has 16 previous convictions before his convictions for the present offences. All these previous convictions are offences involving other people' properties.
"For the offence of theft under Section 379 of the Penal Code, this is the ninth time since 1998 that he was  convicted for the same offence. In all his previous convictions, except for the one in 1993 where he was ordered to be sent to the Henry Gurney school, he was sentenced to varying lengths of imprisonment sentences," Abdul Rahman said.
He said that it was clear that imprisonment had no deterrent effect on the offender.
"Section 379 of the Penal Code provides that if the offender commits a second or subsequent offence of theft, he shall also be liable to fine or to whipping. The learned Magistrate failed to take this into account in passing the sentence," he added.
Deputy Public Prosecutor Mohamed Zairi Zainal Abidin appeared for the respondent.
Copyright 2009 The Borneo Post. All rights reserved.