United States - Nine real paddlings in progress. Clip 9 is New!
CLIP 1 OF 9:
In this two-minute clip, several young men aged 17 to 18, probably in 12th grade, are assembled in a hallway at a high school in Louisiana to watch three or four of their number bending over for about three fairly hard licks each with the paddle.
The atmosphere seems excessively raucous and disorderly, but the teacher (maybe he is a sports coach) is completely serious, and apparently these are proper punishments despite the seemingly inappropriate informality of the occasion. I cannot understand any of what is being said -- can anyone help?
The students are almost all black. Most are wearing what passes in America for a school uniform, with khaki pants.
HERE IS THE CLIP:
CLIP 2 OF 9:
This one-minute clip (dating from 2007) is clearly from the same source as above, but shows a different occasion. We see the same obese coach (I think) administering the paddle in the same corridor. Four young men bend over for punishment, but this time they each receive only one swat, amid raucous jocularity. One of them crouches too low, and is told to "get your ass up".
HERE IS THE CLIP:
CLIP 3 OF 9:
This 10-second clip shows a student bending over for one very hard swat (or it might be just the last of a number of swats). It takes place in the school locker room, and the teacher administering the punishment, presumably a sports coach, uses both hands to wield the paddle. The student experiences great temporary pain in his buttocks while the coach picks up his stuff and walks away, giving the impression that this is an everyday event.
HERE IS THE CLIP:
CLIP 4 OF 9:
The scene here, lasting 1 minute 38 seconds, takes place in a US high school classroom, location unknown. A senior student was found to be skipping class, and has chosen to take a paddling instead of being referred to the administration.
First, though, the teacher requires him to announce that he admits the offense and agrees to accept corporal punishment. "I can't spank you without your permission", he adds.
The culprit leans over the desk at the front of the class, puts his feet apart, takes his wallet out of his back pocket, and receives one solid swat.
Although the atmosphere in the room is highly jocular, the punishment is real. The boy appears to be in some pain as he slowly straightens up and goes back to his place.
The class is very noisy, and one or two members are shouting in a disorderly manner. The teacher pays no heed to this at all; apparently this is how pupils are allowed to behave in school nowadays.
HERE IS THE CLIP:
CLIP 5 OF 9: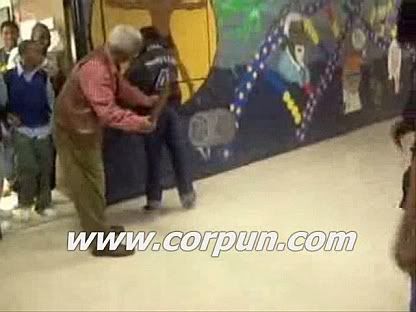 In this 50-second clip we see five moderate licks of the paddle being administered to a male student in a Mississippi high school. The punishment is applied to the seat of the jeans, and takes place in what seems to be a hallway, with other students milling around. All appear to be black, as are the culprit and the teacher.
As the punishment proceeds, more students come wandering to the door of an adjacent classroom to watch out of idle curiosity; one might infer from their demeanor that this is not a rare event at this school.
It is a slightly disorderly paddling, and the teacher has some difficulty keeping the boy in position up against the wall. He keeps saying "On the wall!" and telling him to "back up", i.e. to put his feet further away from the wall so that he adopts a more leaning stance. The teacher holds the boy's belt loops with his left hand while wielding the paddle with his right, evidently with the aim of holding the student in place while at the same time pulling his jeans taut across the target area.
There is some business at the start of the clip which might be to do with getting the boy to empty his back pockets -- it is hard to be sure because of the wandering camera.
Although in the end the swats do appear to be quite accurately delivered to the student's buttocks, my personal feeling is that it would have been better done privately in an office, with the boy bending over either a desk or the back of a chair, and kept in position by another staff member if necessary.
The student jumps around and shouts out after each stroke, and he is very likely over-reacting to what do not appear to be especially hard swats, "playing to the gallery" because so many other students are present and watching. This lends the event a semi-jocular and slightly raucous atmosphere, somewhat at odds with the dignity and decorum that ought, one feels, to attend the administration of discipline.
In my own personal view, if it is thought necessary to carry out the punishment in front of other students, it should really be done as a formal, solemn ceremony with the audience assembled in an orderly manner for the purpose, as for canings in Singapore schools, rather than as here, with what seems to be a random audience of casual passers-by.
HERE IS THE CLIP:
CLIP 6 OF 9:
This 5-second clip shows a student being paddled by his coach in a classroom, allegedly in Texas. There is just one swat. It seems to be a fairly jocular event. The picture quality is poor.
HERE IS THE CLIP:
CLIP 7 OF 9:
A 3-second clip of a real school paddling taking place. It is thought to be from St Augustine High, a private, "historically black" boys' Catholic school in New Orleans which had a long and proud tradition of frequent corporal punishment until it was forced by the church authorities to abandon it. This seems to be an entirely serious event. The teacher uses both hands.
Because of the camera angle, the student being disciplined is completely hidden. One hard swat is shown in the clip, and it is impossible to tell whether this was the total punishment on that occasion, or whether this swat was one of several.
Opinions differ as to what the teacher is saying. "Take your hand away" is one suggestion. Others think it might be "Stay awake" or "Look that way".
HERE IS THE CLIP:
CLIP 8 OF 9:
In this 20-second video clip entitled "Malik getz paddled", we see a young boy receiving two swats of the paddle in a jocular atmosphere. The setting is an otherwise empty school sports hall or gym somewhere in the USA. There is a sign on the wall about "black economic development", so maybe there is some ethnic cultural thing going on here. It is difficult to tell what the people involved are saying. After his paddling, the boy holds his bottom and starts dancing around in fun.
HERE IS THE CLIP:
CLIP 9 OF 9: New!
A one-swat classroom paddling in a jocular atmosphere. This is obviously not meant to be a serious punishment. It is thought to be taking place in Mississippi in 2011 or early 2012.
HERE IS THE CLIP: