www.corpun.com
Initiation spankings
Video clips: Poland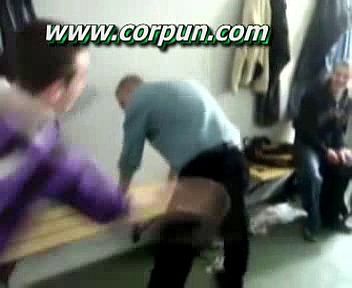 With personal comments by C. Farrell
---
---
Poland - initiation beltings: two clips.
Clip 1 of 2: Football team
In this 6-minute video, set in a football team's locker room, we see a new member being welcomed with a traditional belting ritual. The recipient has to bend over with his hands on a bench and his feet apart, to receive the whacks across the seat of his trousers; he is given time to recover after each stroke, during which he wanders about the room in pain, cursing and clutching his buttocks. We see about 12 strokes being delivered, by different team members, mostly as hard as they can. This was evidently not the whole of his ordeal, as the whipping appears to have started before the film begins, and perhaps also continued after it ends.
HERE IS THE CLIP:
---
---
Copyright © C. Farrell 2011, 2012
Page updated January 2012