Taiwan - Baseball coach - Private high school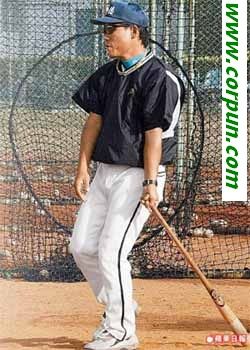 Here we see the baseball coach at a high school in Hsinchu County, Taiwan, administering corporal punishment to male teenage students. The instrument used appears to be a baseball bat, aimed accurately at the seat of the offender's trousers as he holds a push-up position on the floor. The strokes are many and hard, and the rest of the class is gathered to watch. This is a serious punishment in a solemn atmosphere, with absolutely no hint of the jocularity that is seen in so many classroom CP clips.
This clip is a combination of separate moments rather than a continuous scene, but they are clearly all from the same occasion. At one point a scene seems to be repeated from, I think, a slightly different angle, which suggests that more than one student was filming. Obviously the film was taken surreptitiously, so the picture is not ideal. The sound of the whacks is clear and unmistakable. Altogether we see three different students undergoing punishment before they walk back to join the watching group.
As sometimes also happens at serious "public canings" in Singapore schools, the boy is given time, if he wishes, to rub his buttocks after each stroke before presenting himself again for further punishment. In several cases a gasp can be heard from the beneficiary as the stroke lands.
The event came to public notice after some parents saw the video clips and complained to the authorities. The clips later appeared on Taiwanese television. A Dec 2009 news report in Taiwan's Apple Daily seems to say that the coach, Chen Shi-Long, apologised for going over the top with the punishment, but it was pointed out that the parents had signed forms agreeing that all players were subject to the coach's discipline. An official investigation by the Ministry of Education was said to be under way.
Apple Daily had published a picture of the coach (upper right) and a photo of what were claimed to be the bruises of one of the students punished (right). The report seems to suggest that the punishment was for poor performance rather than bad behaviour, and that four students were punished in total, though I think we see only three in this clip.
HERE IS THE CLIP: