South Korea - "Stick of love" ceremony - TV news clip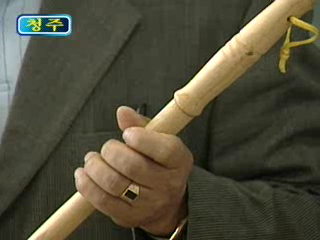 This 2-minute clip comes from Korean TV news in May 2006.
It shows a traditional Korean ceremony in which students bring a gift from their parents to give to their teachers, possibly at the beginning of the school year.
The gift is a special punishment cane called the "stick of love", evidently symbolising the parent's desire that the teacher is to keep the student in good order by punishing him or her when necessary. It is also a mark of respect to the teacher in a culture where teachers are traditionally honoured.
In one scene, a schoolboy presents his teacher with the stick, which has a specially-carved handle. The teacher then hangs it up next to the blackboard.
In return, the teachers present the students with pencils, possibly symbolising the hope that the student will work hard throughout the year.
The implement shown is much more thick and rigid than the British school cane, which was of springy and whippy rattan, not only thinner than this but usually somewhat longer. A stick like this one, if used vigorously enough to produce pain, would probably cause heavier bruising than a proper cane.
We do not know whether these "symbolic" canes are used in reality at this school, but in any event the clip serves to illustrate that corporal punishment is understood as a cultural tradition in South Korean schooling.
HERE IS THE CLIP:
---
See also: Overview of school CP in Korea