www.corpun.com
SCHOOL CORPORAL PUNISHMENT -- Video clip: Iraq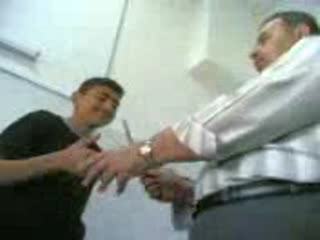 ---
---
Iraq - mass classroom strapping.




This 55-second sequence was filmed on a mobile phone in an Iraqi classroom, date unknown. The boys hold out their hands in turn to be disciplined by the class teacher with a rubber strap. Most of the students seem to be laughing. The strap is much too small to cause more than a slight, momentary sting. Clearly this is not a serious punishment, and the whole exercise seems pretty pointless to the outside observer.

HERE IS THE CLIP:

This video clip is not currently available.
---
---
THE ARCHIVE index
Video clips
Picture index
About this website
Country files
www.corpun.com Main menu page
Copyright © C. Farrell 2007
Page created December 2007