The Dallas Morning News, Texas, 6 October 1991
2 students choose the paddle over parent conference
By Jonathan Eig
Staff Writer of The Dallas Morning News
Luis Acosta and Richard Feridi had taken a stroll across town when they were supposed to be in school one day last month, and it was time to pay for the transgression.
"Gentlemen, I'm going to be nice to you," said assistant principal J.V. McFadden, otherwise known as "Big Mac" to students at Adamson High School in north Oak Cliff. "Because I'm in a good mood, you've got a choice of either three licks for cutting school, or else you can go home and get your parents and bring them in here for a meeting."
Luis and Richard stared at the office walls, where Mr McFadden has taped cheery expressions and pictures of kittens alongside newspaper articles about Adamson students getting arrested.
"I'll take the licks," said Richard, 15, so casual he might have been ordering french fries.
"The same," answered Luis, also 15.
"Oh, very good choice," Mr McFadden said, as he rubbed his hands together and grinned.
Mr McFadden is a tall, beefy fellow with a wry sense of humor and a compact, left-handed swing.
He told Luis to place both hands on the office desk. Luis, familiar with the routine, spread his palms in front of the placard that read "McFadden".
The assistant principal walked behind the skinny student and, for balance, stuck the index finger of his right hand through one of Luis' belt loops. Then he picked up his paddle -- the same one he has used for 20 years.
"The Board of Education," as Mr McFadden calls it, is about 2 feet long and wrapped in several layers of masking tape. Students have autographed it for the assistant principal, who remains popular at Adamson despite his onerous duties.
"Thanks, Love Ya," says one inscription on the paddle. "Thank you, I needed that," reads another.
Luis was smiling as Mr McFadden drew his left arm back and swung. The sound of wood smacking pants turned heads in the waiting room outside the office.
The first two blows were quick. They shook Luis' body, but not his smile.
Mr McFadden reached back for a little something extra on the third swing and Luis grimaced as the wood struck his rear for the third time. He smiled again, though, as he turned around to face the man with the paddle.
"Congratulations," said Mr McFadden. He shook Luis' hand, escorted him from the office and turned to repeat the procedure with Richard.
When he finished, Mr McFadden walked the halls and talked about when he was paddled -- in school and at home.
"I grew up with it. I got my fair share when I was in school. Had a little bit at the house, too. When we were in school, shucks, five or six licks were in order."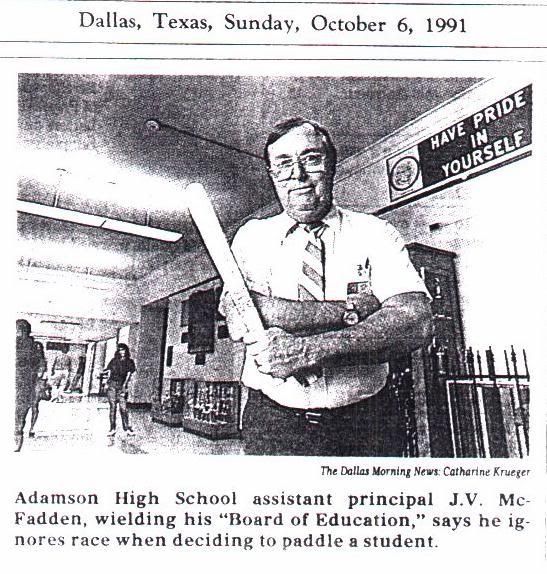 He said he didn't try to hurt Luis and Richard -- just get their attention.
"They showed little emotion, but I know their tail was burning up," he said. "You can laugh about it, but it still stings and burns and hurts a little. And the next time, they know I'll have to call their parents."
Thirty minutes later, Luis returned to Mr McFadden's office for a pass to get back in class.
Luis said he chose the paddling "just to get it over with," and because he didn't want Mr McFadden calling his parents. He said he felt paddling was an effective form of discipline.
"It makes us not get caught," he said. "After I've experienced it once, it makes me chill out."
Mr McFadden offered Luis a seat while he waited for the pass. But Luis thought about it and decided to stand.