Milwaukee Journal, Wisconsin, 16 November 1977
Student Puts Spanking to Test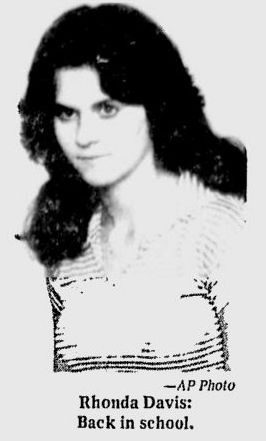 Jones, Okla. -- AP -- Rhonda Davis, a 16 year old cheerleader who was late to school five times, went to court over a rule that was forcing her to stay home unless she let her principal spank her. On Tuesday, the principal said she could return until the suit was settled.
"We're not admitting the existence of a lawsuit since we have not been served with any papers," said Principal Robert Foote. "But we have seen news reports that say the suit was filed and we consider them accurate."
Foote said Tuesday that he had called Rhonda's mother and told her that Rhonda could return to school immediately. He said the decision was made in a conference with School Superintendent John Hollingsworth.
Rhonda decided to stay home and receive failing grades in all her classes rather than be spanked. Her parents supported her stand and filed the suit.
Called Ridiculous
"It's a ridiculous rule carried to ridiculous extremes," said her mother, Peggy Davis. "Her father doesn't even spank her, and he said he's not about to let someone else lay a hand on her."
The Jones High School handbook specifies that any student late five times must either submit to a spanking or be dismissed indefinitely with failing grades. No hearing is provided.
Rhonda, who is president of her school class and football queen, said that on Nov. 4, the day after her fifth offense, officials "told me I could take the licks or leave school. I just went home."
She said she was late because she had a minor automobile accident while returning from lunch to the school, which has 500 students.
Click to enlarge
Rhonda said Foote "uses a board to give the spankings. There have been quite a few kids who got licks for being tardy."
Mrs. Davis said she asked the police chief what would have happened had her daughter left the scene of the accident to get back to school on time.
"He said, 'I would have arrested her immediately,'" she said. "Then we would really have been in trouble."
Besides receiving failing grades in all courses until she returns to school, Rhonda was not allowed to lead cheers at the school's final football game of the season.
Attacks Rule
The suit filed by the Davises in Oklahoma County District Court seeks to have Rhonda readmitted without the punishment. It also seeks a court order prohibiting enforcement of the handbook rule. A hearing on the lawsuit is scheduled next week.
"I hate to see her out of school," Mrs. Davis said. She said most of the parents opposed the spanking rule and that the suit was on behalf of all the students, not just Rhonda.
"I wonder how the board members would feel if they had that kind of rule where they worked," Mrs. Davis said. "I asked the board that one time and they just laughed like they thought I was crazy."
---
Gadsden Times, Alabama, 23 November 1977
Suit settled out of court
Click to enlarge
OKLAHOMA CITY (AP) -- Parents of a high school cheerleader say they have settled out of court a lawsuit filed against school officials who wanted to spank the girl for being late to class five times.
A state court was expected to rule today on the reported agreement between Jones High School, near Oklahoma City, and Ronnie and Peggy Davis, parents of 16-year-old Rhonda Davis.
Mrs. Davis said the out-of-court settlement was reached Tuesday and it stipulates that Rhonda would be reinstated without penalty.
Rhonda, president of the junior class and football queen, had been allowed to attend classes pending the outcome of the suit. But before it was filed, she had chosen to stay at home and risk failing grades rather than allow Principal Robert Foote to spank her.
The suit challenged a rule in the school handbook which orders a spanking as punishment for five tardy arrivals. Rhonda was late the fifth time on Nov.3. Her spanking was set for Nov.4, and she dropped out of school that day.
Rhonda and her mother said that Rhonda's fifth tardiness was caused by a traffic accident and that an earlier one occurred because the girl had been stopped for speeding. They said both tardinesses should be excused.