New York Post, 13 September 1977
School Lets Mom Spank Daughter
Mesquite, Texas (AP) -- Ann Torbert, who last week took her 15-year-old daughter out of school rather than let her be paddled by officials, has agreed to a school board proposal that she administer the spanking herself -- at school.
Ray Torbert said his wife reluctantly agreed to the idea when it was suggested by the school board at a meeting.
"This was mutually agreed on," Torbert said yesterday. "They [school officials] weren't going to back down and the child does need an education. It'll be done there in the principal's office and after that, she'll have a clean slate."
Earlier, officials said that school principals had authority to use corporal punishment at their discretion.
Tardiness
The incident began when Tamara May Torbert telephoned her mother and said the student dean had told her she was to be hit three times with a paddle because she had been tardy three times this school year.
Torbert said one of the things that upset him about the paddling was that a man was to have administered it.
On the second day of school, Mrs. Torbert said her daughter received four swats because three administrators contended she was "unaccounted for" for 30 minutes.
Called Liar
"When she was called in there that time, she tried to tell them she had been in line [getting her class schedule] and they called her a liar," said Mrs. Torbert. "These three men told her to put her hand on the desk and they hit her four times."
She said one of the swats left a large blue bruise on her daughter's leg.
Torbert said the use of corporal punishment at Mesquite schools is in for a long battle. "They're way too hard on those kids out there. We plan to take this back to the school board and try to get them to change the policy and if that doesn't work, we'll just have to take it elsewhere -- maybe to federal court."
From Associated Press
---
Mesquite Daily News, Texas, 14 September 1977
Mom of Paddled Girl Plans Petition Fight
The mother of Tamara May Torbert, 15 year-old Mesquite High School student who received a paddling for being tardy, said she will start a petition campaign against corporal punishment in the Mesquite schools.
Mrs Ann Torbert, who took her daughter out of school Friday rather than have her receive licks, gave Tamara May the paddling herself this morning (Wednesday) at school in keeping with an agreement between school officials and the parents in conferences Tuesday.
The girl and her parents, along with about 15 of their supporters, attended the Mesquite School Board meeting Monday night to protest the paddling edict by MHS officials. The board heard statements by the Torberts and one other man during a closed meeting, then announced that the Torberts would meet with school officials Tuesday to discuss the matter further.
It was agreed Tuesday, said Dr. Ralph Poteet, superintendent, that the mother would administer the spanking.
Mrs. Torbert said she reluctantly complied with the decision so that her daughter could return to school. She said she would start a petition drive against the school paddling policy and planned to get on the agenda for the School Board's next meeting, the second Monday in October.
School officials said the spanking for Tamara had been ordered because she was tardy three times Friday. She had been paddled at the beginning of the school year for a similar offense.
Mrs Torbert said the family had recently moved to Mesquite from Fort Worth and that Tamara had had a hard time adjusting to the new system.
At Monday night's School Board meeting, Trustee Buddy Roberts suggested that the School Board review its punishment policy, "in light of the adverse publicity we've been getting." The board, however, took no official action on the proposal.
Corporal punishment was upheld by a recent decision of the U.S. Supreme Court.
---
London Evening Standard, 15 September 1977
The girl who took a spanking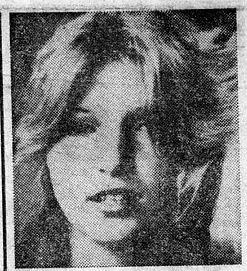 A DIPLOMATIC compromise took the sting out of a school spanking for 15-year-old Tamara Torbet [sic] (above).
Click to enlarge
Because it was her mother Mrs Ann Torbet and not the headmaster who gave her three of the best.
Mrs Torbet had kept her daughter away from the school because she did not want a man spanking her.
But headmaster Dan Achziger said Tamara had to be punished for arriving late at school three times.
It looked like deadlock until the school board suggested a compromise.
Tamara would be spanked by her mother behind the closed doors of the headmaster's office.
---
New York Post, 15 September 1977
Student Gets Her Spanking
Mesquite, Texas -- Tamara May Torbert got the spanking she had coming to her. But it came from her mother, not the male principal of her school.
Ann Torbert administered the spanking yesterday in the office of principal Don Achziger when her 15-year-old daughter returned to the high school yesterday.
Mrs. Torbert had taken her daughter out of school last week rather than allow the principal to paddle her for being late.
The dispute ended when Mrs. Torbert and the school board agreed the mother would do the spanking in the principal's office.
Mrs. Torbert, who doesn't believe in using paddles, said she gave her daughter three "real soft" whacks with a belt.
---
The following two pictures about the above event were published in an as yet unidentified tabloid magazine: