Eugene Register-Guard, Oregon, 15 November 1968
Corporal Punishment Stirs Creswell Mothers' Wrath
By Don Floyd
of the Register-Guard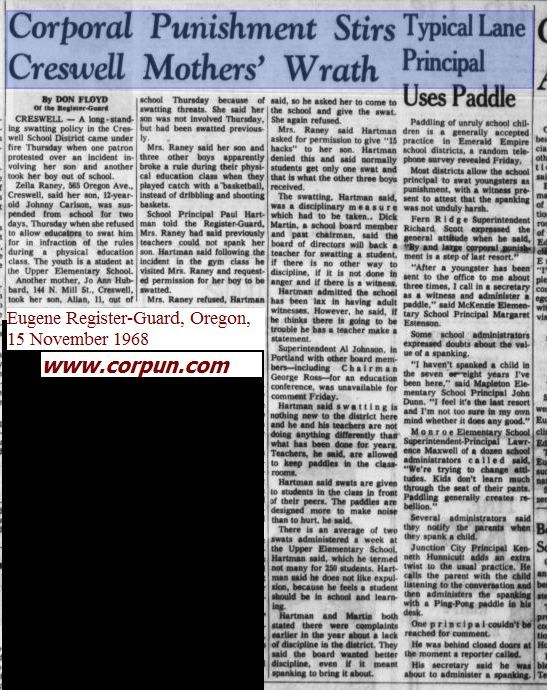 Click to enlarge
CRESWELL -- A long-standing swatting policy in the Creswell School District came under fire Thursday when one patron protested over an incident involving her son and another took her boy out of school.
Zella Raney, 565 Oregon Ave., Creswell, said her son, 12-year-old Johnny Carlson, was suspended from school for two days Thursday when she refused to allow educators to swat him for an infraction of the rules during a physical education class. The youth is a student at the Upper Elementary School.
Another mother, Jo Ann Hubbard, 144 N. Mill St., Creswell, took her son, Allan, 11, out of school Thursday because of swatting threats. She said her son was not involved Thursday, but had been swatted previously.
Mrs. Raney said her son and three other boys apparently broke a rule during their physical education class when they played catch with a basketball, instead of dribbling and shooting baskets.
School Principal Paul Hartman told the Register-Guard, Mrs. Raney had said previously teachers should not spank her son. Hartman said following the incident in the gym class he visited Mrs. Raney and requested permission for her boy to be swatted.
Mrs. Raney refused, Hartman said, so he asked her to come to the school and give the swat. She again refused.
Mrs. Raney said Hartman asked for permission to give "15 hacks" to her son. Hartman denied this and said normally students get only one swat and that is what the other three boys received.
The swatting, Hartman said, was a disciplinary measure which had to be taken. Dick Martin, a school board member and past chairman, said the board of directors will back a teacher for swatting a student if there is no other way to discipline, if it is not done in anger and if there is a witness.
Hartman admitted the school had been lax in having adult witnesses. However, he said, if he thinks there is going to be trouble he has a teacher make a statement.
Superintendent Al Johnson, in Portland with other board members -- including Chairman George Ross -- for an education conference, was unavailable for comment Friday.
Hartman said swatting is nothing new to the district here and he and his teachers are not doing anything differently than what has been done for years. Teachers, he said, are allowed to keep paddles in the classrooms.
Hartman said swats are given to students in the class in front of their peers. The paddles are designed more to make noise than to hurt, he said.
There is an average of two swats administered a week at the Upper Elementary School, Hartman said, which he termed not many for 250 students. Hartman said he does not like expulsion, because he feels a student should be in school and learning.
Hartman and Martin both stated there were complaints earlier in the year about a lack of discipline in the district. They said the board wanted better discipline, even if it meant spanking to bring it about.
Typical Lane Principal Uses Paddle
Paddling of unruly school children is a generally accepted practice in Emerald Empire school districts, a random telephone survey revealed Friday.
Most districts allow the school principal to swat youngsters as punishment, with a witness present to attest that the spanking was not unduly harsh.
Fern Ridge Superintendent Richard Scott expressed the general attitude when he said, "By and large corporal punishment is a step of last resort."
"After a youngster has been sent to the office to me about three times, I call in a secretary as a witness and administer a paddle," said McKenzie Elementary School Principal Margaret Estenson.
Some school administrators expressed doubts about the value of a spanking.
"I haven't spanked a child in the seven or eight years I've been here," said Mapleton Elementary School Principal John Dunn. "I feel it's the last resort and I'm not too sure in my own mind whether it does any good."
Monroe Elementary School Superintendent-Principal Lawrence Maxwell of a dozen school administrators called said, "We're trying to change attitudes. Kids don't learn much through the seat of their pants. Paddling generally creates rebellion."
Several administrators said they notify the parents when they spank a child.
Junction City Principal Kenneth Hunnicutt adds an extra twist to the usual practice. He calls the parent with the child listening to the conversation and then administers a spanking with a Ping-Pong paddle in his desk.
One principal couldn't be reached for comment.
He was behind closed doors at the moment a reporter called.
His secretary said he was about to administer a spanking.