Ocala Star-Banner, Florida, 21 February 1963, p.10
School Officials Have Varying Opinions On Spanking Junior
By The Associated Press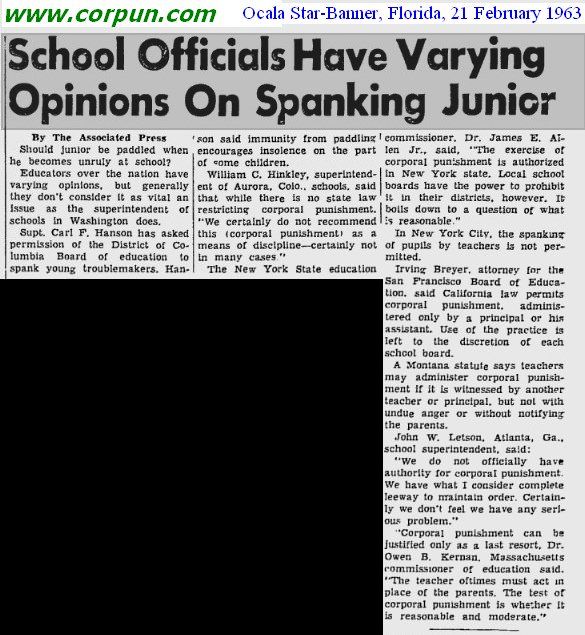 Click to enlarge
Should junior be paddled when he becomes unruly at school?

Educators over the nation have varying opinions, but generally they don't consider it as vital an issue as the superintendent of schools in Washington does.

Supt. Carl F. Hanson has asked permission of the District of Columbia Board of education to spank young troublemakers. Hanson said immunity from paddling encourages insolence on the part of some children.

William C. Hinkley, superintendent of Aurora, Colo., schools, said that while there is no state law restricting corporal punishment "We certainly do not recommend this (corporal punishment) as a means of discipline -- certainly not in many cases."

The New York State education commissioner, Dr. James E. Allen Jr., said, "The exercise of corporal punishment is authorized in New York state. Local school boards have the power to prohibit it in their districts, however. It boils down to a question of what is reasonable."

In New York City, the spanking or pupils by teachers is not permitted.

Irving Breyer, attorney for the San Francisco Board of Education, said California law permits corporal punishment, administered only by a principal or his assistant. Use of the practice is left to the discretion of each school board.

A Montana statute says teachers may administer corporal punishment if it is witnessed by another teacher or principal, but not with undue anger or without notifying the parents.

John W. Letson, Atlanta, Ga., school superintendent, said:
"We do not officially have authority for corporal punishment. We have what I consider complete leeway to maintain order. Certainly we don't feel we have any serious problem."

"Corporal punishment can be justified only as a last resort", Dr. Owen B. Kernan, Massachusetts commissioner of education said. "The teacher oftimes must act in place of the parents. The test or corporal punishment is whether it is reasonable and moderate."
Article: American school paddling
External links: Corporal punishment in US schools