Miami News, Florida, 24 February 1959
Leaves an Impression
Boys Get Paddle; Moms The Word
The Associated Press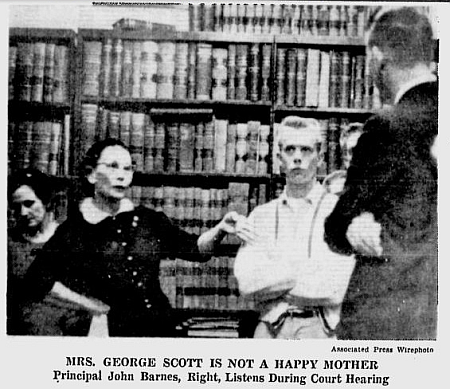 MEMPHIS, Tenn., Feb. 25 -- The abortive teenage rebellion at Bartlett High will soon be history, put down by a polished maple paddle swung by Principal John Barnes.
Three more young pupils are on the waiting list for seven whacks. Fourteen have felt the sting thus far. And Sessions Judge Willard Dixon heartily approves.
The judge, at a conference with seven angry parents in his office yesterday, rejected demands for assault warrants against Barnes.
Smarting Bottoms
Two of the mothers came armed with photographs of their sons' smarting bottoms. The judge, after expert appraisal, said he had acquired worse bottoms himself for less.
The boys needed the whacking, he ruled. He also cited a state Supreme Court ruling that teachers have, to a reasonable degree, the disciplinary rights of parents while the child is in their care.
In all, it was a sharp contrast to a recent case at Plattsburg, Mo., where the school board fired a principal and a teacher for paddling four students.
To a mother who said the Bartlett High paddling was too severe, even if warranted, Dixon said he figured he was a better man because of the paddlings he received during his school days.
To another who said Barnes furiously kicked his office desk out of the way to gain swinging room, the judge observed: "If he wants to take a running start, maybe he needs it."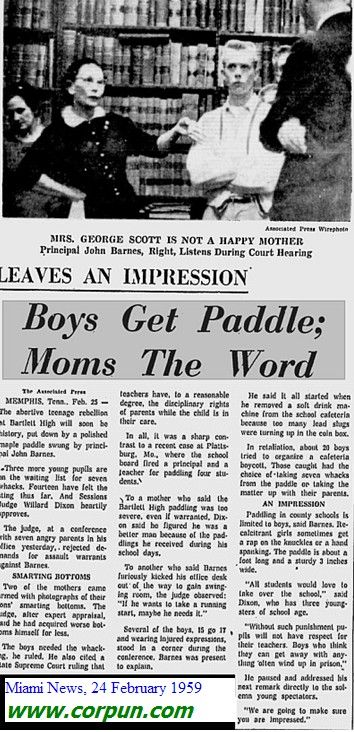 Click to enlarge
Several of the boys, 15 to 17 and wearing injured expressions, stood in a corner during the conference. Barnes was present to explain.
He said it all started when he removed a soft drink machine from the school cafeteria because too many lead slugs were turning up in the coin box.
In retaliation, about 20 boys tried to organize a cafeteria boycott. Those caught had the choice of taking seven whacks from the paddle or taking the matter up with their parents.
An Impression
Paddling in county schools is limited to boys, said Barnes. Recalcitrant girls sometimes get a rap on the knuckles or a hand spanking. The paddle is about a foot long and a sturdy 3 inches wide.
"All students would love to take over the school," said Dixon, who has three youngsters of school age.
"Without such punishment pupils will not have respect for their teachers. Boys who think they can get away with anything often wind up in prison."
He paused and addressed his next remark directly to the solemn young spectators.
"We are going to make sure you are impressed."
---
Life, New York, 1959 [either 2 or 9 March]
Protest over a principal's paddling
In a judge's chambers in Memphis, Tenn., LaDraun Gardner [described in another publication as 18 years old -- CF] (center), backed by Mrs. George Scott (to left), angrily faced John Barnes, principal of Bartlett High School (second from right). Gardner and his schoolmates came with two parents who wanted the principal arrested for giving the boys disciplinary paddlings. Superintendent George Barnes (far right) supported his brother John. So did Judge Willard Dixon (lower left), who refused to issue a warrant. When a parent complained that Barnes had moved furniture to get swinging room, Judge Dixon said, "If he wants a running start, maybe he needs it."
---

Newsweek, New York, 9 March 1959
AS SEVEN angry Tennessee parents learned last week, the tune of the hickory stick can still ring -- legally -- through the halls of many American schools. The parents, who demanded assault warrants on behalf of their sons against Principal John Barnes of Bartlett High School, near Memphis, were rebuffed by Judge Willard Dixon, who cited a state supreme-court decision -- similar to rulings in every state -- that in the absence of local statutes to the contrary, teachers may physically punish students because they stand "in loco parentis" (in the place of parents) during school hours. In all, Barnes gave twenty boys (including Travis Cogburn Jr., shown above with his mother and Barnes) seven licks each with a 12-by-3-inch paddle for their part in an attempted boycott of their school's cafeteria. "You should have seen my boy's rear end!" cried one mother. "I have seen my own rear end after similar incidents," the judge replied.