Time, New York, 1 February 1954
Education
The Spanking
Had her son been an ordinary twelve-year-old boy at an ordinary sort of school, Mrs. Walter Thomas of Milstead, Ga. might not have found his letter so shocking. But little Louis is partially blind, and the school he goes to is the Academy for the Blind at Macon. Last week Louis' letter was causing quite a scandal in Georgia. "Mama," he had written, "they're beating us down here. Come and get me."
In Atlanta, the state board of education summoned the academy's Superintendent F. G. Nelms and Principal Robert Long to a hearing. Louis and his mother charged that Principal Long had given Louis two severe beatings, but Long insisted that they were only "spankings." Gradually the board began to learn that Nelms and Long had some strange notions about just what a spanking is.
Superintendent Nelms conceded that Louis was "not a bad boy." But he indicated that he saw nothing wrong with using a strap, and he certainly was a man with a conscience. "I spank my own children," said he, "and I'm somewhat ashamed the next morning when [the buttocks] turn blue." Cried Board Chairman George Whitman Jr.: "The state of Georgia has a law abolishing corporal punishment in prisons and on chain gangs. Do you think that this law, applying to hardened criminals, should apply to a partially blind twelve-year-old boy?" Answered Nelms: "The board has never ordered me to abolish corporal punishment."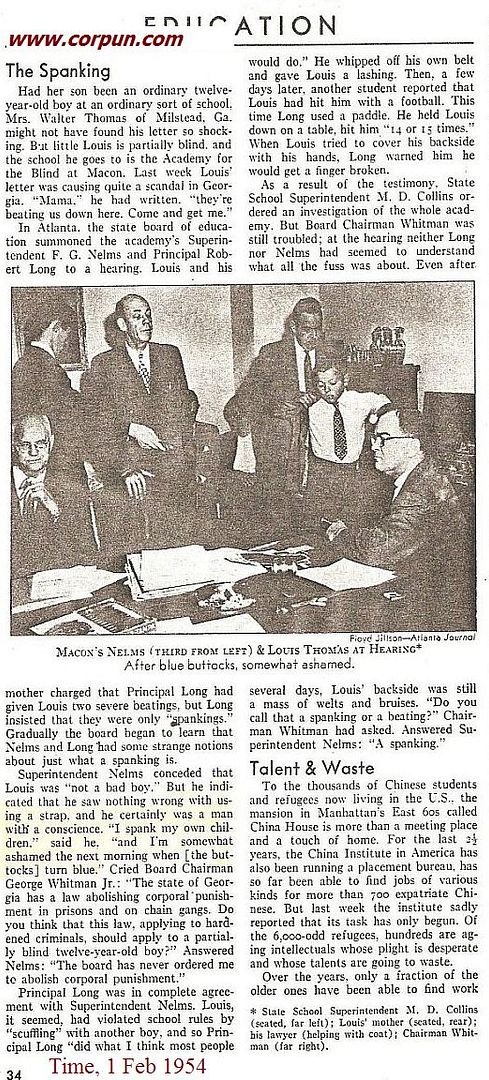 Click to enlarge
Principal Long was in complete agreement with Superintendent Nelms. Louis, it seemed, had violated school rules by "scuffling" with another boy, and so Principal Long "did what I think most people would do." He whipped off his own belt and gave Louis a lashing. Then, a few days later, another student reported that Louis had hit him with a football. This time Long used a paddle. He held Louis down on a table, hit him "14 or 15 times." When Louis tried to cover his backside with his hands, Long warned him he would get a finger broken.
As a result of the testimony, State School Superintendent M. D. Collins ordered an investigation of the whole academy. But Board Chairman Whitman was still troubled; at the hearing neither Long nor Nelms had seemed to understand what all the fuss was about. Even after several days, Louis' backside was still a mass of welts and bruises. "Do you call that a spanking or a beating?" Chairman Whitman had asked. Answered Superintendent Nelms: "A spanking."