The Bend Bulletin, Bend, Oregon, 10 May 1950, p.4
Broad Paddle, Not Hickory, Recommended for Paddling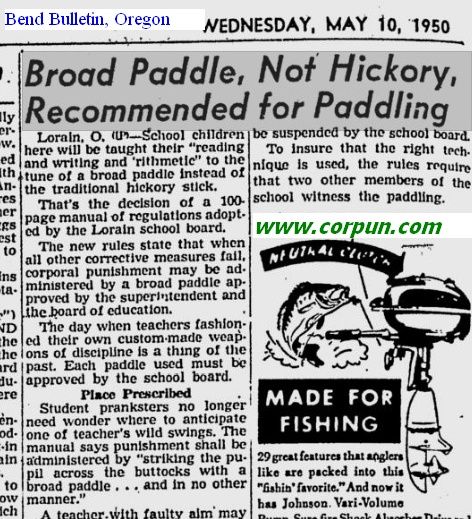 Click to enlarge
Lorain, O. (UP) -- School children here will be taught their "reading and writing and 'rithmetic" to the tune of a broad paddle instead of the traditional hickory stick.
That's the decision of a 100-page manual of regulations adopted by the Lorain school board.

The new rules state that when all other corrective measures fail, corporal punishment may be administered by a broad paddle approved by the superintendent and the board of education.

The day when teachers fashioned their own custom-made weapons of discipline is a thing of the past. Each paddle used must be approved by the school board.
Place Prescribed
Student pranksters no longer need wonder where to anticipate one of teacher's wild swings. The manual says punishment shall be administered by "striking the pupil across the buttocks with a broad paddle ... and in no other manner."

A teacher with faulty aim may be suspended by the school board.

To insure that the right technique is used, the rules require that two other members of the school witness the paddling.
Article: American school paddling
External links: Corporal punishment in US schools