The Evening Missourian, Columbia, Missouri, 5 June 1919, p.3
Seemed to Enjoy Paddling
But Russell Trembley Got Over That Before the Finish.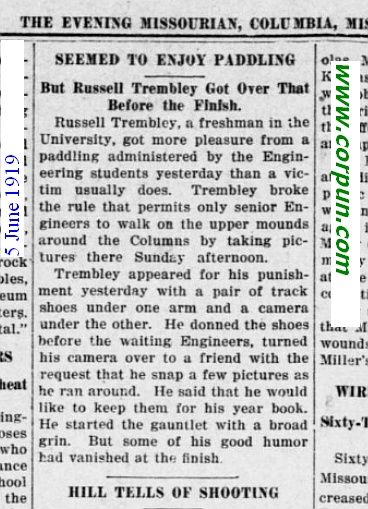 Click to enlarge
Russell Trembley, a freshman in the University, got more pleasure from a paddling administered by the Engineering students yesterday than a victim usually does. Trembley broke the rule that permits only senior Engineers to walk on the upper mounds around the Columns by taking pictures there Sunday afternoon.
Trembley appeared for his punishment yesterday with a pair of track shoes under one arm and a camera under the other. He donned the shoes before the waiting Engineers, turned his camera over to a friend with the request that he snap a few pictures as he ran around. He said that he would like to keep them for his yearbook. He started the gauntlet with a broad grin. But some of his good humor had vanished at the finish.
Article: American school paddling
External links: Corporal punishment in US schools