cbs2chicago.com (CBS2 TV, Chicago), 6 October 2008
CPS Takes Action On Corporal Punishment
2 Investigation Uncovered Beatings Of High School Athletes

Reporting: Dave Savini
CHICAGO (CBS) -- CBS 2 Investigator Dave Savini exposed illegal corporal punishment in public schools, and the report is getting results that will help prevent children in our schools from being beaten.

The 2 Investigators uncovered the story about athletes beaten at Chicago's prestigious Simeon Career Academy. Now more big name schools are under fire as more students come forward to report abuse.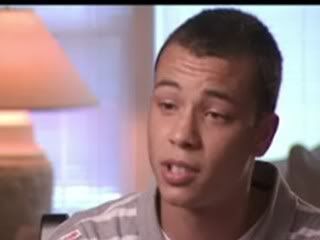 "It's a tradition there," Bruce Zayas, 17, said of Simeon Career Academy. "They hit players."
In an exclusive interview, the head of Chicago Public Schools expressed his outrage.

"We are going to fire anyone who we find that does this," CPS CEO Arne Duncan said in reaction to security camera footage the 2 Investigators exposed of a Simeon coach beating athletes with a 4-foot paddle.

Bruce Zayas stuffed a shirt in his mouth to fight the pain.

"I had a paddle mark across my butt," he said.

The 2 Investigators have learned at least five Chicago public schools are now under investigation for beating athletes including Wendell Phillips High School and John Marshall High School, home of numerous state championship teams.

"Because of your story some other students are talking," Duncan said.

And that includes Akeem Nathaniel.

"They should be fired," he said. "They shouldn't be coaching."

Nathaniel says a Marshall High School basketball coach repeatedly hit him and other players with a 3-foot long wooden paddle.

"I saw student players getting hit with the paddle eight times straight," Nathaniel said.

The 2 Investigators obtained confidential records written by a Chicago Public Schools investigator. They detail complaints about four other basketball players being hit with a paddle by a Marshall basketball coach.

One says he got "3 licks" for missing an assignment.

"If a student got in trouble in class the teacher would tell the coach and the coach would paddle the player in practice," Nathaniel said.

Calvin Davis, head of the Chicago Public Schools Sports Administration, said a number of situations are being looked into.

"The hardest part for me is the fact that coaches are not realizing that this is no longer allowed," Davis said.

Davis spoke to the Athletic Board of Principals Monday about the corporal punishment investigation and says he admires Zayas' courage for coming forward, leading to the city-wide investigation.

In Zayas' case, the coach who struck him for missing volleyball serves, Fred McClinton, resigned.

"This one's personal for me," Duncan said. "I've been there. I was paddled and I remember like it was yesterday."

Duncan promises terminations for anyone else found beating students.

"It disgusts me and it's the kind of thing we can't have any tolerance for," Duncan said.

Duncan and Davis are urging anyone who knows about paddling or abuse to come forward.

Paddles have been confiscated from schools and it is unclear just how many coaches may have been using this form of discipline that has been illegal since 1994.

The 2 Investigators also would like to know of other incidents.
© MMVIII, CBS Broadcasting Inc. All Rights Reserved.
---
cbs2chicago.com (CBS2 TV, Chicago), 8 October 2008
Local H.S. Investigated For Paddling Athletes

Reporting: Dave Savini
CHICAGO (CBS) -- CBS 2 Investigators have the name of another Chicago Public School being investigated for illegally paddling athletes. CBS 2 Investigator Dave Savini first exposed athletes being beaten by coaches. His report led to a citywide investigation. The abuses under investigation involve the use of wooden paddles, even baseball bats, to hit athletes for not performing on the court.

Savini reports that the 2 Investigators have learned exclusively that Morgan Park High School is under investigation for the illegal practice of corporal punishment. Parents of some students there are alleging basketball players were struck with paddles for missing assignments on the court.

A paddle and baseball bat were confiscated earlier this summer at Simeon Career Academy after Bruce Zayas, a student there, blew the whistle on beatings during a volleyball practice.

The Morgan Park athletic program is the latest school under investigation. It is one of at least five high schools were players were allegedly struck by coaches for missing assignments.

Chicago Public School investigators are interviewing coaches at that school along with officials at Simeon, Phillips High School and Marshall High School.

The citywide probe was prompted by CBS 2 after we obtained security camera footage showing a coach repeatedly hitting players on the varsity volleyball team.

That coach, Fred McClinton, has resigned and refused to talk.

The airing of that story led to more players coming forward at Marshall High School, home of this year's state championship team. CBS 2 obtained internal Chicago Public school records revealing players complaining about paddlings a year ago.

The question now is why wasn't anything done? Chicago Public School CEO Arne Duncan vows to find out what happened. He is promising to fire any coach caught using corporal punishment. CBS 2 learned that one coach would actually roll dice to see how many times a player would get hit.
© MMVIII, CBS Broadcasting Inc. All Rights Reserved.
---
RELATED VIDEO CLIP

News report (8 Oct 2008) from CBS2, Chicago, of which the above is an abbreviated text version. It briefly shows some speeded-up CCTV footage in which the paddling of students by a sports coach can be discerned in the distance. The impression is given that this punishment was not administered properly in a formal manner, but was a casual and hasty affair.




HERE IS THE CLIP:

IMPORTANT: Copyright in this video material rests with the original copyright holders. This brief excerpt is reproduced under the "fair use" doctrine for private, non-profit, historical research and education purposes only. It must not be redistributed or republished in any commercial context.
---

Chicago Sun-Times, 8 October 2008
Education
Paddled!
SIMEON HIGH SCHOOL | After volleyball player says coach beat him so hard it left welts, CPS probes corporal punishment charges
By Maudlyne Ihejirika
Staff Reporter
Last school year, Simeon High School senior Bruce Zayas was captain of the volleyball team, a rising star recruited from Mount Carmel, and looking at a volleyball scholarship.
But a paddling by his coach last April for missing serves during a game -- a "whupping" that left welts on the 17-year-old -- changed that.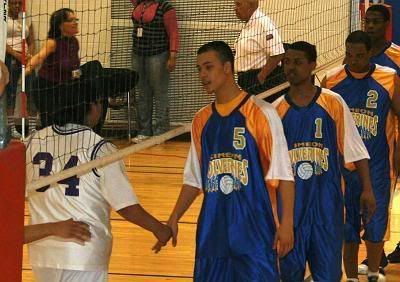 Bruce Zayas, No. 5, was captain of Simeon's volleyball team and working toward a college scholarship. He says he was forced off the team.
"I worked so hard at volleyball to get to that college scholarship level, and it got all taken away," Zayas said.
His courage in exposing a practice long illegal in Illinois led to a coach's resignation and spurred an investigation into corporal punishment at some city public schools.
"Anyplace where this is found, we're going to fire the coach," Chicago Public Schools Chief Arne Duncan said.
Fred McClinton, the Simeon sophomore assistant coach who whacked Zayas five times April 3 with a heavy wooden paddle, has resigned, CPS officials said. Last month, the probe spread from Simeon to four other schools, including Marshall and Phillips.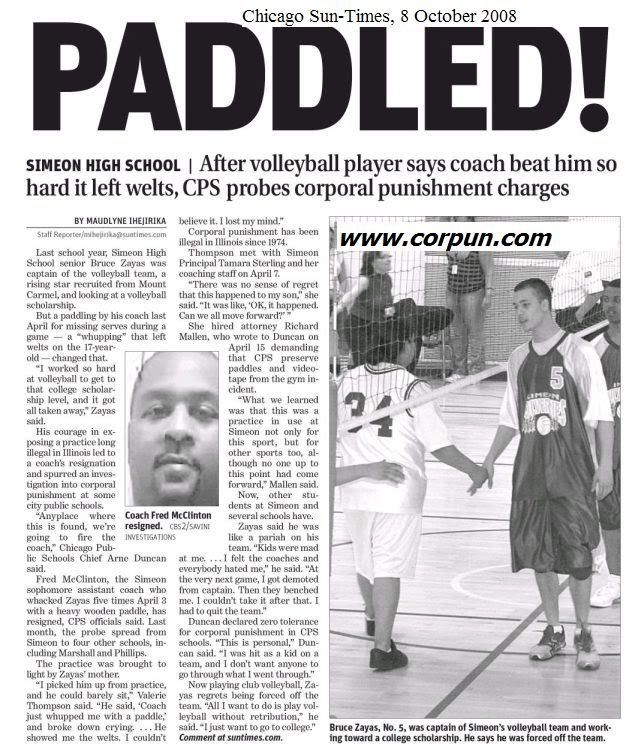 The practice was brought to light by Zayas' mother.
"I picked him up from practice, and he could barely sit," Valerie Thompson said. "He said, 'Coach just whupped me with a paddle,' and broke down crying. . . . He showed me the welts. I couldn't believe it. I lost my mind."
Corporal punishment has been illegal in Illinois since 1974. [sic -- actually 1994 -- C.F.]
Thompson met with Simeon Principal Tamara Sterling and her coaching staff on April 7.
"There was no sense of regret that this happened to my son," she said. "It was like, 'OK, it happened. Can we all move forward?' "
She hired attorney Richard Mallen, who wrote to Duncan on April 15 demanding that CPS preserve paddles and videotape from the gym incident.
"What we learned was that this was a practice in use at Simeon not only for this sport, but for other sports too, although no one up to this point had come forward," Mallen said.
Now, other students at Simeon and several schools have.
Zayas said he was like a pariah on his team. "Kids were mad at me. . . . I felt the coaches and everybody hated me," he said. "At the very next game, I got demoted from captain. Then they benched me. I couldn't take it after that. I had to quit the team."
Duncan declared zero tolerance for corporal punishment in CPS schools. "This is personal," Duncan said. "I was hit as a kid on a team, and I don't want anyone to go through what I went through."
Now playing club volleyball, Zayas regrets being forced off the team. "All I want to do is play volleyball without retribution," he said. "I just want to go to college."
© Copyright 2008 Digital Chicago, Inc.
---
Follow-up: 29 November 2008 - Paddling probe widens
---
---
The Post, Athens, Ohio, 17 October 2008
Board of Education supports Ohio paddling ban
Jessica Neidhard
For the Post
The Ohio State Board of Education passed a resolution opposing the use of corporal punishment in schools Wednesday, according to a report from the department of education.
The board defined corporal punishment as any punishment inflicted to a student's body as a means of discipline. Spanking and paddling are the most common forms.
The board resolution supports a current bill in the Ohio General Assembly that would ban corporal punishment in all public schools.
House Bill 406 passed the House Education Committee last spring by a 15 to 6 margin; however, House representatives have not voted yet. If it passes, Ohio would join 29 other states that ban corporal punishment.
Current law in Ohio allows corporal punishment if the school district adopts a policy permitting it.
None of the five school districts in Athens County have adopted a policy of corporal punishment.
However, 13 Ohio school districts used corporal punishment more than 300 times during the 2006-07 school year, according to a report by The Center for Effective Discipline, a nonprofit organization that works to ban corporal punishment.
"Although 98 percent of Ohio's school districts don't use corporal punishment, even one paddled child is too many," said Nadine Block, executive director of the Center for Effective Discipline.
Each school district is required to report both the number of students paddled and the total paddlings that occurred each year to the Department of Education, she said.
But the center confirms those numbers at each school district before releasing its own report, Block said.
"Sometimes, the numbers the Department of Education gets are incorrect, so we go ahead and call each school district to make sure what they reported is right," she said.
The center's report found several southern Ohio school districts with paddlings including Morgan Local School District in nearby Morgan County, which reported 66 paddlings -- the highest in the state.
Superintendent Lori Snyder-Lowe said the district rarely uses corporal punishment and parents are informed if the district decides to paddle a student.
"We've used corporal punishment for many years and it's really the principal's discretion when to use corporal punishment," she said.
Corporal punishment is typically used in cases of physical violence or assault, verbal harassment and threats, she said. However, Block, the director of the center, said the center would continue to educate schools and parents about alternative forms of discipline as long as students are still being paddled.
"(Corporal punishment) is a practice that should not exist in the 21st century," Block said.
---
---

The Dallas Morning News, 21 October 2008
Irving School District
Board looks to ban corporal punishment
Administrators say although permitted, practice is rarely used
By Katherine Leal Unmuth
Staff Writer
The Irving school board took a step toward banning corporal punishment Monday.
Trustees voted 5-2 to amend the district's discipline policy, which has allowed spanking or paddling students.
In recent years many area districts have ended the practice, including Dallas in 2005 and Plano in 2006.
The school board originally had discussed small changes to the policy, including allowing principals to appoint an educator of the same sex as the child being disciplined to deliver the punishment.
But instead of approving the changes, trustee Valerie Jones proposed prohibiting such discipline.
"The time for corporal punishment in school has come and gone," she said. "As a mom, I'm not comfortable with this form of punishment."
Other board members said continuing to allow physical punishment could be a liability issue. But trustee Randy Stipes supported keeping it, pointing out he received the punishment as a child.
"I'm in favor of keeping the policy as a deterrent," he said. "The problem in this country today is kids don't get their rear ends busted."
District administrators said that though corporal punishment is permitted, principals they surveyed said they had not used it last year or so far this year.
Trustees will have to vote on final approval at a future meeting.
---
---
The Times-Mail, Bedford, Indiana, 22 October 2008
In trouble at school
Corporal punishment not among local schools' correction methods
By Carly Nation
Not every child is an angel. If you send your son or daughter off to school, you might wonder what he or she will be subjected to when that ornery streak comes out.
Could it be writing 100 "I will not ..." sentences on a chalkboard?
Will your child be kept after school to serve a detention?
Well, there is one thing that won't happen in Lawrence County public schools -- spanking.
"Corporal punishment is not permitted in Mitchell Community Schools," said MCS Superintendent John Lantis.
The decision to forgo using physical punishment was implemented by the corporation's school board, and has been in place at least since 2004.
Discipline measures that are allowed are suspension and expulsion, or in-school discipline as an alternative to out-of-school suspension.
North Lawrence Community Schools also does not allow corporal punishment.
"A variety of remediations for unacceptable behavior are used including counseling with students, loss of privileges, time outs, suspensions and, if necessary, requests for expulsion," Superintendent Dennis Turner wrote in an e-mail to the Times-Mail. "Our main deterrent to inappropriate behavior is a welcoming and inviting learning environment that engages students to do their best."
Friday school
One of the modified disciplines at NLCS is the high school's move to Friday school. The move from a Saturday detention -- when students would often not show and therefore be in more trouble -- to a Friday after-school work and study detention was approved by the board within the last two years.
"I think it's going OK," said Steve Underwood, Bedford North Lawrence High School assistant principal.
He said students who attend Friday school are there from 3-6 p.m. They spend half of the time helping at the school, and half of the time studying.
"They've helped out in athletics, getting ready for games," Underwood said. "They've helped put signs around the building."
He said some of those in Friday school are there because of truancy issues.
"The philosophy is a time-for-time deal, really," he said. "They're making up that time they skipped."
Both school systems try to put responsibility in the hands of the student when it comes to correcting undesired actions.
"Opportunity is given to students to be responsible to their learning and respectful to others," Turner wrote. "If they choose to not abide by established citizenship expectations, positive steps are taken to ensure understanding of what is expected."
Lantis said the school board believes that the best discipline is self-imposed, and/or a student should learn responsibility for his or her own behavior and the consequences of his or her own actions.
"I think it's working very well," Lantis said of the MCS discipline policies. "I think we have enough tools to handle various situations that we may be confronted with on a daily basis."
Legal protection
School discipline was put on the table for discussion recently when Gov. Mitch Daniels announced in August his intention to seek legal protection for teacher and school staff "who act in good faith to maintain discipline and order in their classrooms."
"Students can't learn and teachers can't teach in classrooms where kids are disruptive. Some teachers are afraid to restore order when needed because they fear legal harassment. It's unacceptable that a teacher would have that hesitation," Daniels said. "Ultimately, we need parents to recognize that firm school discipline is in every child's interest, and support teachers in doing whatever is necessary to maintain it. But for now, we need action to see that no student's education is damaged by the bad behavior of anyone around him."
The governor said he would ask the 2009 Indiana General Assembly to pass a law providing legal immunity for teachers who act in good faith to preserve order in their classrooms or other school settings. In addition, he said he would work with the next Indiana Attorney General in this effort by using the office's statutory authority to defend any teacher who becomes the target of unreasonable litigation.
A press release from the governor's office gave the following examples of discipline resulting in litigation:
• In one central Indiana school, a student filed a notice of tort claim and a complaint for injuries against a gym teacher who required the student to do push-ups for an infraction.
• In the Indianapolis area, a student filed claims against school personnel after teachers tried to separate two students involved in a fight
• And, in northern Indiana, a student sued the school and a principal for attempting to restrain the student when he was separated during a fight.
---
---

The Anniston Star, Alabama, 30 October 2008
School spanking draws complaint
By Michael A. Bell
Staff Writer
Curtis Butcher, a single father of three with a failing heart, realized a few years ago that spanking his son wasn't the best form of punishment. He'd allow the schools to do it, though.
But after his 12-year-old son, Matthew, was paddled at Oxford Middle School recently, he wants the decision back.
"I believe in spanking," he said. "I don't believe in beatings."
On Oct. 10, a teacher sent Matthew and three others to the principal's office for throwing pencil lead, Butcher said.
Roy Bennett, student support services coordinator with Oxford City Schools, said a veteran administrator spanked the child and that a witness was present.
"Everything was done according to board policy," he said. "We did it all like we are supposed to do."
School officials said they received no complaints from parents of other students who were spanked that day.
Butcher points to a picture taken about 23 hours after an administrator smacked his son twice with a wooden paddle, his body bending over and latching onto a chair.
"If I'd have done this to my son," he said, "I'd be in jail."
A day after snapping the images, Butcher raced to the Police Department and filed a third-degree assault report.
Lt. Louie Lefoy said the allegation was investigated, but a state statute exempts school administrators who administer corporal punishment from being prosecuted.
Butcher said he discussed the incident with Oxford Mayor Leon Smith, who suggested he get an attorney. Butcher said a doctor took X-rays of his son and said he should return if the pain shooting down his legs doesn't stop in three weeks.
Butcher is considering suing the school. But his main objective is for the school administrator to be fired.
Each year, parents, like Butcher, give administrators permission to use corporal punishment.
The majority of states have outlawed corporal punishment. But it's still legal in 21 states, and actively used in 13 states, including Alabama.
In 2006-07, Alabama ranked third in the nation with 4.5 percent of its students receiving corporal punishment, according to a U.S. Department of Education, Office for Civil Rights study. Mississippi led the nation with 7.5 percent, followed by Arkansas at 4.7 percent.
Allison Neal, staff attorney for the American Civil Liberties Union of Alabama, said corporal punishment in schools corrodes the education environment for students.
"We think that it damages the trust between the teacher and the student," she said, "leaving the student unable to learn effectively."
She added that it is a "violation of students' rights to physical integrity and human dignity, and frankly it's out of step with international practice and jurisprudence."
The American Academy of Pediatrics seeks to abolish corporal punishment in all states, said Dr. Jeffrey H. Lamont, a pediatrician with its Wisconsin chapter.
"By hitting a child to try to make a point is cruel; it's cruel and it's anomalous," he said.
Butcher said the incident continues to rattle his son. He's asked the school to never touch his child again.
Michael Bell covers education and health for The Star. He is a graduate of University of North Carolina, Wilmington.
Copyright © 1998-2008 Consolidated Publishing. All rights reserved.