Southeast Missourian, Cape Girardeau, MO, 12 March 2008
Cookson, SCC look for state title No. 13
By Kevin Winters Morriss
Southeast Missourian
(extracts)
MORLEY, Mo. — The new gymnasium is named after him.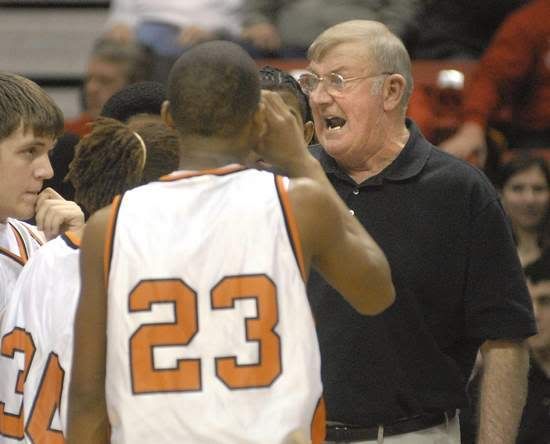 Scott County Central coach Ronnie Cookson talked to his players Thursday at the Southeast Missourian Christmas Tournament. (AARON EISENHAUER ~ photos@semissourian.com)
There are two large trophy cases inside the entrance to his gym because one wouldn't hold all his state championship trophies.
But after 12 state championships and 26 seasons as Scott County Central's boys basketball coach, Ronnie Cookson's players say he's not the same coach.
"He coached my dad and my uncles," junior Drew Thomas said. "From the stories they were telling me and from now what I can see, he got a little soft on us. Just a little bit. He's hard on us, but not like the stories that he and my dad told me. He just got old and he doesn't want to do all the stuff he did in his older days."
That's about all that's changed, except a few more gray hairs. The 63-year old Cookson led another Scott County team to a familiar place — the state final four.
Scott County will face two-time defending state champion Jefferson in a Class 1 state semifinal Thursday at 12:20 p.m. at Mizzou Arena in Columbia. Cookson has his team two wins away from his 13th state title at the school.
One of Cookson's favorite parts of the program is the link to the past. He pointed out that Otto Porter played on his first state championship team, and now Porter's son Otto is a freshman on this year's squad.
"I've really enjoyed having some of the ancestors come back," Cookson said. "It's just exciting for me. I've got little Otto. The first state tournament we won, I had big Otto. That's exciting just to think about it. I've got Bobby Hatchett. His dad played for me on a state tournament team. Moon Timmons, I've got his boy out here."
The family connections on the team help make Scott County a special team. But it also adds a touch of confusion for Cookson.
"He gets me mixed up with my dad all the time," sophomore Bobby Hatchett said. "Sometimes he calls me Mark."
The players shrug off being called their father or brother or uncle because they know that while Cookson might struggle with a name here or there, he hasn't lost anything when it comes to basketball.
"He makes stuff so easy," Hatchett said. "That's the difference between him and the other coaches.
[...]
Cookson runs a tight practice, making sure his players stay on task. One way he does that is by using a paddle. If a player gets out of line, Cookson isn't afraid to give him a swat or two.
"Coach thinks you did something bad, you get paddled," Hatchett said.
Added senior Caleb Johnson: "I've gotten a couple swats."
[...]
© 2008 Southeast Missourian
---
---
klfy.com (KLFY-TV), Lafayette, Louisiana, 13 March 2008
Ville Platte High Student Paddled for Wearing Baggy Pants
By Alexandra Lewis
A Ville Platte High School student claims he was paddled by the Assistant Principal.
But that's only half of the story. Last month twelve year old Robert Wilson was playing at school when his cousin fell on his hip breaking it in half.
TV 10 spoke with Robert and his family who says the punishment was too harsh for his fresh injury.
Robert has been home from Ville Platte High School for over three weeks after an invasive hip surgery placed rods and screws into his hip. For his first day back at school his mother bought him large pants.
Robert's mother says she bought his pants big for school because he has a cut on his leg. Robert says his baggy pants got him into trouble, his teacher sent him to the principal to deal with his pants."
"He put my hands on the locker and then he paddled me" Robert says.
Robert's cousin, also a student at Ville Platte high school says she saw the situation happen and tried to tell them about his surgery. Robert says when he got home from school he was still in pain.
Robert's mother says Robert reluctantly told her about the paddling and she took him to the emergency room. That night he was given pain medicine and was sent home. Roberts mother called the school the next day and Mr. Bartley, the Principal said he didn't know anything about it.
We called Ville Platte High School to confirm if the alleged incidents took place. School Officials say they are aware of the situation but wouldn't comment.
Multiple calls made to the School Board were not returned. Mrs. Roberts is filling a Police report with the Evangeline Parish Sheriff's Office first thing Thursday morning and also has plans to meet with a lawyer early next week.
All content © Copyright 2000 - 2008 WorldNow and KLFY. All Rights Reserved.
---
---
Naples Daily News, Florida, 25 March 2008
Guest Commentary
Corporal punishment "made" the greatest generation
By Louis S. Moore, M.D., Naples
The ridiculous punishment inflicted on Collier County Sheriff's Cpl. Susan Boylan for a very sensible handling of an undisciplined boy brings me to comment on the subject of corporal punishment of children or other immature people.
She was suspended for two days without pay and put on probation for six months for spanking the child of a complainant and threatening the child with a Taser.
About 30 or 40 years ago, some textbook psychologists (who probably had never raised children) came up with the idea that physical punishment would warp a child's psyche, make him hate his parents and that he would become a child abuser with all sorts of deleterious effects upon our society.
Very odd -- I am 84 years old, one of those who are lauded as "The Greatest Generation." We survived the Depression. We fought a war. We developed radar and computers. We pushed the aviation, TV and other technical industries to incredible heights. We launched a post-war period of economic growth longer and stronger than any previous one in American history.
All of this was done by a generation that was routinely, physically punished when we broke a rule or disobeyed parents, teachers or police.
I doubt that most girls were so treated, but every boy I knew, except one, received some form of physical punishment for infractions. A belt across the bottom was common -- a switch from a nearby tree -- a crack across the knuckles with a ruler in the classroom.
What happened as a result of all this abuse? We learned to respect authority; we learned to obey the rules. We also acquired a good school education, since the classrooms were orderly and quiet. We learned to be responsible citizens.
We became "The Greatest Generation."
We did not have a warped psyches. We did not hate our parents, and we did not become child abusers. We had sense enough to know that the punishment was the expected result of breaking a rule, not from some sadistic streak in our parents.
Those parents knew that we would be better adults and better off if we learned the results of misbehavior when the punishment was trivial instead of what we would encounter as adults.
What sort of society do we have after 30 years of this "no touch" system? Classroom discipline is poor to nonexistent in most schools. Students attack teachers; education levels have dropped steadily, till we sit at about No. 20 in the Western world. Early alcohol and drug use are rampant. Fatal accidents are alarmingly high in this unrestrained, undisciplined generation of teenagers.
We are first in some areas, however. The United States has the highest prison population per 100,000 of any country in the world. That includes places like Cuba, Russia, China and a few other places that we routinely look down on as repressive and uncivilized.
Yes, there were cases of abuse and overly severe punishment -- and there still are -- but these did not cause any wrinkle in our social order. They were aberrations and corrected when exposed. This did not justify demolishing the lessons of literally thousands of years of experience in child rearing.
Child abuse? I think the greatest abuse is to let a child grow and not know the consequences of breaking the rule until he is out in the big world with no parents to look after him.
I did not like the whippings I got, but I knew very well why they happened and I harbored no resentment (well, maybe until suppertime.) And I thank my parents for teaching me right from wrong and the consequences of breaking the rules.
Louis Moore has practiced medicine in Naples since 1958.
© Naples News