The Ledger-Enquirer, Columbus, Georgia, 22 August 2007
Parents against paddle, suspension
By Harry Franklin
A 10-year-old Park Elementary School student was suspended for two days Friday after a parent refused to give school administrators permission to spank or paddle him for throwing grapes in the cafeteria and other misbehavior.
The parents said they believe the penalty is excessive, but Harris County Schools Superintendent Susan Andrews said: "We are going to have order in our schools. A student in the fifth grade and in school for a while understands the rules. When warned several times, we don't expect them to be disrespectful."
The mother, Mercedes Muldoon of Pine Mountain, said Tuesday she was called by Park Principal Angi Jackson on Friday asking for permission to paddle or spank the fifth-grader, but that she refused. She said Jackson told her the alternative is two days suspension from school.
The boy's father, Charles E. Muldoon III, said he thought schools had dropped corporal punishment years ago and said he believes it sends the wrong message to use violence for discipline. He said the suspension was excessive. Muldoon said he and his wife were not notified until after the Friday incident that their son had been involved in a rubber-band incident the day before. He said if they had received a note from school officials Thursday, he would have disciplined his son at home and the Friday incident would never have happened.
Muldoon said schools should have other alternative methods of disciplining students, such as in-school suspension.
Jackson referred all questions to the superintendent.
Andrews also said she could not discuss details of a student discipline matter, but that grape throwing was not the first incident involving this child. She said they don't have in-school suspension in elementary schools.
"Corporal punishment is not against the rules," Andrews said. "We have very specific guidelines. We don't use it at all in the middle and high schools. We will have parents request it occasionally. We use it very, very rarely. Most students will self-correct when asked by the teacher or principal."
Andrews also said principals have discretion to suspend a student for up to 10 days without appeal.
"In most cases, for less than 10 days suspension I will listen to the principal's discretion," she said. "I see nothing out of order. I will listen to parents and will always go back to the principal and say, 'Let's walk through this.'"
The father said he intends to discuss the matter with a lawyer.
© 2007 Ledger-Enquirer and wire service sources. All Rights Reserved.
---
RELATED VIDEO CLIP (2 mins 09 secs) from WRBL News 3, Columbus, Georgia, 22 August 2007

Local TV news version of the above story. The mother of the suspended boy is interviewed and gives her version of events. Rather bizarrely, she asked for her face not to be shown, and yet the clip does include still pictures of the boy himself. The school board does not give its side of the story, but viewers may conclude that it is difficult to see what the school is supposed to have done wrong. The parents claim they were never told that CP was an option at the school. It remains the case that their permission for it was sought in this case, and they refused it, so that their son was not in fact paddled.




HERE IS THE CLIP:

This video clip is not currently available.

IMPORTANT: Copyright in this video material rests with the original copyright holders. This brief excerpt is reproduced under the "fair use" doctrine for private, non-profit, historical research and education purposes only. It must not be redistributed or republished in any commercial context.
---
The Ledger-Enquirer, Columbus, Georgia, 24 August 2007
Use of paddles splits schools, parents
Online poll finds respondents favor spanking at school
By Harry Franklin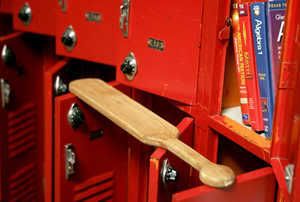 Photo Illustration by Tom Fox/McClatchy Newspapers
Corporal punishment has been a hot-button issue for many school districts across the country in recent years. Schools in Muscogee, Harris and Russell counties have explicit policies on when and how corporal punishment can be administered.
To spank or not to spank -- that is the question.
Readers responding to a question on the Ledger-Enquirer Web site, by e-mail or by telephone Wednesday and Thursday favored spanking unruly students at school. By 4:15 p.m. Thursday, 397 people had responded to the Web poll. A total of 174 or 44 percent supported spanking with parental permission; 66 or 17 percent favored spanking without parental permission; and 157 or 40 percent opposed spanking.
The poll was published with a Wednesday story about a Park Elementary School student in Harris County whose parent refused to allow the 10-year-old boy to be spanked. Instead, he was suspended for two days. The poll asked whether teachers and principals should be allowed to spank unruly children in schools.
"We rarely do this," Harris County Schools Superintendent Susan Andrews said Wednesday. "It's been on the books forever. Sometimes a parent will say, 'Just spank him and send him back to class.' We might say come on and get them. It's a choice. The law doesn't say you have to get parental permission, but we would not do so without parental permission. We've had parents to call today and say, 'Thank you so much for keeping the schools orderly. We're supporting you on this.' We had several calls this morning. We appreciate that."
"Although I'm not opposed, I do view it as a last resort," said Muscogee County Schools Deputy Superintendent Robin Pennock. "I believe very few of our schools actually use it. Those that do do it working in close communication with parents. We do have some parents that request it."
"We discourage it," said Phenix City Schools Superintendent Larry DiChiara. "We tell our folks you're allowed by law, but we discourage it, with parents being as litigious as they are. We ask parents for permission. If we have it in writing, we put a note that the parent has granted it or does not want the child spanked. We tell them we will respect their wish. Whatever the next discipline is above spanking, we have no alternative but to go up to the next rung if they don't allow spanking. When a case arises, we pick up the phone and call a parent. We leave discretion to do it to the principal and staff. Some elementary schools don't even own a paddle. Others do. Some walk around with a paddle in their hands. There are creative ways to punish kids. That's up to them.
"I've walked down the halls here for four years and never witnessed a paddling in the Phenix City Schools. Very little paddling takes place in our schools. We allow principals to suspend up to five days. Beyond that, a hearing determines further punishment."
"Our policy is we use corporal punishment as a last resort," said Chattahoochee County Schools Superintendent Dalton Oliver. "I have never recommended paddling. The principal can send a child home for 10 days. If a parent refuses (spanking), I'll send them home for 10 days. Before spanking, my employees have a face-to-face with parents, since I've been here. I've been a principal eight years and may have paddled five children -- at the request of parents. I've had parents say to me, 'Paddle this child; I can't control him.' When I went to school, if I got a paddling, I didn't want to go home. My parents were waiting for me."
---
---
The Commercial Appeal, Memphis, Tennessee, 28 August 2007
Punishing replies
Deep frustration with Blue Ribbon brings some critics of school policy to tears
By Dakarai I. Aarons
Nearly 100 mostly angry parents, teachers and students filed into Whitehaven High School's auditorium Monday night to tell members of the Memphis Board of Education about their frustration with the Blue Ribbon behavior initiative.
The behavior plan was implemented in fall 2005 after then-Supt. Carol Johnson lobbied the board to end corporal punishment in schools.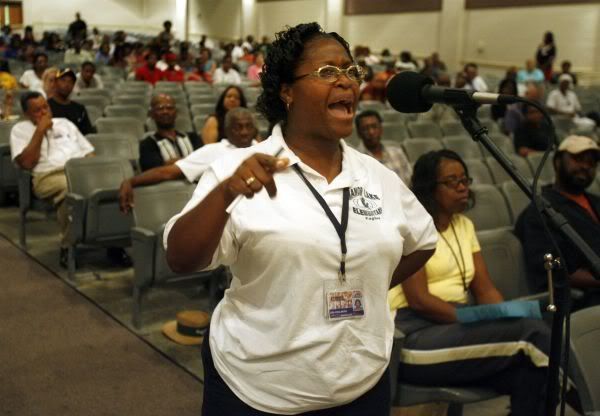 Photos by Nikki Boertman/The Commercial Appeal
Manor Lake Elementary teacher and parent Lisa Chalmers tells her issues with Blue Ribbon during a town hall meeting.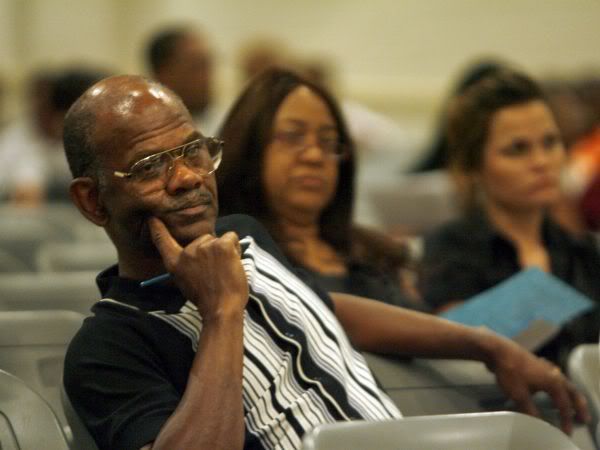 David Gross listens as members of the community are given a chance to talk about Blue Ribbon during a town hall meeting with the Memphis City School board at Whitehaven High.
The behavior plan has brought alternative schools for students who misbehave and more in-school suspensions and counseling.
But most of the parents and teachers who spoke Monday said the plan isn't working.
Veteran teacher Martha Shaw was reduced to tears as she told board members her frustrations.
"School is just not a real pleasant place to be anymore. If children are never brought under control, you can't teach them," she said.
Children come to school unprepared and without fear of consequences for their negative behavior, Shaw said. It was a complaint echoed by several teachers.
Teacher Tonya Duncan said that while corporal punishment may not be what is needed, it provided a real threat for students.
"It is a travesty that teachers don't have any leverage for children in the classroom," she said. "If we don't do something quick, fast, and in a hurry, every child, every day is going to be left behind."
But fifth-grade teacher Eureka McAfee said teachers and parents have to take it upon themselves to set the tone with students.
"We need to let children know this is not a joke," she said. "When they come to Carnes Elementary every day, they know this is serious business."
Board members addressed the audience, pledging to take their concerns to heart as the board works with district staff on revamping the behavior plan.
But board member Jeff Warren, echoing the words of the majority, said audience members shouldn't expect to see corporal punishment return.
"We've got a much deeper societal problem," he said. "I don't think we can threaten a 17-year-old gang member with a spanking."
The meeting at Whitehaven was the second of five that board members plan to hold across the city to discuss the behavior plan. Dates and locations for the next three have not been set.
Interim Supt. Dan Ward told the crowd that he heard their concerns and took them seriously.
"Discipline and academic achievement go hand in hand," he said. "Without one, you can't have the other."
© 2007 The E.W. Scripps Co.



---

RELATED VIDEO CLIP
(2 mins 35 secs) from Fox13 News (WHBQ), Memphis, 27 August 2007: "MCS Officials Reconsider Paddling Ban".

"Should school teachers be allowed to spank unruly students? The Memphis City Schools' board held another town hall meeting Monday night to talk about the spanking policy. During her time here, former Superintendent Dr. Carol Johnson came up with the plan to remove paddling in schools. She left nearly a week ago and board members are bringing the issue back up."

Correspondent April Norris reports after the end of the town hall meeting, at which not a single speaker from the floor agreed with the Blue Ribbon Plan under which CP was banned.




HERE IS THE CLIP:

This video clip is not currently available.




IMPORTANT: Copyright in this video material rests with the original copyright holders. This brief excerpt is reproduced under the "fair use" doctrine for private, non-profit, historical research and education purposes only. It must not be redistributed or republished in any commercial context.