Clarion-Ledger, Jackson, Mississippi, 8 September 2006
Paddle Tested
Green-Ellis' toughness shows in Reds' debut
By Robbie Neiswanger
(extracts)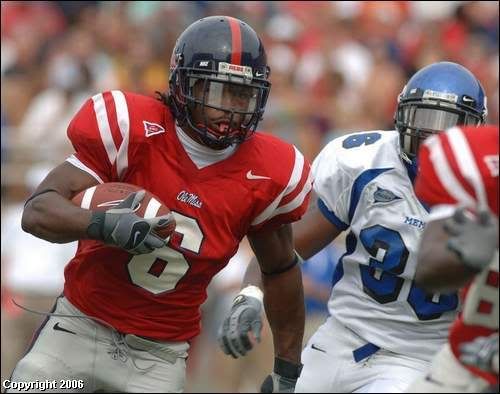 Joe Ellis/The Clarion-Ledger
Ole Miss junior tailback BenJarvus Green-Ellis credits the disciplinary measures utilized at St. Augustine High in New Orleans for instilling in him some of the toughness he takes to the football field. Green-Ellis battered Memphis for 127 yards in Sunday's victory.
OXFORD — BenJarvus Green-Ellis' high school practices weren't like those of most of his Ole Miss teammates.
Sure, there were plenty of rugged, full-contact tackling drills. And countless numbers of exhausting and mind-numbing sprints. But Green-Ellis said there was something else at St. Augustine High in New Orleans to help enforce the Catholic school's tough, no-nonsense beliefs.
A paddle. And the coaches weren't afraid to use it for missed blocks, poor execution or missed assignments.
"They were always paddling us," Green-Ellis said. "I was already mentally tough.
"It just helped me become more mentally tough."
Green-Ellis isn't getting whacked with a paddle on the practice field at Ole Miss, but his toughness - which he said was a result of his upbringing - has given the Rebels' offense a much-needed jolt this season.
The strong, hard-nosed Green-Ellis, who sat out last season because of NCAA transfer rules, has become the player most associated with Ole Miss' new offensive identity. The 5-foot-11, 211-pound junior proved it in his first game, fighting through tackles, picking up first downs and battering his way to 127 yards and two touchdowns on 26 carries in the 28-25 win against Memphis.
It was the best rushing effort by an Ole Miss tailback since Vashon Pearson's 139-yard outing in 2004. But the Rebels know Green-Ellis will be looking for more at Missouri on Saturday.
"He brings a complete new toughness to our offense," left guard Andrew Wicker said. "When you see a guy fighting like that, you don't want to do anything but block harder for him.
"I want to give him credit because he is one of the toughest persons I've ever been around in my life."
It's natural for Green-Ellis, who said you "can't really be no softy playing football." But it helps that toughness was always a part of his life in New Orleans.
He thanks his grandparents, David Hilton and DeJoyce Brumfield, for that.
Green-Ellis' mom, Latonia Green, moved to Minnesota when he was in elementary school, but he didn't want to leave his hometown. So Green-Ellis was raised by his grandparents, who taught him to "grow up and be a young man" early.
"He had to be mature," said Ole Miss running backs coach Frank Wilson, who also is from New Orleans and attended St. Augustine High.
"He had to be responsible and accountable and do things probably at a young age that most kids didn't have to do. Little things. Washing clothes, washing dishes, the tedious things that some people don't have to do at a young age."
The lessons were only reinforced at St. Augustine, which Green-Ellis began attending in high school.
Green-Ellis said students were paddled for everything from being late, talking in class or just having an untucked shirt. His entire class was paddled on the first day of school because students were talking.
On the practice field, it was much of the same. But Green-Ellis said it taught accountability. If one person messed up, everyone paid.
"It was good for us," Green-Ellis said. "It helped us to grow up and be a young man and it made life a lot easier for us now. It was hard when you're younger, but it's easier when you get older."
[...]
Green-Ellis didn't know how many times he ran the ball against Memphis, but he rated his performance as OK. To him, No. 1 and No. 26 didn't feel much different and there is plenty of room for improvement.
It sounds like the toughness talking. But Green-Ellis insists he's just doing his job - in case a paddle appears on Ole Miss' practice field.
"I ain't no person who looks at this, analyzes that," Green-Ellis said. "Whatever they call, I'm going to run it.
"I'm still going to be the same me."
©2006 The Clarion-Ledger
---
---
Modesto Bee, California, 8 September 2006
Bring back 'paddling' in our schools
Hooray for Texas ("Texas pupils still face 'paddlings,'" Aug. 28, Page A-11). As I was growing up, corporal punishment was allowed -- not to the point of abuse, but to stress the point that if you did wrong there would a price to pay. Kindness and gentleness is a good thing after you get their attention.
A swat on the backside rather than sitting in a room with other miscreants would be more effective in getting their minds on studies. A side effect would be that other students would wake up and take notice that things had changed.
I learned right from wrong. The children of today need a stronger hand to guide them.
ED MYLES
Oakdale
---
---
Southern Illinoisian, Carbondale, Illinois, 30 September 2006
Heartland Muse
He didn't smile this time

By Jim Davidson
Did I ever tell you about the time the high school principal gave me 27 licks with a paddle for mocking the English teacher? His name was Bill Little. Some of my friends who read this column in the Lincoln Ledger in Gould and Star City, the county seat town where it's published, will probably relate to this true, but painful story. In fact, some of them probably traveled down the same road. Those were the days when you sure did not want to go back to the principal's office for the second or third time. I was slow in many things, but I was a fast learner when it came to taking that short trip, just down the hall to the principal's office.
This incident came to mind as I was reading a recent e-mail from Brenda Strickling, a faithful reader of my column in Centerville, Iowa. Brenda is working hard to get our literacy campaign started in her community and recently she sent me something her husband Larry had written. It was titled, "The True Board of Education." Now, granted, this was from a different era, but I can tell you from experience, if we went back to those days we would not have the discipline problems many of our schools are having today.
Here is what Larry Strickling wrote and titled it, "The True Board of Education:"
"In days gone by, the Board of Education ruled supreme in all schools. All students were in awe of its power and the administration of this power; some were even in fear of this supreme power. Most schools had an in-house administrator who exerted this power when required; usually the principal of said school. As you have probably surmised by now, the "True-Board" was literally a board hand-crafted for a perfect fit to the hand of the administrator, about two feet in length with many holes drilled into the business end of the board. Anyone who met this board was never anxious for another meeting! Woe be unto the repeat offender. (This is what I was saying earlier.)
I must confess my days in school were in the 1940s and 1950s, graduating in 1956. I still remember Mr. Stewart, the grade-school principal at West Main. He was the sixth-grade teacher and had an office on the second floor. Anytime he took a pupil into this office, you could hear a pin drop until they finally emerged. Everyone was expecting the usual "WHACK-WHACK." Mr. Watters, our junior and senior high principal commanded a similar authority over all students and was also well represented by the Board of Education.
The event burned into my memory is an incident that happened in shop class; the teacher was also the head football coach. A cardinal rule in shop was absolutely NO horseplay. One day the coach was late getting to class and two classmates were playing tag around the workbenches. One of them heard the coach coming and stopped dead in his tracks, the other did not. Needless to say the coach was not happy when he entered the shop and one of his football players was running. He called him in front of the whole class, told him to grab his ankles and administered the board of education.
Bill stood up and smiled. Mr. Gilchrest told him to grab his ankles again, for he must not have gotten the message. Another lick was applied that lifted Bill at least a foot off the floor. To Bill's credit he never shed a tear when standing back up - but he didn't smile this time. He concludes by saying, "Our Boards of Education, properly applied, kept many students toeing the line."
Now I ask, is it time to bring back the TRUE Board of Education? For many people who will read this column across the country, this kind of thinking is old fashioned. However, you and I both know that it works.
Unless we have some drastic changes in our nation's court system, these days are gone forever, but there may be hope down the road. When conditions reach critical mass, more and more people begin to look for solutions to our social and economic problems. Outside of the spiritual realm, the answer lies in education and the values we are teaching our nation's young people. This will determine the kind of nation we will leave to future generations of Americans. Even if it means that my own grandchildren would get a few licks here and there, I would love to see our schools return to this system of discipline.
---
---
New York Times, 30 September 2006
Education
In Many Public Schools, the Paddle Is No Relic
By Rick Lyman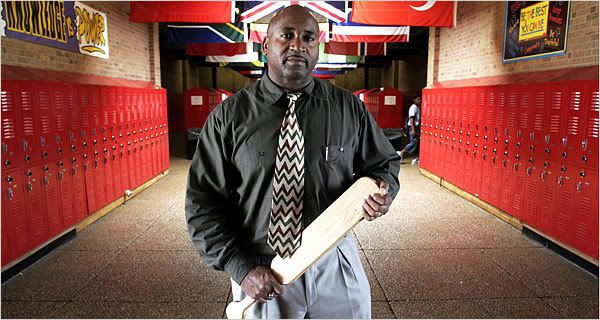 Mark Graham for The New York Times
Anthony Price, the principal of Everman Middle School in Texas, reinstated corporal punishment last year. "It's had a huge effect," he said.
EVERMAN, Tex. — Anthony Price does not mince words when talking about corporal punishment — which he refers to as taking pops — a practice he recently reinstated at the suburban Fort Worth middle school where he is principal.
"I'm a big fan," Mr. Price said. "I know it can be abused. But if used properly, along with other punishments, a few pops can help turn a school around. It's had a huge effect here."
Tina Morgan, who works on a highway crew in rural North Carolina, gave permission for her son to be paddled in his North Carolina middle school. But she said she was unprepared for Travis, now 12, to come home with a backside that was a florid kaleidoscope of plums and lemons and blood oranges.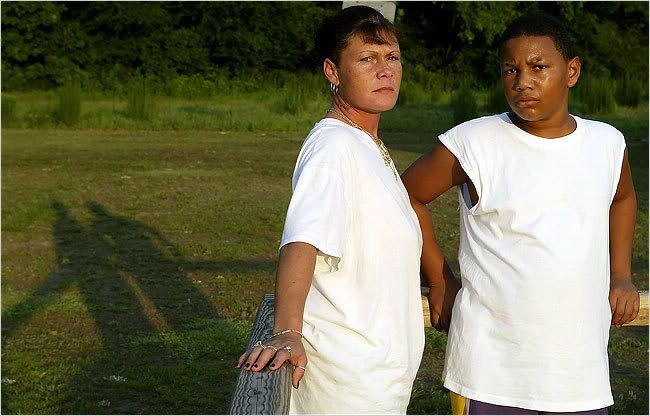 Mark Graham for The New York Times
Tina Morgan did not object to corporal punishment until she saw the bruises when her son, Travis, 12, was paddled in Robeson County, N.C.
"This boy might need a blistering now and then, with his knucklehead," Ms. Morgan said, swatting at him playfully, but she added that she never wanted him to be beaten like that. "I've decided, we've got to get corporal punishment out of the schools."
Over most of the country and in all but a few major metropolitan areas, corporal punishment has been on a gradual but steady decline since the 1970's, and 28 states have banned it. But the practice remains alive, particularly in rural parts of the South and the lower Midwest, where it is not only legal, but also widely practiced.
Paddling in Public Schools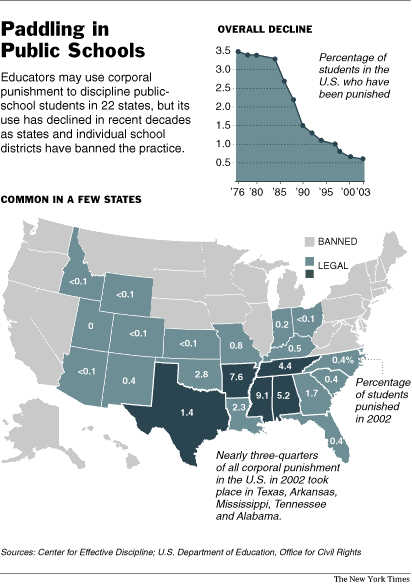 Mark Graham for The New York Times
In a handful of districts, like the one here in Everman, there have been recent moves to reinstate it, some successful, more not. In Delaware, a bill to rescind that state's ban on paddling never got through the legislature. But in Pike County, Ohio, corporal punishment was reinstated last year. And in southeast Mississippi, the Laurel school board voted in August to reinstate a corporal punishment policy, passing one that bars men from paddling women, but does not require parental consent, as many other policies do.
The most recent federal statistics show that during the 2002-3 school year, more than 300,000 American schoolchildren were disciplined with corporal punishment, usually one or more blows with a thick wooden paddle. Sometimes holes were cut in the paddle to make the beating more painful. Of those students, 70 percent were in five Southern states: Texas, Mississippi, Tennessee, Alabama and Arkansas.
Often the battle over corporal punishment is being fought on the edges of Southern cities, where suburban growth pushes newcomers from across the country into rural and religiously conservative communities. In these areas, educators say, corporal punishment is far more accepted, resulting in clashing attitudes about child-rearing and using the rod.
"I couldn't believe it when I learned about it," said Peggy Dean, a mother of three students in Union County, N.C., a rapidly growing suburb south of Charlotte. "If I'd known, I'd never have moved into this school district."
As views of child-rearing have changed, groups like the American Academy of Pediatrics, the National Association of School Psychologists and the American Medical and Bar Associations have come out against corporal punishment.
"I believe we have reached the point in our social evolution where this is no longer acceptable, just as we reached a point in the last half of the 19th century where husbands using corporal punishment on their wives was no longer acceptable," said Murray Straus, a director of the Family Research Laboratory at the University of New Hampshire.
Among adherents of the practice is James C. Dobson, the child psychologist who founded Focus on the Family and is widely regarded as one of the nation's most influential evangelical leaders.
DuBose Ravenel, a North Carolina pediatrician who is the in-house expert on the subject for Mr. Dobson's group, said, "I believe the whole country would be better off if corporal punishment was allowed in schools by parents who wish it."
Dozens of lawsuits have been filed around the country, including as recently as August in a case involving a student and a baseball coach in Cameron County, Okla., but thus far, courts have tended to side with school districts in cases where a corporal punishment policy is on the books, said Nadine Block, the director of the Center for Effective Discipline, a group opposed to the practice.
In North Carolina, paddling is banned in the largest cities, like Charlotte. It remains legal in 70 percent of the state's districts, although since they tend to be small and rural, fewer than half of the state's students are covered.
Union County is one of the nation's fastest-growing, with dozens of new suburban developments, often populated with transplants from the Northeast and elsewhere.
Ms. Dean, one of those transplants, came across the corporal punishment provisions while reading through her new district's school policies and, shocked, decided to mount a campaign to have it outlawed that has made her the bane of local officials.
"They don't like outsiders coming in and telling them how to run their schools," Ms. Dean said.
She rallied others to the cause, finally forcing a vote on the issue last year.
School board members voted 5 to 3 to ban the practice, but under the district's rules, a supermajority of six votes was needed, so the policy remains on the books.
"Some of our school board members felt that, if it were used correctly, as it would be, corporal punishment would be yet another deterrent to keep students from misbehaving," said Luan Ingram, the chief communications officer for the district.
Still, Ms. Ingram said, "none of our 41 principals have chosen to use it, and none of them plan to use it."
One of those who joined Ms. Dean's crusade was John Erker, who retired from the New York City Police Department and relocated his family to North Carolina.
"We thought it would be a lifestyle for the whole family down here, a little more laid-back, a little more country," Mr. Erker said. "But we're in the middle of the Bible Belt, and a lot of these old-school people really believe that this is the right thing to do with children."
In more rural Robeson County, Ms. Morgan said her son, Travis, was punished last year for taking part in a punching game called flinching. She complained that it was too severe, but district officials ruled that the paddling had been justified.
Al Kahn, a spokesman for the district, said he understood that corporal punishment was not embraced everywhere. "I guess every part of the country has a different way of looking at things," Mr. Kahn said, "and down here we're pretty unique."
Mr. Price, the middle school principal, also said corporal punishment worked. He arrived at the school two years ago, hired, he said, to turn around an institution that was rife with fights, students cursing teachers and gang activity.
Not until months after he arrived, Mr. Price said, did a parent tell him that corporal punishment was used at the high school. He got permission to reinstate it in the middle school, too, and began with the 2005-6 school year, during which 150 of the school's 685 students were paddled.
The Everman district is not unique in the Dallas-Fort Worth area in allowing corporal punishment. A study by The Dallas Morning News in August placed it fifth among area districts in instances of corporal punishment, far behind schools in Prosper, north of Dallas, for instance, where nearly 15 percent of the students were paddled in the 2005-6 school year.
But, in two of Dallas's largest suburban districts, Plano and Frisco, paddling was banned this year, as it was in Memphis last year.
Mr. Price said he initially encountered resistance. "I was cursed out so much, I couldn't believe it," he said. "And I'm talking about the parents."
But gradually, the tenor of the school turned around, he said, for the better. He designed what he called the school's "discipline ladder," beginning with a warning for a first offense and escalating through push-ups, detentions and isolation from the other students during the school day.
Finally, there is the fifth rung. At that level, in consultation with parents, students can choose among corporal punishment, having their parents "shadow" them through a full school day, night school or outright suspension. In 8 cases out of 10, Mr. Price said, the students choose the paddling, although this is allowed only a few times.
"If it's not changing their behavior, then we figure the pops aren't working and we try something else," Mr. Price said.
Mr. Price said he definitely believed there was a "cultural factor" behind the persistence of corporal punishment in some parts of the country after it has disappeared elsewhere.
"You hear people say, Well, you know, it's in the Bible, don't spare the rod and spoil the child," he said.
He uses it, he said, because he believes it works.
"The rule is, never hit in anger," Mr. Price said. "We always talk to the child before the punishment, make sure they understand why it's happening, and then talk to them again afterward. None of it is cold or harsh. We try to treat the kids like they're our own."
---
See also: A video clip (October 2006) of a TV news segment featuring Everman principal Anthony Price demonstrating the use of his paddle.