Press release, Spring Independent School District, Texas, January 2005
Spring ISD prohibits corporal punishment
The Spring Independent School District has changed its policy to no longer allow the use of corporal punishment in its schools.
"Corporal punishment has rarely been used in the Spring school district for several years," said Margie Cain, Deputy Superintendent. "While updating policy recently, the District decided to do away with it altogether," Cain said.
The Spring ISD policy regarding student conduct now includes the following statement: "The Board prohibits the use of corporal punishment in the District. Students shall not be spanked, paddled, or otherwise physically disciplined for violations of the Student Code of Conduct."
---
---
ky3.com (KYTV-TV), Springfield, Missouri, 11 January 2005
Option of corporal punishment is common in area schools
One group says Missouri and Arkansas are leaders in the country in that area
By Michelle Sherwood
KY3 News
HOLLISTER, Mo. -- Despite national trends, a majority of schools in the Ozarks embrace corporal punishment. The Hollister School District is the latest to allow the paddle in schools. The school board here gave the approval on Monday night.
This is unusual neither for schools in our area nor for schools across Missouri. The Center for Effective Discipline is a national group that monitors corporal punishment across the nation. It is against spanking and ranks Missouri and Arkansas as two of the ten worst states in the nation when it comes to using corporal punishment. It ranks Arkansas number two while Missouri ranks number nine.
In Hollister, the smallest children, those at the elementary school age, are more than likely the only ones that would be at the other end of a paddle. Elementary school principal Tim Taylor says it's a tool he needs -- and one that parents want.
"Corporal punishment works very well for some kids and, in fact, we've had several parents ask us to use corporal punishment this year and, of course, we can't because of our policies," said Taylor.
This is Taylor's first year in the Hollister School District. He came from a school district that uses corporal punishment and wanted to have the option to if needed. But there was a problem. Two policies were on the district's books -- one that allowed it and one that did not.
The school board decided to rescind the rule that prohibited spanking, meaning wooden paddles are now officially okay to use.
"We simply want it as an alternative," said Superintendent Brett Reese. "The amount we're actually going to use it will be very, very rare."
Nixa School District officials say they use it as a last resort.
"It's definitely not something I enjoy doing, like to do or prefer to do," said Jerrod Wheeler, principal of Espy Elementary in Nixa.
But even the district's highest leader says he's not sure it's the right punishment to give children, especially since the district pays thousands of dollars for a national program that does not advocate hitting.
"Personally I'm not a big fan of it but I think we've evolved a little further away from hitting children as a means of correcting their behavior," said Nixa Superintendent Stephen Kleinsmith. "Having said that, there is a lot of southwest Missouri common sense that says it should be considered."
"We are in the Bible belt and the use of corporal punishment is certainly biblical," said Taylor.
Whatever the reason for allowing corporal punishment in schools, Missourians, and particularly southwest Missourians, call for it. Despite the largest school district's refusal to administer spankings, Springfield appears to be a minority on the subject.
The American Academy of Pediatrics strongly opposes striking a child, and calls it the least effective way to discipline. Hollister and Nixa school officials say the punishment is not as harsh as it sounds.
"Anytime we choose to spank a child, it's usually on the request of a parent and we always do it away from other children, with a witness," said Kleinsmith.
Despite the opinions of national groups, schools say the bottom line is that parents support spanking. Until that changes, the policy will stick.
"I don't think the use of corporal punishment is going to be controversial," said Taylor. "We are going to ask the parents and, hopefully, get their support and, if the parents are against it, we're not going to use it."
Every school district has the right under Missouri law to use corporal punishment. Most school districts seem to have the same general rules, such as requiring a witness, spanking only on the rear, and having parental permission.
---
---
Helena Daily World, Arkansas, 11 January 2005
School board OKs policies for students
By Josh Troy
World Staff Writer
(extracts)
The Helena-West Helena School Board at Monday's monthly meeting unanimously approved the district student policy from the last legislative session. Some policies are standard and others leave options open for the board. The policies will go in effect by July.
Special Assistant to the Superintendent Pam Brown said she discussed the policies with Arkansas School Board Association representatives.
[...]
Students are now allowed to have cellular phones unless they interrupt the class. Brown said the attorney general declared that it was not an electronic device.
The board voted for corporal punishment to be allowed in the classroom.
Miller said if any of the policies go against the student handbook, the student handbook would be the guideline for students to follow.
---
---
Baxter Bulletin, Arkansas, 12 January 2005
Y-S Board renews superintendent's contract
By Ann Worster
Bulletin Correspondent
(extracts)
YELLVILLE -- The Yellville-Summit School Board approved the contract renewal of Superintendent Dr. Jack Leatherman after a brief executive session during its regular meeting Monday night.

Board members Janie Pugsley, Doug Starkey, Jerry Don Cunningham and Bruce Meyer were unanimous in their decision to extend Leatherman's contract to the 2006-07 school year. Board member Richard Grissum was not present.
[...]
Continuing the review and acceptance of school board policies in comparison to Arkansas School Board Association Model Policies, board members approved all of Section 4-Students as written, except for 6 sub-sections. Student transfers, absences, make-up work, student publications, corporal punishment and chemical screenings were reviewed separately.
[...]
Meyer moved to prohibit corporal punishment within the Y-S district, but the motion failed in a 3-1 vote. He also moved to do away with chemical screenings, stating he did not see any benefit the school derived from the policy, but the motion failed 3-1.
[...]
---
---
San Antonio Express-News, Texas, 12 January 2005
Former student sues charter school over paddling
By Sonja Garza
Express-News Staff Writer
A former student at the School of Excellence in Education is suing the charter school, alleging that an administrator used excessive force by disciplining her with a 4-foot-long wooden paddle known as "Ole Thunder."
Attorneys for Jessica Serafin, 18, filed the personal injury lawsuit Monday in state district court against the school and Brett Wilkinson, who her attorney said served as a summer school principal.
According to the suit, Wilkinson summoned Serafin to the principal's office on June 18, restrained her with the help of two employees, and struck her repeatedly on her bottom, hip and leg.
At one point, Serafin tried to shield herself from the blows using her hand, and Wilkinson "smashed her hand with the paddle," the suit alleges.
The lawsuit contends the beating was so severe that Serafin began bleeding and was taken to a hospital emergency room for treatment.
Serafin's attorney, Dan Hargrove, said his client was called to the principal's office because she left the campus before school started to get a breakfast taco. He maintained she was not tardy to class. Serafin is no longer a student at the charter school.
A key element of the case, according to Hargrove and law partner Cyrus Rea, is the fact that Serafin was an adult at the time of the incident. Under state law, a parent is not authorized to use corporal punishment against an adult child, and therefore the school is not authorized to use corporal punishment against an adult student, Hargrove said.
He added that Serafin did not consent to being paddled.
Touted for offering a "private school education at a public school price," the School of Excellence in Education is San Antonio's largest charter school.
This is not "an anti-charter school case. It's not an anti-corporal punishment case," Hargrove said. "This case comes down to an excessive use of corporal punishment against an adult."
The suit also alleges civil rights violations.
Wilkinson, currently vice principal of the charter program's Saenz Junior High, could not be reached for comment. Superintendent Ricky Hooker said, "The school's comment is no comment."
---
Follow-up: 30 January 2005 - Pupils' age poses paddling problem
---
---
The Oregonian, Portland, Oregon, 16 January 2005
A singing cowboy at heart
Teaching kept Art Lane busy for 32 years, but he always had time to share a tune
By Amy Martinez Starke
(extract)
During hot Oklahoma summers, Art Lane threw stones at poisonous snakes in the creek and watched the free cowboy movie in the park after the sun went down.
That was entertainment: He was the son of a poor sharecropper and one of 10 children. The same year his family moved to Hood River County, he turned 14 and learned to play the guitar and sing Gene Autry tunes.
He never did say, but everybody knew he wanted to be a cowboy and live on a ranch. Art instead grew up to be vice principal and a math teacher at J.W. Poynter Junior High School in Hillsboro.
He liked what he did well enough to do it for 32 years. As the school's vice principal and disciplinarian from 1962 to 1978, the tall man with the very straight posture -- whom the kids called "Mr. Lane" -- never got to meet all the good kids.
This was a different era: A paddle the size of a boat oar hung on his wall. "Lean over and grab your ankles," he'd say, before meting out one swat.
Students were often given a choice: a chore or a paddling. Usually they chose corporal punishment to get it over with. Among the worst offenders at the time were gum chewers and smokers.
[....]
Copyright 2005 Oregon Live. All Rights Reserved.
---
---
The Paris News, Paris, Texas, 20 January 2005
Times have changed
By Mike Graxiola
The Paris News
In recent weeks we have run various stories, and "letters to the editor" concerning corporal punishment. Some 30-plus years ago when I was attending high school it was known as paddling, or getting a lick or a swat from the 'board of education.'
Before you get the wrong impression, I was not a frequent recipient of the board, but as a teenager I did meet it on a few occasions. Usually it was a coach that would administer the licking for mundane stuff like talking in class, or -- you're going find this hard to believe -- having a hair length that did not meet strict athletic guidelines.
In the early seventies, the 'board' was an effective deterrent for preventing bad student behavior, and using it didn't generate as much controversy as it does today. Even though I don't have a problem with corporal punishment, I don't believe it is as effective as it was 30 years ago. Much of my reasoning is because of the change in student behavior over time.
When I was going to school, I don't remember teachers being scared of their pupils. But a report published a few years ago in 'Measuring Up -- The State of Texas Education' stated that more than 60 percent of the teachers surveyed by the Texas Education Agency indicated that threats of violence were a concern.
During my time in school, kids mainly got in trouble for chewing gum, running in the hall, or missing the tardy bell. We were the ones afraid of the teacher, not the other way around. We were also taught by our parents to respect our elders.
The 'Measuring Up' report also stated that bad student behavior was "a combination of environmental, developmental, and cultural factors." It listed those factors as prenatal substance abuse, family violence and neglect leading to bonding and trust deficits, boredom and lack of alternative activities, hopelessness because of dim educational and job prospects, inadequate housing and income, discrimination, lack of social skills, allure of money, deviance, gangs, and guns, media violence and violent role models, and alienation and estrangement from friends and family.
In preventing bad behavior, the report recommended several options. A few included increased counseling in schools, collaboration of parents and community members to ensure the safety of all children, commitment to improvements in the quality of education, making sure that every child has at least one supportive adult who will not give up on him or her, and altering punishments to ensure they are restrictive but not harsh or physically painful.
Doing research on this topic gave me a greater appreciation of the challenges that our school administrators and teachers face everyday in disciplining students. That is not to say the majority of local students are bad, although I'm sure we have our share.

If I thought that paddling would help student behavior, I would say swat away, but I think times have changed.

Keeping that in mind, the discipline our kids receive should start at home -- not fall on the shoulders of our teachers.

We want them spending their time educating our children.
Copyright © 2005 The Paris News
---
---
NorthWest Indiana Times, Gary, 22 January 2005
Coach accused of paddling boys
By Ruthann Robinson
A Gary basketball coach spanked his players with a wooden paddle as punishment for their poor play, the Lake County prosecutor alleges.
Thayer L. Williamson, 31, of 1967 Roosevelt St., Gary, faces a maximum of 24 years in prison if convicted on three counts of D-felony battery. The alleged corporal punishment came to light after several of the boys told their parents.
The school nurse told police she examined every boy on the team and 11 of the 12 players had bruises, welts or slight swelling on their buttocks the day after the paddling.
Upset about his Melton Elementary School team losing badly in a Nov. 16 game, Williamson brought a duct-tape wrapped wooden paddle to practice the next day, according to the probable cause affidavit.
He held the paddle in his hand and as each player stepped to the free throw line, he asked them "Why did I lose?" the affidavit said.
"I'm going to motivate you all," Williamson reportedly told the boys. "Shoot free throws and for every one you miss, you're getting beat."
Williamson reportedly told the students they could leave if they wanted to, but warned them "you won't be on another basketball team in your life," the affidavit said.
The 13-year-olds got from five to 20 swats, the report said. One boy told authorities Williamson had him up against the gym wall as he hit him. During one of the swats, the boy hit his head on the wall, the affidavit said.
When that boy told Williamson he had a headache, Williamson called the player's mother to come get him. When she arrived, Williamson allegedly told her he had to paddle the boys.
"I am not teaching no ladies," the report said Williamson told her. "I am showing them how to be men. I put the paddle to them for losing."
---
---
Montgomery Advertiser, Alabama, 22 January 2005
Schools report more student infractions
By Antoinette Konz
Montgomery Advertiser
Student suspensions, expulsions and corporal punishment in Montgomery Public Schools increased by 30 percent or more last school year, according to new figures released by the district.
The system's annual accountability report for the 2003-04 school year shows that student suspensions rose more 30 percent, alternative school placements rose 44 percent, expulsions rose 59 percent and use of corporal punishment rose more than 9 percent.
A total of 14,231 student incident reports were filed last school term. "It does appear that our numbers are up over the past two years," said Lois Johnson, assistant superintendent for student support services with Montgomery Public Schools. "But it is difficult to pinpoint a specific reason as to why the numbers have increased."
Student incident reports are created when a student commits more than a minor infraction as outlined by the student code of conduct, Johnson said.
Alabama law and the safe schools portion of the No Child Left Behind Act require school districts to disclose how many student incident reports are filed and to specify four pieces of information -- how many students were suspended, how many placed in an alternative setting, how many expelled and how many given corporal punishment.
Several factors -- including fluctuating student enrollments, tolerance of bad behavior and lack of funding -- could have caused student incident reports to increase last year, Johnson said.
"If you are looking at individual schools and you see an increase one year over next, it could be because the enrollment at that school went up," Johnson said. "It could also be that some school administrators have a higher tolerance for inappropriate student behavior than other school administrators."
The use of the system's In School Suspension program, which is designed as a place to send students before they officially are suspended from school, also could be a reason for the increase, she said.
Because of mandates under the No Child Left Behind Act of 2001, schools cannot use federal funds to pay noncertified staff to monitor temporary school suspension programs unless the staff members are considered highly qualified.
"The majority of our schools that had ISS programs had noncertified staff running them, so we had to shut them down," Johnson said. "We can't afford to have highly qualified teachers to run all these programs. Very few of our schools still have the ISS program. The ones that do have them have found some local money to set them up with noncertified staff."
Montgomery parent James Walton said he understands why suspensions have increased and hopes that the district will be able to find ways to fund ISS programs again.
"I think the program is effective in terms of minor student infractions," Walton said. "My son had a minor incident at his school a few years back and they put him in ISS and that straightened him out. I would guess that a good portion of suspensions could be avoided if the schools had ISS as an option."
The top five schools in Montgomery reporting the most student incident reports during the 2003-04 school year are Jeff Davis High School (1,246), Brewbaker Junior High School (1,101), Capitol Heights Junior High School (1,093), Bellingrath Junior High School (1,048) and Carver High School (990).
Johnson said the district is doing several things to decrease the number of suspensions and other disciplinary actions.
"We have behavioral interventionists employed at each of our seventh through 12th grade schools," she said. "They are there to help students who have been identified as needing some help in an effort to cut down on some of the incidents. We are trying to take a proactive approach."
Johnson said she would love to have a behavioral interventionist at every school -- K-12 -- but again, the district is limited in what it can do in terms of funding.
"We are also holding behavioral sessions inside central office for three hours each Tuesday through Thursday," she said. "Students can be referred to these sessions by a school official or their parents can call and ask that their child attends the session. We are working at trying to get parents more information about these meetings because we feel that they are going to be very successful."
Copyright © 1997-2005 The Advertiser Co.
---
Montgomery Advertiser, Alabama, 22 January 2005
Corporal punishment debated
By Antoinette Konz
Montgomery Advertiser
POLICY
According to Montgomery County Board of Education's corporal punishment policy, corporal punishment may be administered unless the parent or guardian files a written, dated objection with the school principal and that "corporal punishment may be administered after the nature of the offense has been explained to the student.
It must be done with the approval of the principal and administered by the principal or his/her designee, privately, in the presence of another certified school employee, but not in the presence of other students.
No more than three licks will be administered to the buttocks using the approved paddle."
More than 1,700 Montgomery Public Schools students were given corporal punishment as a form of discipline during the 2003-04 school year, an increase of 9 percent over the previous school year.
"Corporal punishment is a board-approved form of discipline," said Lois Johnson, assistant superintendent of student support services with Montgomery Public Schools. "The board has left it up to the principal of each school to decide whether or not they want to use it as a form of discipline."
However, the system's new superintendent, Carlinda Purcell, said Friday she is not a proponent of corporal punishment.
"I am not too sure that we gain much from it (corporal punishment)," Purcell said. "I used it once in my professional career, it was my third year of teaching, and I never used it again because it was not very effective."
When Purcell was superintendent in Warren County, N.C., she worked with the school board there to eliminate their corporal punishment policy.
"I would like to take a look at it here in Montgomery and bring my principals to the table to discuss it," she said.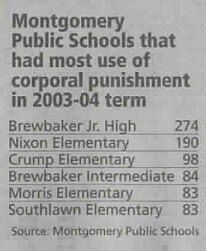 During the 2003-04 school year, 1,761 incidents involving corporal punishment were reported to the central office, according to accountability data recently released by the school district. During the 2002-03 school year, 1,609 incidents were reported.
Mike Lenhart, principal at E.D. Nixon Elementary School, said he is a supporter of corporal punishment, but not at the expense of other forms of discipline.
"Corporal punishment works here, but we don't get into the habit of spanking a child every time they get into trouble," said Lenhart, whose school reported 190 incidents last year.
"The majority of our parents are OK with the policy because they would rather have that than to send the kid home," he said. "And when we do it, we try to administer it in the same way a loving parent would. We explain to them what they did wrong and why they are being punished. We care about the students. We don't just spank them and send them out of the office crying. We give them their dignity back before they leave."
But Susan Mallett, principal at Head Elementary School, has never used corporal punishment and does not allow its use at her school.
"I am against using it because I feel that it is not my job to do that," she said. "I think there are plenty of other alternatives to using it, especially in the school setting."
Michael Lancaster, whose children attend Thelma Smiley Morris Elementary School and Bellingrath Junior High School, said corporal punishment has proved to be a good thing in his household.
"My oldest child was spanked when he was in elementary school and he has not messed up at school ever since," Lancaster said. "And neither have my younger children. They knew what happened to their older brother and don't want it happening to them."
Copyright © 1997- 2005 The Advertiser Co.
---
Follow-up: 2 February 2005 - Paddle's days may be ending
---
---
Springfield News-Leader, Missouri, 23 January 2005
Spanking strives a nerve in Ozarks
Two-thirds of state school districts allow the option, usually as a last resort
By Allen Vaughan
News-Leader Staff
Example spanking case What does it take to get to the spanking stage in school discipline?
At most schools in the Ozarks that allow corporal punishment -- and most of them do allow it, even if they rarely or never use it -- the drill goes something like this example from Ash Grove superintendent Richard Harris:
• A student will become unruly in class and get sent to the office. After a meeting with the principal, they will be sent back to their class.
• If a problem arises again, a conference is called between the student, the teacher and the principal, and possibly the parent or parents.
All forms of discipline -- including in-school-suspension, out-of-school suspension, after-school detention and possibly Saturday school -- are discussed.
Depending on the student and his or her attitude, all parties involved will come up with a solution.
• If it includes corporal punishment, a parent must OK it.
"If a parent is opposed to corporal punishment, we will not do that," Harris said, agreeing with most districts.
But if everyone arrives at that solution, the school's principal will ask the student to put both palms on a flat surface and bend over.
• With a witness present, which could be a teacher or even a parent, the principal would administer no more than three swats.
After he recently clarified the Hollister school district's policy on corporal punishment -- spanking IS allowed -- Superintendent Brett Reese was inundated with phone calls.
"None of it has been bad," the superintendent said. "Actually, we had parents call us and say, 'Thank you.'"
Not every parent would agree, and many school districts do not allow the practice, but in Missouri it's legal to spank a student. You just have to have a policy on it.
The Missouri Department of Elementary and Secondary Education only requires that each school board take a position on the practice, for or against.
"We just mandate they have a policy either way," said Jim Morris, spokesman for DESE.
Hollister, it turns out, is no different from most other districts in the Ozarks -- and the state.
At least 69 of the 85 school districts in the Ozarks have policies authorizing corporal punishment.
Statewide, nearly two out of every three districts allow spanking, but because larger districts, including Springfield and Branson, do not allow it, most students in the state are not subject to the discipline.
"There are more districts that have it than not," said Barbara Fraser, a state representative for the 83rd district in St. Louis and a former schoolteacher and school board member.
But the third of the districts without spanking educate more than half of the students in the state.
"There are more students protected by the law than aren't," said Fraser.
DESE does not track corporal punishment cases and does not keep track of who does or doesn't allow corporal punishment.
But the U.S. Department of Education does, as a small portion of its Office of Civil Rights Elementary and Secondary School Survey that is required every two years.
The survey is meant to track racial statistics when it comes to discipline, but in doing so, it also tracks the total numbers of spankings.
The latest available information is from the 2000-01, because the government has not released the numbers yet from 2002-03.
With 9,223 cases of corporal punishment in the 2000-01 school year, Missouri ranked ninth in the nation among the 22 states that still allow the practice.
Swatting protocol
No matter a school's policy, swatting is never an initial disciplinary tactic, most districts said.
It usually follows a sequence of escalating sanctions, from being sent to the principal's office, through meetings with administrators and parents and suspension from school -- in school, out of school or perhaps Saturday school.
The Gainesville R-V School District's corporal punishment policy reads:
"Corporal punishment shall be administered only by swatting the buttocks with a paddle. When it becomes necessary to use corporal punishment, it shall be administered so that there can be no chance of bodily harm. Striking a student on the head or face is not permitted."
The wording is not uncommon in policies throughout the Ozarks. The process is generally seen as a last resort.
"We reserve the right to use corporal punishment, but don't use it," said Allen Meyer, superintendent of school at Galena.
As for regulation of the spankings, school administrators like Gerald Kirbey of El Dorado Springs said there are no regulations on the size of the paddle or training for spanking.
"No, nothing like that," he said.
Ken Spurgeon, superintendent of schools at Stockton, said his district may spank 10 students per year.
"It's very rare that we do spank, but afterwards (the principal) will sit down with them and try to relieve the anxiety of the situation," he said.
Reese from Hollister echoed his sentiments.
"You want them to understand why it's being done. ... You want to be as caring as you can through the situation," he said.
Most districts said the procedure was never brought up by the school's personnel, but it was always arrived at through conferences with the student, parent and principal.
Who's for it
Billings Elementary School principal Bill Sweet said his paddle is made of walnut and is a foot long.
Hollister Elementary Principal Tim Taylor keeps his paddle hung on his office wall.
And first-year elementary principal Cindy Allen, at the Galena school district, keeps a paddle on hand. She also has a keepsake paddle her last sixth-grade class made for her, which is adorned with a frog sitting on a lily pad flanked by signatures.
Sweet, Taylor and Allen all are authorized to use corporal punishment, although all three districts use it as a last resort, they say.
The OCR data said Billings didn't paddle a single child in 2000. Nor did Hollister. But in Galena, the paddle came out 10 times.
"If we have exhausted every method and we think that it will help the situation, we would do it," Allen said.
In-school suspension, out-of-school suspension and detention all see widespread use in the Ozarks, but Harris, whose district also paddled 10 times in 2000, said sometimes paddling is the best option.
"We try to use common sense and reason on it by using other methods of discipline, but there are times that a butt-paddling will put the stop to that," he said.
Webb City superintendent Ron Langford agreed.
His district's policy has similar wording to the others in the Ozarks, but his district paddled 345 times in 2000.
Parents are generally involved, he said, but a lot of the swats come in high school. At most other schools, spankings are more common in elementary grades.
Some kids even ask for it, Langford said.
"I was over in the high school the other day and there were three high school kids who were in trouble. They said they wanted to come in and take swats so they don't have to stay after," he said referring to the students avoiding detention. "We're not going to force paddle some kid, but if they and their parents agree, then we will."
Plato superintendent Leon Slape said students at his school do the same thing -- and maintains it is an effective means of discipline.
"It's a quick method of punishment. We have some students that would rather take the punishment than be out of school or in ISS (in-school suspension)," Slape said, adding there are probably one or two students spanked a week, mostly in the high school.
Most superintendents said they want to find disciplinary measures to keep students from missing school.
"That's not good for a student. They might not be able to make up work or even miss a test," Slape said. "We usually give the students options and they tend to pick the swats."
Chris Whitman, the Bolivar Parent-Teacher Organization present, said she is glad her school reserves the right to spank students.
"There might be a situation that fits the need. It's good that we do have it in place," she said.
Who's against it
Courtney Hemphill, a junior at Republic, didn't even know her school had a policy authorizing corporal punishment.
As a high schooler, though, she doesn't think it would work.
"Most of the guys wouldn't care," the 17-year-old said. "They would probably act tough and laugh at it."

Kleinsmith
Nixa superintendent Stephen Kleinsmith said while he believes that the right to spank should not be taken away from parents, he does not feel it is the public school's place to administer the swats.
"Policies stand for positions and beliefs. The answer of 'It's always been that way' needs to go," he said, saying he is trying to change his school's current authorization of spanking.
"If you can't recognize that, do a reality check. Check your heart, check your mind and check your soul."
Geanine Block, superintendent at Stoutland said her school doesn't allow corporal punishment and is putting an extra emphasis on after-school detention.
"Our discipline numbers are way down from last year," she said. "Kids relish that social time and we've found that taking that away is effective."
Nadine Block, the coordinator of the Center for Effective Discipline, a group that speaks out against corporal punishment, said banning it is the right move.
"There is no research to support corporal punishment," she said. "People are holding onto what they believe and what they grew up in. ... The spanking doesn't correct the behavior, it will just make the kids more sneaky.
"They'll try to do (the behavior) when you aren't around."
Glenna Weis, a certified school psychologist who used to work in the Springfield Public School district, said punishment should be more about the loss of privilege and less about pain.
"It's about decreasing a certain behavior," she said. "Do you really learn a behavior correctly if you're afraid of it?"
In 2000, the Poplar Bluff School District, which has just under 4,700 students, paddled 685 times, most of which were repeats, said superintendent Randy Winston.
That number is down to under 100 so far this year, he said.
The reason: they paddled some repeat offenders without parental permission and the parents threw a fit.
"It's not worth it now; we always contact the parents, even though the policy says we don't have to."
The legal issue is a major factor, said Carthage superintendent Gary Reed, whose school allows corporal punishment, but does not act on it.
"Twenty years ago, an administrator who was acting in good faith was nearly professionally devastated when a family raised their voice against a paddling," he said.
Although his school allows it, Bolivar superintendent Leonard Zanatta, said he hasn't paddled in five to six years.
"It's a violent act and we've got enough violence in our society without having to do that," he said.
In 2004, Bev Long, the director of the Greene County Children's Division office, said there were 68 complaints about swatting statewide.
After internal and external investigations, 66 of those were ruled unsubstantiated complaints and two were "unresolved."
"In many cases, we classify these as family assessments. If the family is having difficulty in handling the child's discipline, we will offer them support," Long said.
Fraser is readying to propose a bill again to make corporal punishment illegal throughout the state.
"Abuses of corporal punishment are not rampant, but periodically there are cases that seem to be occurring," she said. "They shouldn't be occurring at all."
Who spanks?
SPANKING FORBIDDEN
Southwest Missouri schools with policies that do not authorize spanking:
Branson
Carl Junction
Cassville
Climax Springs
Everton
Greenfield
Hartville
Miller
Mountain Grove
Sparta
Stoutland
SPANKING ALLOWED
Area schools with policies that allow spanking:
Ash Grove
Aurora
Ava
Billings
Blue Eye
Bolivar
Bradleyville
Buffalo
Cabool
Camdenton
Carthage
Chadwick
Clever
Cole Camp
Conway
Crane
East Newton
El Dorado Springs
Fair Grove
Fair Play
Fordland
Forsyth
Gainesville
Galena
Halfway
Hermitage
Hollister
Humansville
Hurley
Joplin
Lebanon
Licking
Lockwood
Logan-Rogersville
Mansfield
Marion C. Early
Marionville
Marshfield
McDonald County
Monett
Mount Vernon
Mountain View-Birch Tree
Liberty
Nevada
Niangua
Newburg
Neosho
Nixa
Norwood
Osceola
Ozark
Plato
Pleasant Hope
Purdy
Republic
Richland
Seymour
Skyline
Spokane
Stockton
Strafford
Thayer
Verona
Walnut Grove
Waynesville
Weaubleau
Webb City
West Plains (only in middle school)
Wheatland
Willow Springs
NO RESPONSE
Area schools that did not respond to repeated queries about their spanking policies:
Dadeville
Jasper
Lamar
Macks Creek
Rolla
Copyright © 2004, The Springfield News-Leader, a Gannett company.
---
---
The Des Moines Register, Iowa, 25 January 2005
Gaps: Students need refresher on expectations, consequences
By John Gaps III
Community Publications Director
My turn to talk about the brawl in the Hoover High School parking lot a couple of weekends ago.
There are several things that should be covered here.
First: A police officer was beaten up. Badly.
Second: The police didn't start beating back.
Third: What the deck is wrong with all those people?
This fight, which has been comprehensively covered by local media outlets, was between girls from Roosevelt who had attended a game at Hoover that escalated into a mob brawl. A Des Moines police officer was beaten and many took part in confronting responding officers and even trying to release suspects from police vehicles.
In the wake of the fight, words of concern were issued from Hoover's principal and her counterpart at Roosevelt.

Even Eric Witherspoon, Des Moines schools superintendent, chimed in, saying school officials will urge parents to remind their children it's wrong to fight with police. This may be the most pathetically inert statement ever made by a school administrator.
Are you kidding me? I'm not one for violence, but if my dearly departed father had heard I was part of a mob scene in the high school parking lot, especially one where a police officer was beaten up, he would have knocked me through the living room wall. And I would have deserved it.
Just so you know, this is not an endorsement of child abuse, where kids are beaten, neglected and worse by bad parents in a bad home. I'm talking about good parents who need to exercise a bit more corporal punishment.
And I am not kidding.
And what about those cops? Why wasn't order restored? I am generally a pacifist, but I'm tired up to my eyebrows with this permissive landscape where spoiled, entitled teens get to act out their brattiness ad nauseam. Little creeps who know that if an adult raises a hand, or even their voice, they'll yell "abuse" and Mommy and Daddy will get a lawyer.
It's time to get some mileage out of that taxpayer-funded crowd control gear.

If those students felt they had the right to abuse police officers, then the police should have taken the opportunity for a little outside-the-classroom instruction. Where were the German shepherds? Where was the tear gas? And when the police started arriving, why didn't the kids scatter?

The answer to the last question is because they don't fear the cops anymore, which is something that can be fixed very quickly. In the future I suggest if a student decides to make an advance on a police officer, said officer is to issue a little love tap to the midsection with a nightstick. Ten minutes later when said student is on all fours, staring at his or her lunch spilled out on the parking lot, said student can decide if he or she wants to reconsider their behavior.
If you actually land a punch, it's time to fire up the Taser gun.

But let's make things simple. Police have a duty to put down an assault, but let's take an extra step to protect faculty and staff.

Instead of parents having their Witherspoon-suggested heart-to-heart with Junior about the pros and cons of rumbling with the cops, a parental consent form should be sent home from each Des Moines-area high school to be signed by parents in the event of a brawl.
Here's an example:

If Junior takes a swing at an adult member of the teaching or administrative staff, I give my permission for that staff member to:

A. Suspend Junior for the remainder of the school year.

B. Give Junior a good old-fashioned backside flogging with a knotted rope.

C. Handcuff Junior and wait for the police to arrive.

D. All of the above.

Maybe I should back up a bit to cool off. One of the important ingredients of a brawl are the ringleaders. It is crucial to identify and deal with the instigators right off the bat.
Teachers might have a good idea of who among the students is predisposed to make trouble, but the kids usually know ahead of time who is itching for a fight. They know where the bad blood and trash talk is occurring in the student body. Everybody knows who the bullies are.

So the most important step toward avoiding a smack down is to head it off before it begins and students have a responsibility of policing themselves. If nothing else, they need to keep an open dialogue with a favorite teacher or administrator, just to make sure the troublemakers are being dealt with.
As the incident happened in conjunction with a high school athletic event, I talked with a couple of area athletic directors. They were asked their opinion on heading off a high school-related brawl.

East High School's athletic director, Darrin Fisher, said, "The thing we talk about here is that people have the right to come to the ballgame, but they don't have the right to stay. Whether they stay is up to us. If we see a conflict brewing or sense trouble, the student or adult is asked to leave."
That seems sane.

John Hayes out at Dowling Catholic said, "All you can do is to remind the students what the expectations are (for their behavior). To be honest, I've seen an improvement this season with conduct with both Dowling and opposing schools. I think things have improved in behavior. We remind our students that you are here (at the game) to support the Dowling team and support them positively. I have a lot of confidence that a great majority of students in all schools, if you give them your expectations, will abide by them."
So reasonable expectations and preemptive action seem to be answers. But, personally, I think more good parents should step up and let the kids know that if they are stupid enough to face off with the police and don't get a beating from them, just wait till they get home.
Copyright © 2004, The Des Moines Register.
---
---
The Daily Orange (Syracuse University, NY), 25 January 2005
LeMoyne expels man over paper
By Brian Hecht
While students are guaranteed the freedom of speech, LeMoyne College's recent actions against a student have raised questions of whether or not academic papers are the place to exercise this right.

LeMoyne College expelled Scott McConnell, a student from its Masters of Education program, for writing a paper in which he advocated the use of corporal punishment in schools, he said.

The paper, written for a class on classroom management, originally earned McConnell an A-. However, when he attempted to enroll in classes for the spring semester, he found he couldn't.

"LeMoyne doesn't believe students should be able to express their own views," McConnell said. "If you differ from our philosophical ideal you will be expelled from our college."

McConnell, who hopes to become an elementary school teacher, was informed last Tuesday that he couldn't continue at the school.

"LeMoyne has handled the situation poorly," he said.

McConnell was raised in Oklahoma, where corporal punishment was used when he was a student, he said. In the fourth grade he was paddled by a teacher for being unruly.

"It worked. I never talked out of turn again," he said.

The issues that this case raises are very complicated, said Joseph Shedd, chair of the teaching and leadership programs in Syracuse University's School of Education.

It is about more than just a student's right to express their own opinions, he said.

"There is no clean dividing line between a person's opinions and his or her ability to make responsible professional judgments," Shedd said in an e-mail.

He pointed to change in socially acceptable behavior over time to illustrate that standards change. America has evolved from a society in which different genders and different races have been viewed as having different academic ability, Shedd said.

"SU's teacher preparation faculty -- and, I suspect, LeMoyne's -- will defend any student's right to assert any position, so long as he or she demonstrates an openness to different points of view and a commitment to and respect for every one of the children he or she teaches," Shedd said.

It would set a bad precedent if students could be expelled for their beliefs, said Joe McManus, a junior engineering major.

"I think you should be able to say whatever you want, so long as he doesn't touch anyone," McManus said. "Whether or not corporal punishment is OK depends on where you grew up. You should not be penalized for thinking something."

"I wanted to go to school and LeMoyne has taken that chance from me," McConnell said. He is currently in the process of applying to programs at other schools in New York.
---
Follow-up: 2 February 2005 - LeMoyne student did not mean any harm by writing paper in favor of corporal punishment
---
---
ksdk.com (KSDK-TV News Channel 5), St Louis, Missouri, 27 January 2005
Spanking In Missouri Public Schools
By Sharon Stevens
Education Reporter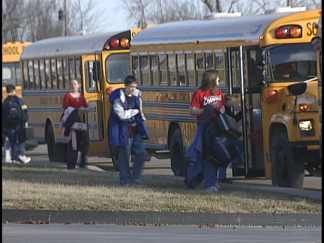 (KSDK) -- Is it okay for educators to spank children in Missouri public schools?

The answer is 'yes' in a number of rural school districts and even some St. Louis-area districts. But 'corporal punishment,' as it is officially known, is prohibited in other districts.

In the Jefferson R-VII School district in Festus, corporal punishment is legal but hasn't been used in six years. Officials add it's only used when everything else has failed.

Superintendent Michael Parnell hasn't personally spanked a student since 1987.

Educators in the district believe just the threat of a spanking is enough to keep a lot of kids in check. Only principals can administer the spanking or 'swatting' and an adult witness must be present and parental permission is required.

Last month, the Fox C-6 School board voted to ban corporal punishment. Officials say it's been a decade since any middle or high school students were spanked; and it only happened a few times with younger students.

High school senior Andy Bryant was surprised to hear that spanking had once been okay in his school district, "I don't think that should be done at school. That's something for the parents to do to their son or daughter."

But educators in both districts say they are worried that some parents could make a court issue out of a spanking.

21 other states allow spanking. Illinois does not.

Some other St. Louis-area school districts that prohibit corporal punishment are St. Louis City, Normandy, Rockwood, Lindbergh and Hazelwood.
All Material Property of KSDK-TV © 2005
---
---
The Lufkin Daily News, Texas, 27 January 2005
Parents of ex-Groveton students taking school paddling complaints to state
By Gary Bass
The Lufkin Daily News
A report from the Texas Education Agency on the paddling incident in late 2004 that prompted Shelley Hall to take her children out of the Groveton school district stated that the TEA "cannot lawfully intervene in student discipline matters."
In an effort to prevent similar incidents, Hall and another parent of a former Groveton ISD student, Lynn Causby, will be in Austin Friday to tell their stories at a summit for "creating a positive school environment for student success."
"Basically, the TEA told us they couldn't do anything because there are no laws on the books to monitor how corporal punishment is used in the schools," Hall said.
On Sept. 29, Hall's son, Chris, received two "pops" with a paddle for continuously refusing to turn in his homework. The paddling by the high school principal was hard enough that it left red welts on Chris's behind that lasted four days, Hall said. At the time, her son was 9 years old.
Groveton ISD Superintendent Joe David Driskell said the district received word that the TEA was looking into the incident. He also said officials with the state agency told them there was nothing they could do about the situation because student discipline is left up to the discretion of the school district.
"We haven't changed anything about our corporal punishment rules," Driskell said. "We followed district policy when the paddling was administered."
The Halls received word from the TEA on Jan. 10. Leslie Smith, a program specialist with the Texas Education Agency's Safe Schools program, signed the letter.
"Texas laws do not prohibit or regulate corporal punishment," the letter stated. "School districts in Texas historically have honored parent requests to use disciplinary measures other than corporal punishment.
"Under Texas law, however, local school board policies approved and published in the Student Code of Conduct are the guiding policies that regulate how each individual district implements disciplinary consequences."
The letter also stated that when TEA officials contacted Driskell, he said paddling a 60-pound elementary-age student with ADHD was within the school board's approved policy, even if the parents requested that other disciplinary measures be used.
"He further verified that the offense of failure to submit homework is a corporal punishment offense and that long-term bruising can result from the punishment," the TEA letter stated.
In the letter, Smith recommended that the Halls take their grievance up the Groveton ISD chain of command. However, when the couple took their formal complaint to the Groveton school board in October, the panel chose to take no action on the matter. Now, Hall is teaching her three school-age students at home.
Hall said the family filed an assault charge with the Groveton Police Department on Oct. 1. She said the Trinity County district attorney's office did not receive the complaint until Jan. 19.
According to Hall, when she went to visit the district attorney about the complaint, "He said that we could take it to a (grand) jury, but that it would probably no-bill." Hall said the DA asked her if she ever got "popped" as a child, and that his own father believed in corporal punishment.
Hall and Causby will speak at the summit, which will be held at the Capitol. State Rep. Dora Olivo's office organized the event.
"I have no real desire to do this because I'm not very good speaking in front of people," Hall said. "But ... parents' rights aren't being respected and the use of corporal punishment isn't monitored by the TEA.
"It's really important that this sort of thing stops."
Causby said she is testifying because she believes there is no need to beat a child to get him or her to learn. She also said she is taking a stand for her son, Justin, and for other Texas students.
Hall said her son has ADHD and that the family had been trying to mainstream him with other students. Because he had problems with turning in his homework at the district he attended before he started at Groveton, she requested that his teacher send a note home with him every day that detailed his homework assignments. She said the teacher didn't send a note two days in a row.
On Sept. 29, Chris was sent to the office because he failed to do his homework. Because the Groveton Elementary principal wasn't there at the time, Chris was paddled by the district's high school principal, even though he requested after-school detention.
Causby said her son, Justin, was a 10-year-old fifth-grader who had never been in trouble when the earlier paddling incident occurred in August 2003. She said her son, who has asthma and allergies, was running in PE when he quit running and started walking because he was getting out of breath.
At that point, the PE coach made him and another boy pick up sticks, break them in half and put them in a pile, Causby said. She said Justin muttered "He sucks," under his breath. Upon overhearing it, the other boy told the coach, who "got into Justin's face and said, 'Boy, if you're going to say something to me, say it to my face,'" Causby said.
That afternoon, the coach gave Justin three "swats" with a paddle, she said.
"I sent my son off to school hoping that he would get an education, and he came home looking like he just got back from Iraq," Causby said.
When Causby took her son to their family doctor, he looked at Justin's behind and said, "My God, Justin. What happened to you?"
Causby said the doctor told them Justin had "contusions with traumatic injuries." He also told them he was required by law to report the injuries to Child Protective Services and later said that if they had caused the injuries instead of the high school principal, they could be arrested.
The next day, Causby told the coach, "Don't ever touch my child again." She said he responded that he would do it again, "with or without their permission," if the situation warranted it.
Four days later, Justin and some other students were playing when the band director left the room, Causby said. He was pulled out of the classroom and taken to the office, where the band director gave him two "swats." She said the PE coach witnessed the paddling and didn't say a thing, even though he'd seen the pictures of Justin's injuries.
"That's when I knew that Groveton ISD wasn't a safe place for Justin," Causby said. "Because of what happened, I drive 100 miles a day so that Justin can go to school at Little Centerville."
Justin was home-schooled for the rest of the 2003-04 school year, and started at Little Centerville last fall. Causby said since Justin switched school districts, he hasn't had any disciplinary problems.
---
Lufkin Daily News, Texas, 30 January 2005
Opinion
Don't spare the rod
From: Jason E. Stringer, Waco
When I was a student at Groveton Elementary School in the late 1970's, Mr. A.B. McBride was our principal. He was a good man, a religious man, a man who wouldn't have hurt a flea, but who also administered discipline at the end of a wooden paddle. Moving to Junior High in Groveton, Mr. John Wayne Reynolds was our principal my first year. He administered discipline in the same manner. Current Superintendent Joe David Driskell was our principal my 6th-7th grade years. I think he inherited Mr. Reynolds' and Mr. McBride's board. I had much discipline from all three of these men as did many of my classmates.
Back in those days, when discipline could be administered freely without parents whining about it, we didn't have problems like what happened at Columbine. There was no problem with unruly students taking over classrooms. We did our homework and we turned it in because we understood we had a responsibility to do so, and if we didn't live up to that responsibility, there would be punishment. And guess what, those of us who met the ends of Mr. McBride's, Mr. Reynolds' and Coach Driskell's boards did not grow up to be axe murderers. We don't go around hitting other people with boards. We grew up to be preachers, lawyers, secretaries, salesmen, professional athletes, etc.
Proverbs 22:16 says, "Foolishness is bound up in the heart of a child; The rod of correction will drive it far from him." Discipline is all about teaching that there are consequences to actions. Beatings are wrong, but a swift swat on the rear end will teach a lot of responsibility, even God sees the wisdom in that.
Hebrews 12:6 says "Whom the Lord loves He chastens (disciplines) and scourges (that's corporal punishment) every son whom He receives."
We need to go back to the days when students were disciplined and schools were safe.
---
Follow-up: 8 September 2005 - Parents of student who was paddled file suit against Groveton ISD
---
---
San Antonio Express-News, Texas, 30 January 2005
Pupils' age poses paddling problem
By Sonja Garza and Jeanne Russell
San Antonio Express-News
A high school student commits an infraction and heads to the principal's office for a paddling.
At the time of enrollment, the student's mother had signed a consent form giving the school permission to spank her child.
But at the time of the paddling, the student is 18 and no longer a child -- at least legally speaking.
Can the student still be paddled?
The issue of whether a school can be held civilly liable for using force against an adult student was raised recently in a lawsuit against the School of Excellence in Education, where corporal punishment is allowed.
In the lawsuit, Jessica Serafin, 18, alleges an educator at San Antonio's largest charter school used excessive force when he struck her with a wooden paddle known as "Ole Thunder."
The lawsuit, filed Jan. 10 in state district court, alleges the beating was so severe that the student bled and sought treatment at an emergency room. Last week, a notice was filed in Serafin's case to move it to federal court.
Though the lawsuit also alleges civil rights violations and negligence, a key element of the case, according to the student's attorneys, is the fact that she's an adult and did not consent to the paddling.
"This case is not about a crusade against corporal punishment," said Dan Hargove, Serafin's attorney. "It's not a crusade against charter schools. ... This case is about three adults holding down an adult female and beating her with a wooden paddle so bad that she ended up in the hospital."
An attorney for the school counters that the student's allegations are not credible.
"(The lawsuit) contains some blatant falsehoods which are easily provable as blatant falsehoods," said Jeff Gately, general counsel for the school.
Gately said the girl's attorney sent a letter several months after the incident, and he, along with several school officials, investigated to see if the student's account was true.
"We investigated the complaint at the time and found it to be without merit," he said.
Though the validity of the lawsuit likely will be decided in court, this and similar lawsuits stoke the debate over the use of corporal punishment.
To paddle or not
Proponents of paddling say it can be a useful disciplinary tool to maintain control and is a deterrent against unruly or improper behavior.
Opponents of corporal punishment say it is ineffective and sends the wrong message to children that violence is an acceptable way to resolve conflicts.
Dr. Alvin Poussaint, a psychiatrist at Harvard Medical School, has helped lead an effort to end corporal punishment in the Dallas School District, which now has a moratorium on the practice.
What the lawsuit against the School of Excellence highlights, if the allegations turn out to be true, Poussaint said, is that allowing corporal punishment "opens the door for some of the crazier things to happen. You can't control what any individual might do at any particular time."
Yet there is a gap between research and popular sentiment, with polls showing as many as 80 percent to 90 percent of Americans hold occasional spanking as a parental right, despite their growing intolerance of spanking in schools.
Attitudes against paddling in schools began to shift in the United States in the 1960s, and New Jersey became the first state to ban the practice, in 1967. Texas is one of 23 states that do not ban corporal punishment in schools, but the decision is left up to the local school or school district.
In the San Antonio area, no public schools paddle as a matter of course, though the New Braunfels and Boerne districts have provisions for corporal punishment in their discipline policies.
The School of Excellence in Education is the only Bexar County public school that paddles children.
Ricky Hooker, superintendent of the three-campus, 1,520-student school system, said he asked two questions before accepting the job: Could he fire teachers? Could he use corporal punishment?
Publicly funded charter schools were designed to allow for independent schools to do things differently from the public schools.
Hooker has carved out a niche by marketing an "old-school" approach to discipline. Uniforms are tucked in, kissing is forbidden, girls can wear only one pair of earrings, and boys are instructed to open doors and pull out chairs for their female peers. Parents must sign a consent form allowing their child to be paddled.
In Serafin's case, her mother signed such a form.
"I was real scared"
On the day of the alleged paddling, last June 18, Serafin said, she was called out of class after she left campus to get a breakfast taco before summer school started.
Serafin's attorneys contend that Brett Wilkinson, a vice principal at the charter school's junior high, was serving as summer school principal at the time and administered the paddling. Wilkinson is a named defendant in the lawsuit.
"He took me out of the classroom, and then he talked to me and told me I was going to get it -- I was going to go upstairs for corporal punishment," she said. "And I was, like, can I call my mom, first?"
According to Serafin, she was forced to bend over a chair and Wilkinson and two other employees restrained her. She said she asked to leave, but was not allowed. Serafin alleges she was hit three to four times with the wooden paddle.
At one point, she said, she tried to block one of the blows and the paddle "smashed her hand."
"I started screaming because I thought he had broke my hand," Serafin said, adding the administrator told her the strike to the hand didn't count because he failed to hit her in the right spot.
"I was real scared," she said.
After school, Serafin said she could hardly walk. She said she noticed tiny droplets of blood on her backside and that her hand was severely swollen.
Serafin said she went to an emergency room for treatment. Her hand was put in a cast and photographs were taken of her injuries.
No longer a student at the School of Excellence, she said she believes paddling works if used correctly with young students.
Randal Mowery, Wilkinson's attorney, said he didn't want to try the case in the media.
Attorneys for the defendants contend several statements in the lawsuit are false, including the information that the paddle measures four feet.
The law on paddling
Lawsuits arising from the use of corporal punishment aren't new. But Hargrove said what makes his client's case unique is the age factor.
State law allows parents to spank their minor children if the parent "reasonably believes the force is necessary to discipline the child or to safeguard or promote his welfare."
The law, however, does not provide for parents to use force to discipline their children who are 18 years or older, Hargrove said. To do so would amount to assault, he added.
Hargrove contends the school in Serafin's case was acting "in loco parentis," or essentially in place of the parents, and therefore should not have been authorized to paddle an adult student.
But St. Mary's University law professor Gerald Reamey said there's another part to the statute. An educator can use corporal punishment without age restrictions to "further the educational purpose or maintain discipline."
"Apparently, the law would permit the use of (reasonable) force regardless of the student's age," Reamey said.
The statute protects a teacher from being prosecuted criminally for using corporal punishment, he said.
Attorney Philip Marzec, who represents local school districts, said it is difficult for a plaintiff to prevail against a school district in a paddling lawsuit because it generally is immune from allegations of negligence relating to corporal punishment.
Districts can be sued, however, for civil rights violations, Marzec said, but the plaintiff would have to show that a school policy or sanctioned practice led to the violation in order to hold the district liable.
Professionals working for the district also are immune from civil liability in corporal punishment cases. There is an exception, however, if the person doing the paddling uses excessive force, Marzec said.
The New Braunfels and Boerne school districts paddle only on rare occasions, typically at a parent's request, administrators said.
Boerne schools Superintendent John Kelly said current school principals are personally and philosophically opposed to paddling. However, if it weren't for the threat of lawsuits, he believes spanking, employed occasionally, would be a useful discipline tool.
"For me personally, in today's litigious world, lawyers and parents make corporal punishment very hazardous to use. In reality, the debate over whether it should be used takes a back seat. In a simpler America, an occasional spanking of a kid was an appropriate form of discipline," Kelly said.
As a father of seven, he said, he reserves his right to paddle his children sometimes.
---
Follow-up: 2 February 2005 - Paddling not for adults, even students
---
---

Chicago Tribune, 31 January 2005
Family matters
NFL fans know Terrell Owens, the prima donna. His mother and his friends back home know another T.O.
By David Haugh
Tribune staff reporter
(extract)
ALEXANDER CITY, Ala. -- On a wall inside Mayor Barbara Young's downtown office hangs a sign that reads: "God is in charge."

Church and state mingle freely in Alexander City, a God-fearing town of 15,000 about 70 miles southeast of Birmingham where places of worship seem to outnumber places to buy a drink.

They thump the Bible, wrap themselves in the American flag and value honesty, integrity and humility. Everything, locals believe, that Alexander City native Terrell Owens will represent this week in Jacksonville, when he becomes the face of Super Bowl XXXIX whether he plays a down on his surgically repaired right ankle or not.

"Terrell is so well respected here," Young said, "and hasn't changed much since he was a boy. Of course we're proud."

Young was to a youthful Owens what NFL Commissioner Paul Tagliabue now is to the Philadelphia Eagles' star wide receiver -- the ultimate arbiter of discipline. A paddle behind Young's desk reminds her of the two years she was Owens' principal at William L. Radney Elementary School.

One day in 5th grade, Owens wound up in the principal's office. Seems running in the hallways as a kid got Owens into as much trouble as running his mouth has as an adult.

"Yes, I did have to paddle him, but never more than three licks," Young recalled. "He was never a bad child. A considerate child. Humble. He liked to laugh, he liked to play and he was a leader, quietly."

Young was more than happy to spend time one day last week talking about one of her favorite subjects, Owens, including the "Terrell Owens Day" her office has planned and the Owens-autographed high school program that has become her grandson's prized possession.
[....]
Copyright © 2005, Chicago Tribune