The Nashville Tennessean, 4 April 2002
DCS will investigate paddling in Lebanon
By Emily Heffter
Staff Writer
Tina Harris' scolding turned to horror March 27 when she saw her 14-year-old son's backside after school.
The boy had been paddled so hard that his mother took him immediately to the emergency room, she said.
Mark Willoughby, who has been principal at Walter J. Baird Middle School in Lebanon for more than a decade, said he followed board policy when he paddled the boy.
"I didn't hit him any harder or any lighter than I would anybody else."
The state Department of Children's Services is investigating the incident, said Carla Aaron, spokeswoman for the department. The Lebanon/10th District's assistant superintendent of schools is also investigating. Willoughby continued to be on duty yesterday.
Harris said her son got into trouble at school for hitting another child March 27. His teacher took him to the principal's office, where Willoughby paddled him twice. A teacher stayed as a witness.
Harris' son told her the principal hit him so hard he fell over. Willoughby said that was not true.
"The kid went home with a red bottom, for sure," Willoughby said.
Willoughby said Harris gave written permission for her son to be paddled when she enrolled him in the Lebanon city schools Feb. 25.
"I had given them permission to paddle but not to beat," Harris said.
"We're not trying to hurt the child at all," said Tommy Hall, assistant superintendent at the Lebanon city school district. "Of course, some people's skin is more sensitive than others."
---
---
North Channel Sentinel, Channelview, Texas, 11 April 2002
Paddling incident at SISD forces change
A bruised student causes board members to re-examine their position on corporal punishment.
By Kris Minefee
Staff Reporter
A complaint filed by the grandparents of an 11-year-old student has resulted in the curtailment of corporal punishment in the Sheldon Independent School District. Students in the district will no longer be subject to disciplinary paddling in any of the district's schools.
The school board met last week to discuss the policy and voted to ban corporal punishment in the district.
The 11-year-old boy was involved in a paddling incident at Monahan Elementary School. The student was removed from class for"disruptive and argumentative behavior" according to Sheldon ISD Superintendent Stephanie Cravens.
After being removed, a call was made to the grandparents who are his legal guardians. Physical Education teacher David Haas was the acting administrator in the absence of the principal and the assistant principal on the day of the incident.
Haas called the grandparents and informed them of their grandson's behavior. He then told them they could choose in-house suspension or swats for punishment for their grandson.
The grandparents gave their permission for the swats. In the presence of another teacher three swats were administered. According to Cravens, all policies and procedures for the administering of corporal punishment were followed.
When the child returned home his grandparents were shocked to see severe bruising where the swats had been given. They complained to the school and took their concerns through all three levels of the school districts complaint procedure with no satisfaction.
In addition they called the constable and contacted civil attorney Randall Kallinen to represent them.
"This is a small kid," attorney Kallinen pointed out, "a small kid who was given three swats with a board."
At this point no criminal charges are being pursued and the district attorney has refused to file any charges. The case will be pursued through the civil court system. Attorney Kallinen feels it will have to be dealt with there.
"I don't think the case will be settled out of court," he said.
Neither the teacher nor the school has denied that the swats took place or that the bruising was caused by anything other than the swats.
In a tape recording taken at the second level in the complaint process, the teacher involved expressed surprise that the swatting had resulted in bruises. None of the teachers involved has any prior history of any type of abuse.
"Nobody feels good about this," said Superintendent Cravens in summing up the incident.
As a result of this incident a new "no corporal punishment policy" was adopted by the Sheldon school board. The policy change was reportedly already under consideration by the district but was accelerated due to the grandparents complaints.
© North Channel Sentinel 2003
---
---
People Magazine, New York, 15 April 2002
Controversy
Spare the Rod
When a principal's paddle left Megan Cahanin black and blue, her parents hit back -- in court
By Richard Jerome and Linda Kramer
in Zwolle
Megan Cahanin bent over a chair, her heart pounding, and awaited punishment. The fourth grader at Zwolle Elementary School in rural Louisiana had been bickering with a friend on the morning of Dec. 15, 2000, and as they lined up for breakfast in the cafeteria, things bubbled over. "She tripped me," says Megan, "so I elbowed her back." The girls were dispatched to principal Judy Rials, who dismissed the friend and subjected Megan to a disciplinary measure outlined in local statute: "Striking the student in the buttocks with a paddle a maximum of five times." After one whack with the wooden instrument Megan, an honor student who had never been in trouble, cried, "Don't hit me." Two blows later, with tears streaming down her face, she was sent to class and Rials called to inform her parents.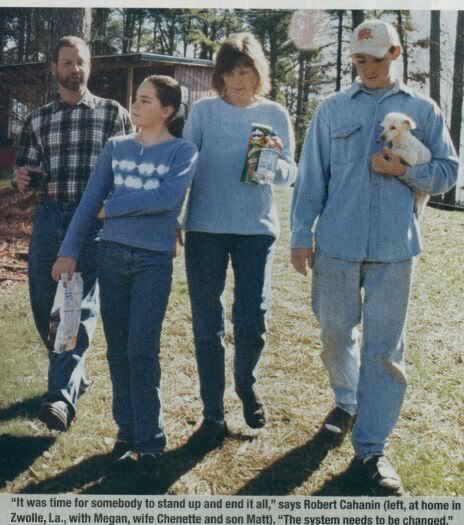 "I was in shock," says Megan's mother, Chenette, 38, a homemaker. When her daughter came home and revealed two dark purple bruises, about four inches wide, on her backside, "I started screaming." That's not all she did. The next day Chenette and her husband, Robert, took Megan to the ER, had the bruises photographed and filed a police report. But Rials hadn't broken the law, so no action was taken. The Cahanins were steamed. "You'd call the Humane Society if someone kicked a dog," says Robert, 42, an ex-crane operator on disability since breaking his back in a 1993 fall. In March 2001 the family filed suit in district court seeking unspecified damages -- and to abolish paddling in Louisiana public schools. Joining the action, which is now in the pretrial phase, was Joy Ebarb, 30, whose son DeWayne, 11, was paddled by Rials and a teacher 17 times in the fall of 2000. Rials declines to comment, but schools superintendent Dan Leslie defends paddling "as a message to correct behavior. Any educator has to have a number of disciplinary measures available."
The Cahanins and Ebarbs are part of a growing movement against corporal punishment in schools, which is still legal in 23 states. "It's terrible that we are intentionally inflicting this kind of medieval barbarism," says Bob Fathman, 57, who started the National Coalition to Abolish Corporal Punishment in Schools after his daughter was paddled in Ohio 20 years ago. Over the past three decades, thanks in part to groups like Fathman's, 26 states (though not Ohio) have forbidden teachers to strike students -- joining New Jersey, which outlawed paddling in 1867, as well as China, Japan and every country in Europe and Central and South America. Across the United States, many school districts have also banned paddling, as Nashville did in January.
Yet the paddle has its staunch defenders. It was used on 365,058 public school students in 1998, the most recent year for which statistics are available. That's just fine with Dr. S. DuBose Ravenal, 63, a High Point, N.C., pediatrician and one of the nation's most vocal paddling advocates. Sparing the rod, he argues, has helped create "a society with schools that have become battle zones." Mount Washington, Ky., elementary school principal Linda Belcher, 53, agrees. "Trying to control 27 energetic children is not always easy," she says. When her district outside Louisville banned paddling, she led a failed effort to reinstate it. "I'm after any strategy to make them go in that classroom and learn."
Such views, however, are growing farther from the mainstream. More than 40 professional organizations have come out against corporal punishment in schools, including the National Education Association, the American Academy of Pediatrics and the American Psychiatric Association. "It teaches kids that might makes right," says Irwin Hyman, 67, a Temple University professor of school psychology and director of the National Center for the Study of Corporal Punishment and Alternatives. "There's no justification for it."
The Cahanins came to that conclusion the hard way. They didn't object when their older child, Matt, now 16 and a sophomore at Zwolle High School, was paddled in elementary and middle school. "Matt never complained about being bruised or humiliated," says his father. But when the boy was diagnosed with attention deficit hyperactivity disorder, it became clear that force wasn't the way to control him. The Cahanins asked Matt's middle school to stop the paddlings, and their request was honored.
Megan, by contrast, was a model student. "Teachers would send home notes with smiley faces," says Chenette. After the paddling, though, Megan, now 11, didn't want to return to Zwolle Elementary. Her parents tried home-schooling, but she missed her friends. Now she's thriving in fifth grade at a new school. The black-and-blue marks faded long ago, but it's clear her principal made an indelible imprint. "She hurt me and my feelings," Megan says. "And I'll never forget it."
---
---
North County Times, Escondilo, California, 26 April 2002
Temescal Canyon High teacher arrested
By John Hall
Staff Writer
LAKE ELSINORE ---- A Temescal Canyon High School teacher was arrested Thursday in connection with the suspected spanking and molestation of a 14-year-old student, authorities said.
Charles Roger Noppe, 35, was arrested at the Lake Elsinore Sheriff's Station soon after investigators had served a search warrant at his home in the Horsethief Canyon area north of Lake Elsinore, said sheriff's investigator Mark Cordova.
Noppe was arrested on suspicion of corporal punishment on a child and lewd acts with a child with force, authorities said.
The state education code prohibits corporal punishment, such as spankings.
Noppe teaches auto shop and drafting at Temescal Canyon and has been on administrative leave since the allegations surfaced a week ago, said John Wise, executive director of administrative services for the Lake Elsinore Unified School District.
Once placed on leave, Noppe had no contact with students, Wise said. Information about how long Noppe has been employed by the district or if he taught at any other campuses was unavailable Thursday.
"Whenever there is any allegation that places any of our students at risk, it is our policy and procedure to place that employee on administrative leave pending the outcome of the investigation," Wise said.
The alleged incidents happened over three days, twice at the school and once at Noppe's home, Cordova said.
The spankings reportedly took place on campus on April 10 and 11 and then at Noppe's home on April 16, the investigator said. The boy was allegedly fondled during the spankings, Cordova said.
The boy is not being identified because of his age and The Californian's policy not to name victims of alleged sexual crimes.
The spankings were supposedly punishment for something the boy had done wrong, Cordova said.
Investigators served a search warrant at Noppe's home about 7:30 a.m. Thursday, Cordoba said. Computers were seized, as well as items Cordoba declined to identify.
Noppe was not home at the time of the search, Cordova said, but investigators told his wife that Noppe needed to turn himself in.
Noppe later came to the station and was arrested. He was booked at the Southwest Detention Center in French Valley, where he was being held late Thursday in lieu of $25,000 bail, a jail spokeswoman said.
Noppe is scheduled to be arraigned in Riverside on Monday, the spokeswoman said.
©1997-2002 North County Times
---
---
NBC4 Columbus, Ohio, 30 April 2002
Local School Still Paddles Students
Anti-Corporal Punishment Groups Speak Out
WAVERLY, Ohio -- Anti-corporal punishment groups speak out Wednesday on national "SpankOut Day," as administrators at a rural Ohio school talk about the benefits of paddling.
Western Local School District, just south of Waverly, Ohio, is one school that still allows corporal punishment or paddling.
"This is a thin board or a paddle. We are allowed to administer up to three swats with the paddle, but they're never given over two," said Phil Howard, asst. principal at Parker Elementary School.
Over half of the parents of the 500 students in the Western Local District have given written permission for the principal to paddle their children, NewsChannel4's Larry Roberts reported.
Nadine Block, a spokeswoman for an anti-corporal punishment group called Center For Effective Discipline, said that there are better ways to discipline a child than hitting them.
"All the studies seem to show there are better ways than hitting them," Block said.
Block said that paddling is abuse, but school officials at Western Local said that they disagree.
"I say it's two totally different things. We're not talking about abuse. If you had witnessed the paddling, we're not hurting anybody and most of us adults can think back to a time where most of us were paddled as children," said Peter Dunn, a third grade teacher.
"It used to be accepted, but we use to accept a lot of things like spousal violence," Block said.
Dunn said that paddling students has proved effective in his classroom.
"You have a few who maybe you paddle one time, and that's enough for them. You have most of the school who just having that as an option is a deterrent," Dunn said.
School administrators said that paddles are not as forceful as they were when many students' parents were children. They said that they are smaller, not as thick and do not have holes in them.
"I see so many more problems in schools today and anyone can attest to that. I think that a lot of that is due to the fact that corporal punishment has been taken out of schools," Howard said.
"Hitting children is dangerous, it can lead to injury, lawsuits," Block said.
In 1994, corporal punishment was outlawed in Ohio schools unless a study performed on the school met certain guidelines.
>Roberts reported that one of the guidelines provides an option for parents stating that they must give their permission.
During the 2000 and 2001 school year, the use of corporal punishment in Ohio dropped 13 percent from the year before, Roberts reported.
Since 1995, school districts send the number of students paddled, each school year, to the state board of education.
Roberts reported that school districts in 23 counties in Ohio paddled students last year with 54 of those students paddled in the Morgan Local School District.
Copyright 2002 by nbc4columbus.com.All rights reserved.