The Commercial Appeal, Memphis, Tennessee, 16 January 2001
Short of the goal
Athletes pass and score with ease -- except on the ACTs
By Aimee Edmondson
The Commercial Appeal
(extracts)
Photographs by A.J. Wolfe
Matthew (left) and Mario Stevenson hug Coach Melvin Logan after their last game in Melrose stadium. The brothers are the pride of Orange Mound's winning season. As of yet, neither has an ACT score high enough to earn a scholarship.
They are the kings of Orange Mound, the princes of Memphis football.
Melrose High School's famed quarterback-receiver duo, brothers Matthew, 18, and Mario Stevenson, 17, feel like they're about to break out of the poor neighborhood they've always known.
They live for the fact that college scouts are circling, and they plan on getting out of here together come June on athletic scholarships of their choosing.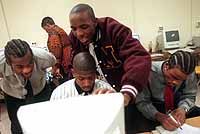 Athletes Mario Robinson, (left) Jarrett Morrow, Mario Stevenson (pointing) and Derron Johnson study together. What the schools offer isn't enough, says head baseball coach Randle Jennings, who prefers a special tutoring program for athletes.
But the Stevensons haven't scored 17s on the ACT college entrance exam, the minimum needed to qualify for athletic scholarships as required by the National Collegiate Athletic Association.
Even as Memphis high school athletics roils from recent accusations of recruiting violations, including a charge that the Trezevant High School coach got $200,000 to steer a player to Alabama, prep players face another serious, if less sensational, problem: qualifying academically.
Football scouts around the country know Memphis is legendary for turning out heartbreakers - great athletes who can't meet minimum academic standards to play college sports, particularly at big Division 1 schools such as the universities of Memphis, Tennessee, Arkansas and Mississippi, local coaches say.
Of 1,600 senior athletes in Memphis City Schools, only about 350, or 20 percent, had the grades and ACT scores to qualify for NCAA scholarships in the 1998-1999 school year, said Randle Jennings, Melrose's head baseball coach, who surveyed Memphis's high school coaches to get the numbers.
He is leading the push to set up a structured citywide tutoring and counseling program for athletes.
"Our system is failing them," Jennings said.
School leaders agree that Memphis athletes are missing out on too many scholarships, but they haven't agreed specifically on what to do about it.
Jennings, a former LeMoyne-Owen College baseball coach, is trying to sell school leaders on a new program - financed by corporate donations - that would provide structured tutoring and counseling for athletes.
He has formed a nonprofit organization called Real Life Junction Inc., the project's fund-raising arm. He would take some of the proceeds as salary for running the program.
Though he's facing opposition from some school leaders who want to start an in-house program, Jennings is pushing for school district approval and said he could get a pilot program in 10 of the neediest schools by fall.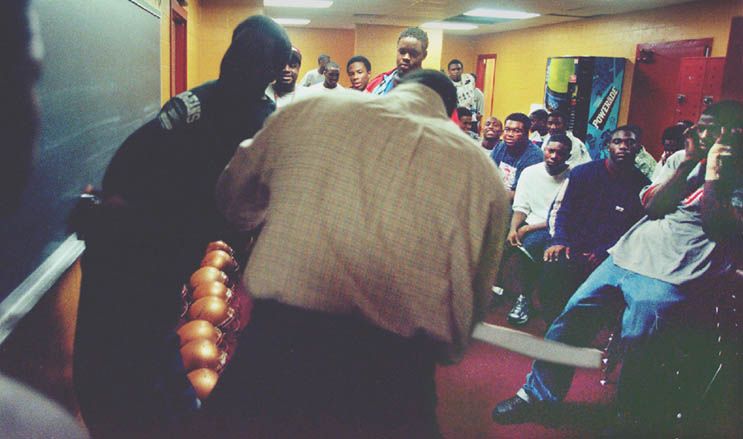 Melrose players watch a teammate get paddled for poor grades, and they are next. One F means five licks. A poor mark in conduct gets them three.
Melrose, one of the most successful football programs in town, is a case in point.
Coaches say only one senior has scored high enough on the ACT to qualify so far this year. Lineman Jacob Ford said he made a 19 on the ACT in October.
Schools all over the city are in the same situation, coaches say.
East High School's Mustangs, for example, were TSSAA Class 4A champs in 1999 and runners-up in 2000 in football. But of the six NCAA Division 1 prospects on East's team, only Kyle Dickerson has qualified so far, said East coach Wayne Randall.
Once senior year rolls around, it's too late in the game for players to start worrying about qualifying, he said.
"We try to get them to understand in the ninth grade the importance of doing well in school," said a frustrated Randall. "But they generally wait to get concerned their senior year."
Now, as national college signing day approaches in early February, the Stevenson brothers are feeling the pressure.
Mario, a standout receiver for the Golden Wildcats with 45 catches for 634 yards and five touchdowns this season, took the ACT in October. He said he made a 14.
Matthew put off taking the test until after football season, which he regrets now.
"I wish I would have taken the test earlier so I'd have time to do better and better," said Matthew, the 6-5, 220-pound quarterback who threw for 1,900 yards and 21 touchdowns this season.
He'll take the test next month, and Mario will retake it. Both say they have the 2.5 grade point average required by the NCAA.
Under The Real Life Junction plan, Jennings said, the boys would have taken the ACT for the first time in the spring of their junior year.
Jennings says he can justify offering a tutoring and counseling program for athletes because public money wouldn't cover the costs.
Under the program, student athletes starting in the ninth grade would have their own detailed improvement plan and get extra help from teachers after school. They'd also take ACT tutorials and pretests on computers and receive extra counseling attention.
[...]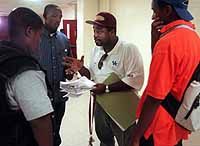 Coach Melvin Long preaches the GPA mantra after reviewing players' progress reports. Memphis is famous for turning out what recruiters call heartbreakers, athletes who can't meet the barest college academic levels.
But instead of bringing in Real Life Junction, city schools athletic director Wayne Weedon would like to adjust what's already being offered. Along with the Extended Learning after-school offerings, Weedon wants to add an athletic/academic counselor to the central office. The employee would help coaches monitor athletes and come up with other ways to help them.
Jennings's statistics that 80 percent of Memphis athletes don't have the scores to qualify "seem a little high," Weedon said.
He agrees that "a large majority are not qualified that are capable to go on to play for a large institution."
"This is a vital issue. We recognize it as a problem," Weedon said.
Some school leaders are impressed with Jennings's idea because of the structure he's built to make it mandatory for all student athletes.
One school's effort
On the surface, a semester of visits to Melrose would be enough to convince anyone that coaches work to prepare students off the field as well as on.
There's study hall Monday through Thursday where the players, under the thumb of volunteer coach Melvin Logan, are expected to do homework or take ACT tutorials.
A player with a D or F or bad conduct grades finds himself sidelined for the next game.
"Without study hall, I know I'd be a D or an F student," said Matthew. "And our sidelines would probably be packed."
But twin brothers Jarrett and Gerald Morrow, 17, Melrose junior receivers, agree that some players do just enough to get by. And it's not enough to prepare them for the ACT.
"Some people will just sit there and stare at a book, but not do anything," Jarrett said of study hall.
Assistant coach Williams said he knows that happens.
"We are doing just about all we can do," he said. "At some point, the responsibility has to go to the students, just like a coach can't go out and make a tackle for you."
In an attempt to motivate the players, coaches require Melrose players to take weekly progress forms to their teachers. Teachers fill in grades, conduct scores and unexcused absences.
Just as a father would do, coaches review each player's report cards every six weeks. Those with bad grades line up for the punishment: licks with a wooden paddle wrapped in athletic tape.
Five for an F. Three for a D. Three for bad marks in conduct.
The coaches don't apologize.
"We are not making jocks to run up and down the football field," said Logan, who works as a security guard nights and weekends, volunteering at Melrose during the day. "We are making young men."
Memphis City Schools allows corporal punishment, and Melrose is careful to adhere to the guidelines, coaches said.
Delinda Stevenson is thankful the coaches step in to act as the father her boys never had. Matthew can't imagine what it must be like to get whipped at home.
"I never had a dad in my home, not a stepdad or nothing," he said. He considers Logan a father.
"Before Coach Logan, I was just living and going through the motions," he said. "If he wasn't there, I'd be lost."
The Morrow twins say they've learned from those before them, like the former Melrose star Paine, who lost a scholarship because of grades, and the Stevenson brothers, who are sweating out qualifying at the last minute.
The Morrows, who were honored as the kings of the Orange Mound Christmas parade, don't want to be sitting around the neighborhood for the rest of their lives, talking about their glory days.
"I don't have to go pro, I just want to make something of my life," said Gerald.
"I've been fighting all my life to get away from all this," added Jarrett. "I'm tired of struggling. If I bum my knee, I'll still have my grades."
[...]
Now Paine is a volunteer coach at Melrose and a part-time security guard. He said he hopes to be playing football next fall - finally. He tells the guys who look up to him:
"Y'all see the things I went through. Follow what I did on the field, not in the classroom."
---
---
The Tennesseean, Nashville, 28 January 2001
Use of paddle losing favor among schools
By Carly Harrington
Staff Writer
MURFREESBORO -- The paddle may be on the way out in Murfreesboro's city schools.
The district is studying whether it should abolish corporal punishment as a disciplinary measure, after the recommendation of Director of Schools Marilyn Mathis.
"Paddling is a swift punishment, but it doesn't get to the root of the problem," she said.
Some educators say it is sometimes necessary to discipline a child with a spanking, but the threat of lawsuits and continuing cultural aversion to corporal punishment have others calling for the practice to be outlawed.
"We don't even inflict pain on prisoners," Mathis said. "Why do we want to on a child? There are so many reasons why a child misbehaves, some of which we're not privy to."
Many area school systems, such as Metro and Wilson and Williamson counties, allow principals to include paddling as a school discipline option as long as parents are notified in advance, at the beginning of each school year, and given the chance to tell the school in writing that they want their child exempted.
One exception in Williamson County is the Franklin Special School District, which specifically outlawed the use of corporal punishment on its students in 1988.
"It doesn't get used very much," said Craig Owensby, spokesman for Metro schools. "A majority of our principals don't believe in it and don't use it."
Last year, 33 students attending one of 10 Murfreesboro schools were spanked. Eight of those were at Hobgood Elementary School.
Hobgood Principal Ray Butrum, who views corporal punishment more as mental anguish of a child than violence, believes spanking can be an effective tool.
"In almost all cases, it has changed the behavior of that child," said Butrum, who fears shelving the paddle will increase school suspensions.
In Tennessee, one of 23 states that allow the use of corporal punishment in their public schools, the decision is left to local school boards.
According to the most recent survey by the U.S. Department of Education's Office for Civil Rights, 36,477 students were paddled in the 1997-1998 school year. That's 4% of the student population, ranking Tennessee fourth in the nation in percentage of students who received corporal punishment.
Tennessee Department of Education does not collect data on corporal punishment.
Toni Richards, vice president of Tennesseans for Nonviolent School Discipline, thinks attitudes are changing.
"There are about 10 to 12 school districts in Tennessee that may have corporate punishment on the books but don't use it," she said. "And there are many more moving that way."
© Copyright 2001 The Tennessean
---
Follow-up: 1 March 2001: [Murfreesboro] School system votes out paddling