The New York Times, 14 February 1898
Spanking By Electricity.
Kansas Has Invented a Method Which Colorado May Adopt.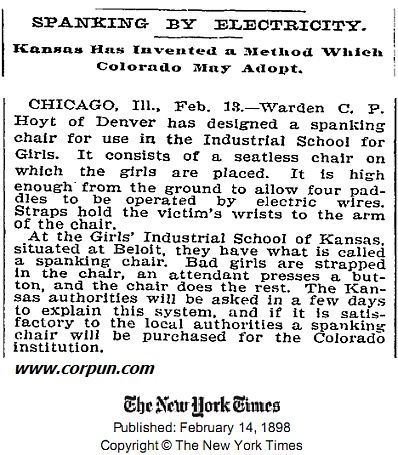 Click to enlarge
CHICAGO, Ill., Feb. 13. - Warden C.P. Hoyt of Denver has designed a spanking chair for use in the Industrial School for Girls. It consists of a seatless chair on which the girls are placed. It is high enough from the ground to allow four paddles to be operated by electric wires. Straps hold the victim's wrists to the arm of the chair.
At the Girls' Industrial School of Kansas, situated at Beloit, they have what is called a spanking chair. Bad girls are strapped in the chair, an attendant presses a button, and the chair does the rest. The Kansas authorities will be asked in a few days to explain this system, and if it is satisfactory to the local authorities a spanking chair will be purchased for the Colorado institution.
---
Note by C.F.: Although The New York Times (and several other newspapers) reported this perfectly seriously, Warden Hoyt made clear at a conference the following year that his remarks had been intended as a joke, and that there never was a "spanking machine". (Proceedings of the Annual Congress of the National Prison Association, Hartford, Connecticut, September 1899.)
Country files: CP in US reformatories
External links: Reformatory corporal punishment