The News-Palladium, Benton Harbor, Michigan, 19 March 1964
Bill On Whippings Is 'Beaten To Death'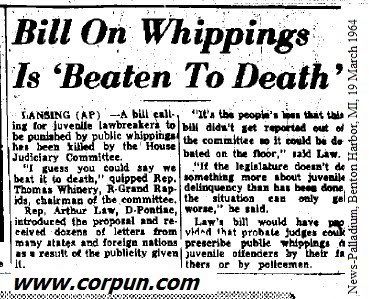 LANSING (AP) -- A bill calling for juvenile lawbreakers to be punished by public whippings has been killed by the House Judiciary Committee.
"I guess you could say we beat it to death," quipped Rep. Thomas Whinery, R-Grand Rapids, chairman of the committee.
Rep. Arthur Law, D-Pontiac, introduced the proposal and received dozens of letters from many states and foreign nations as a result of the publicity given it.
'It's the people's loss that this bill didn't get reported out of the committee so it could be debated on the floor," said Law.
"If the legislature doesn't do something more about juvenile delinquency than has been done, the situation can only get worse," he said.
Law's bill would have provided that probate judges could prescribe public whippings of juvenile offenders by their fathers or by policemen.
Country files: Judicial CP in USA