St Petersburg Times, Florida, 1 June 1946
Three Soldiers Accept Lashing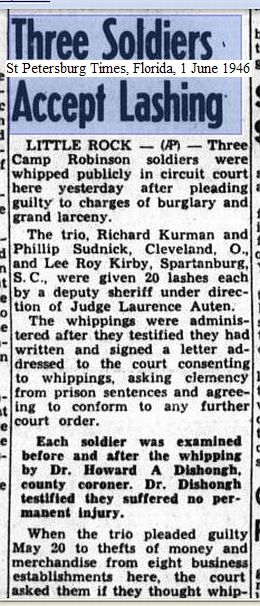 Click to enlarge
LITTLE ROCK -- (AP) -- Three Camp Robinson soldiers were whipped publicly in circuit court here yesterday after pleading guilty to charges of burglary and grand larceny.

The trio, Richard Kurman and Phillip Sudnick, Cleveland, O. and Roy Kirby, Spartanburg, S.C., were given 20 lashes each by a deputy sheriff under direction of Judge Laurence Auten.

The whippings were administered after they testified they had written and signed a letter addressed to the court consenting to whippings, asking clemency from prison sentences and agreeing to conform to any further court order.

Each soldier was examined before and after the whipping by Dr. Howard A. Dishongh, county coroner. Dr. Dishongh testified they suffered no permanent injury.

When the trio pleaded guilty May 20 to thefts of money and merchandise from eight business establishments here, the court asked them if they thought whippings would be suitable punishment and, they testified yesterday, they agreed.
Click to enlarge
Ray Hayes, acting chief deputy sheriff, applied the strap in the presence of sheriff Gus Caple and representatives of the prosecutor's office, the probation officer and other officials.

After the whippings, the court suspended three year prison sentences each against the soldiers and ordered them turned over to military authorities. The court ruled that they were on probation for three years.

"It was fair enough, and we had it coming," one of them commented after the whippings. I thought he (Hayes) would never get through. We feel we have been given a break in escaping prison terms."
Country files: Judicial CP in USA