Milwaukee Sentinel, Wisconsin, 2 March 1938
Wife Beater Recovering From Lash
20 Strokes of Whip Administered in Baltimore Jail
By A.F. McCullough
International News Service Staff Correspondent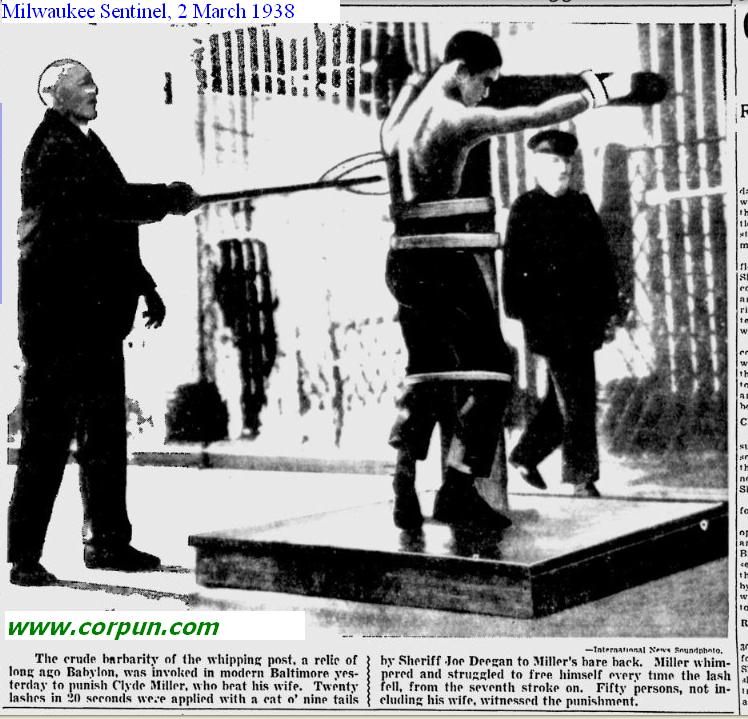 BALTIMORE, March 1. -- Clyde Miller, 37, tossed restlessly in city jail hospital tonight, his back a welter of bruises as a result of the law's "eye-for-an-eye" punishment -- 20 lashes of a whip for brutally beating his wife.
The printer, who whimpered and sobbed as he was flogged and finally collapsed after the last lash of the cat-o'-nine-tails, had recovered enough to take nourishment tonight, Dr. Thomas White, prison physician, said. But he was still in considerable pain from his whipping.
Manacled to the city's century-old whipping post, Miller was punished in the city jail under a code that dates back beyond the Mosaic law to the days of ancient prehistoric Babylon. He had beaten the face of his wife, Mrs. Elizabeth Miller, 33, to a pulp, and had blackened both her eyes. The law said he must suffer pain, too.
A lash a second.
The strong right arm of the law which inflicted the punishment on Miller's quivering back was Joe Deegan's, the city's 6-foot sheriff. He laid on the cat-o'-nine-tails at the rate of a lash a second in the presence of newspaper reporters and sheriff's witnesses, 50 or 60 men.
Miller's wife was not there to see her husband cringe and hear him cry out and sob as each stroke after the seventh descended. She had asked permission to be present but it was refused.
Mrs. Miller sat in an automobile in front of the jail while her husband was being flogged. As witnesses emerged she asked for a description of the beating. She said: "I'd like to give him a couple more lashes."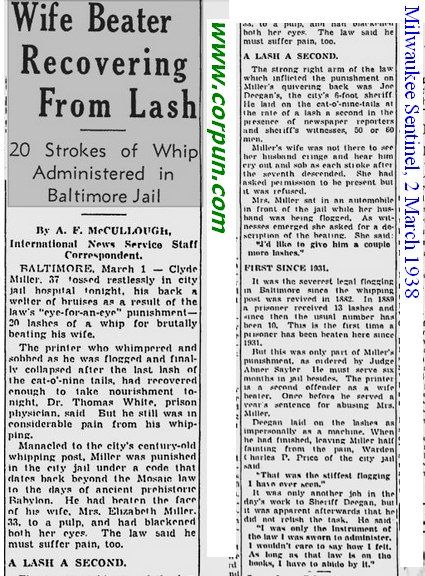 Click to enlarge
First since 1931.
It was the severest legal flogging in Baltimore since the whipping post was revived in 1882. In 1889 a prisoner received 13 lashes and since then the usual number has been 10. This is the first time a prisoner has been beaten here since 1931.
But this was only part of Miller's punishment, as ordered by Judge Abner Sayler. He must serve six months in jail besides. The printer is a second offender as a wife beater. Once before he served a year's sentence for abusing Mrs. Miller.
Deegan laid on the lashes as impersonally as a machine. When he had finished, leaving Miller half fainting from the pain, Warden Charles P. Price of the city jail said "That was the stiffest flogging I have ever seen."
It was only another job in the day's work to Sheriff Deegan, but it was apparent afterwards that he did not relish the task. He said "I was only the instrument of the law I was sworn to administer. I wouldn't care to say how I felt. As long as that law is on the books, I have to abide by it."