The New York Times, 19 July 1901
Girl Whipped in Court.
Mother Lays on Lash to Save Culprit from a Jail Sentence.
Special to The New York Times.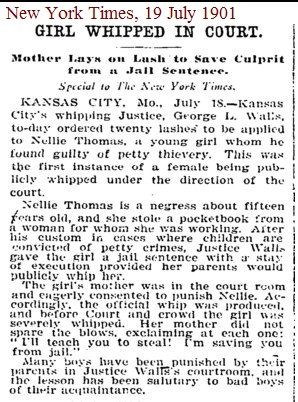 Click to enlarge
KANSAS CITY, Mo., July 18. -- Kansas City's whipping justice, George L. Walls, to-day ordered twenty lashes to be applied to Nellie Thomas, a young girl whom he found guilty of petty thievery. This was the first instance of a female being publicly whipped under the discretion of the court.
Nellie Thomas is a negress about fifteen years old, and she stole a pocketbook from a women for whom she was working. After his custom in cases where children are convicted of petty crimes, Justice Walls gave the girl a jail sentence with a stay of execution provided her parents would publicly whip her.
The girl's mother was in the court room and eagerly consented to punish Nellie. Accordingly, the official whip was produced, and before Court and crowd the girl was severely whipped. Her mother did not spare the blows, exclaiming at each one: "I'll teach you to steal! I'm saving you from jail."
Many boys have been punished by their parents in Justice Walls's courtroom, and the lesson has been salutary to bad boys of their acquaintance.
Country files: Judicial CP in USA