Corpun file 24220 at www.corpun.com
Denton Record Chronicle, Texas, 7 August 1935, p.1
Four women stripped and spanked by striking garment workers at Dallas plants
Four Policemen and Two Women Hurt As Rioting Breaks Out Again With Merchants On Hand to Buy Merchandise.
(extract)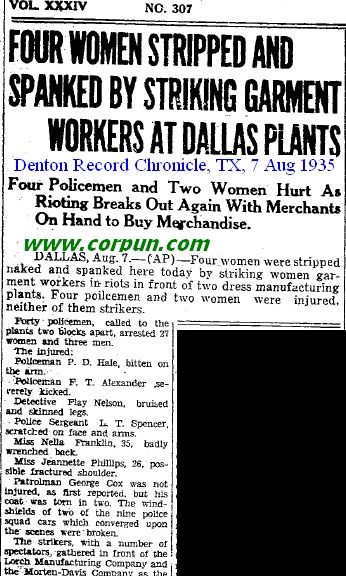 Click to enlarge
DALLAS, Aug. 7. -- (AP) -- Four women were stripped naked and spanked here today by striking women garment workers in riots in front of two dress manufacturing plants. Four policemen and two women were injured, neither of them strikers.

Forty policemen, called to the plants two blocks apart, arrested 37 women and three men.

The injured:

Policeman P.D. Hale, bitten on the arm.
Policeman F.T. Alexander, severely kicked.
Detective Flay Nelson, bruised and skinned legs.
Police Sergeant L.T. Spencer, scratched on face and arms.
Miss Nella Franklin, 35, badly wrenched back.
Miss Jeannette Phillips, 26, possible fractured shoulder.

Patrolman George Cox was not injured, as first reported, but his coat was torn in two. The wind-shields of two of the nine police squad cars which converged upon the scene were broken.

The strikers, with a number of spectators, gathered in front of the Lorch Manufacturing Company and the Morten-Davis Company as the women workers arrived for the day. As each appeared someone would shout:

"There's one of them -- gang 'em!"

Each time the strikers surged forward.

Police, who had arrived by that time, succeeded in rushing the stripped and injured women into the Lorch Manufacturing Company.
Click to enlarge
Strike Six Months Old
The strike began six months ago. The women, who walked out of all 13 dress manufacturing plants here, demanded higher wages, shorter hours and union recognition.
The first month or so there were several minor riots, and fights, staged as the women who refused to strike and who took the strikers' places arrived for work. Each plant has been picketed most of the time since the strike, and in addition, Dallas stores selling clothing manufactured by the thirteen plants have been picketed as "unfair."
[...]