Toledo Blade, Ohio, USA, 30 January 1995, p.2
U.N. raps British knuckles for treatment of debtors, canings
By Peter Benesh
Block News Alliance
(extract)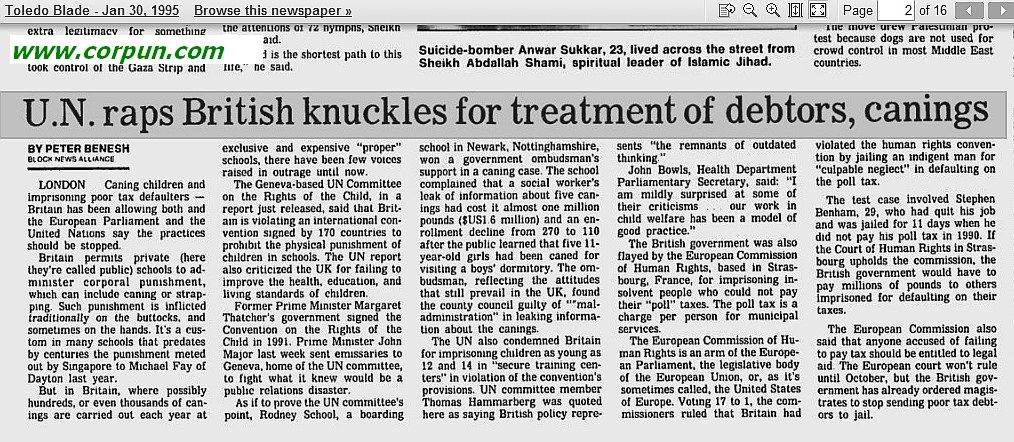 Click to enlarge
LONDON -- Caning children and imprisoning poor tax defaulters -- Britain has been allowing both and the European Parliament and the United Nations say the practices should be stopped.

Britain permits private (here they're called public) schools to administer corporal punishment, which can include caning or strapping. Such punishment is inflicted traditionally on the buttocks, and sometimes on the hands. It's a custom in many schools that predates by centuries the punishment meted out by Singapore to Michael Fay of Dayton last year.
But in Britain, where possibly hundreds, or even thousands of canings are carried out each year at exclusive and expensive "proper" schools, there have been few voices raised in outrage until now.

The Geneva-based UN Committee on the Rights of the Child, in a report just released, said that Britain is violating an international convention signed by 170 countries to prohibit the physical punishment of children in schools. [Note by C.F.: Actually the convention says no such thing: it doesn't even mention CP.] The UN report also criticized the UK for failing to improve the health, education, and living standards of children.

Former Prime Minister Margaret Thatcher's government signed the Convention on the Rights of the Child in 1991. Prime Minister John Major last week sent emissaries to Geneva, home of the UN committee, to fight what it knew would be a public relations disaster.

As if to prove the UN committee's point, Rodney School, a boarding school in Newark, Nottinghamshire, won a government ombudsman's support in a caning case. The school complained that a social worker's leak of information about five canings had cost it almost one million pounds ($US1.6 million) and an enrollment decline from 270 to 110 after the public learned that five 11year-old girls had been caned for visiting a boys' dormitory. The ombudsman, reflecting the attitudes that still prevail in the UK, found the county council guilty of "maladministration" in leaking information about the canings.

The UN also condemned Britain for imprisoning children as young as 12 and 14 in "secure training centers" in violation of the convention's provisions. UN committee member Thomas Hammarberg was quoted here as saying British policy represents "the remnants of outdated thinking."

John Bowls, Health Department Parliamentary Secretary, said: "I am mildly surprised at some of their criticisms ... our work in child welfare has been a model of good practice."

The British government was also flayed by the European Commission of Human Rights, based in Strasbourg, France, for imprisoning insolvent people who could not pay their "poll" taxes. The poll tax is a charge per person for municipal services.
[...]
Article: School corporal punishment in Britain
Other external links: UK school CP
Archive 1976 to 1995: United Kingdom