Evening Standard, London, 16 October 1978
Standard focus on discipline in the capital's schools
Ton-up schools top of the form in caning
By Sue Reid
The cane is dealt out in two Islington comprehensives at least 100 times year, a corporal punishment survey has revealed.
The comprehensives -- St William of York and Highbury Grove -- come top of the controversial caning league table drawn up by the Islington branch of the Campaign for the Advancement of Secondary Education.
At 1300-pupil Highbury Grove, the cane is used "three or four times a week," according to headmaster Laurie Norcross.
And at the smaller St William of York school, with 600 boys, there are 100 cases of corporal punishment each year.
These figures compare with just five caning incidents at the mixed-pupil Islington Green comprehensive last year, and none at the Central Foundation boys' school or Tollington Park mixed comprehensive.
Bullying
Today, the two heads with the highest caning figures defended their corporal punishment policies. Mr Norcross said: "We use the cane for cases of bullying and thuggery.
"Insolence towards less-experienced members of staff is punished by caning and offences against other pupils are punished in the same way.
"Many of the boys caned are the types who become football terrace hooligans on Saturdays. We have to deal with them five days a week."
Annoyed
Peter Martin, head of the Roman Catholic St William of York, said: "We find we are caning the same group of hardened characters. It is used as a deterrent against bullying, abuse of other pupils, fighting in class and smoking."
Mr Martin hit out at plans by the Inner London Education Authority Labour group to abolish corporal punishment in all secondary schools.
"I will be very annoyed if they take this deterrent away from us," he said. "Do they want us to suspend children instead?"
The CASE survey shows that St Aloysius College, Highgate, deals out the cane "once a month." But the other comprehensives in the nine-school survey were reluctant to reveal their caning figures.
Archway School says it is used -- "but infrequently." And both Conway and St Philip Magnus comprehensives refused to disclose any corporal punishment facts and figures.
A 50-school caning survey has just been finished by ILEA. This shows less than half handed out "six of the best" in the past year.
But at one school there were more than 90 canings for every 100 boys in the school. And a few comprehensives used corporal punishment 300 times.
---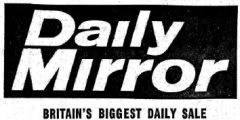 Daily Mirror, London, 18 October 1978
Gymslip caning shocker
By Charles Lyte
GIRLS are regularly caned at some secondary schools, a shock report revealed yesterday. At one Church school in London there is an average of one girl caned every day.
Twenty-six girls at the school were caned three or more times last year, according to a survey by the Inner London Education Authority.
But the cane was brought out even more often in London boys' schools.
One headmaster admitted that there were 485 whackings in his school last year.
The Campaign for the Advancement of Secondary Education claims that the cane is used three or four times a week at Highbury Grove comprehensive -- where Tory education spokesman Dr Rhodes Boyson was once headmaster.
According to the present head, Laurie Norcross, the boys who get the cane are "the types who become football hooligans."
Yesterday, the Society of Teachers Opposed to Physical Punishment demanded an inquiry into canings at Inner London schools.
The society said: "Research indicates that where corporal punishment is used, it is certainly not a last resort."
The use of the strap in Scottish schools is being investigated by the European Commission of Human Rights following protests by two mothers.
---
Evening Standard, London, 20 October 1978
Top London caning school is named
By Sue Reid
THE LONDON school which metes out the cane to a girl pupil every day of term is Bacon's Church of England comprehensive in Rotherhithe.
The 1000-pupil dockland school came out top of a controversial caning survey drawn up by the Inner London Education Authority -- but its name has been kept secret.
Now the Evening Standard has uncovered its identity. And London's anti-caning lobby is demanding a full inquiry into the "disturbing state of affairs" at the school.
Bacon's school, with the motto Gloria in Excelsis Deo (Glory to God in the Highest), is also earmarked in the survey as the "top caner" of boys. It uses the cane on boys between 400 and 500 times a year -- two or three times every school day.
A total of 204 corporal punishment incidents on girls were recorded at Bacon's in one school year. A fifth of the girl pupils got the cane -- and 26 received it three or more times.
Loophole
The ILEA corporal punishment rule book says girls should be caned on the hand. But the survey uncovered a loophole showing the rules could be interpreted to allow girls to be caned on the bottom.
The head of Bacon's, Wilfred Ing, today refused to say how his pupils were caned. "Any information is a confidential matter between the home and the school," he said.
---
Evening Standard, London, 30 October 1978
Girl who's afraid of going to school
By Sue Reid
Click to enlarge
TEENAGER Sue Olds will not go back to Bacon's comprehensive in London's dockland -- because a caning is waiting for her.
Fourteen-year-old Sue faces a dose of the cane before she is allowed back into class at the 1000-pupil Church of England school -- revealed recently as a "top-caning" comprehensive.
And today after three weeks suspension for truancy she says: "I cannot go back there. I have been warned I will be caned and I cannot stand it again."
"I want to go to another school. They have caned me six or seven times at Bacon's -- once in front of some boys -- and every time I get ill."
Bacon's came out top of a survey on caning by the Inner London Education Authority. It showed the school caned a pupil once every two hours.
More than 200 caning incidents on girls were recorded -- and 26 received it three or more times.
Sue confirmed today there was regular caning at the school -- on boys and girls. "One girl has been caned every day. When I have been caned my hands and thumbs have been badly bruised. I nearly always cry."
"I refused and now I have been suspended."
Her mother, Barbara, plans to appeal to the ILEA to find another school for Sue. "These children are being caned for petty things. My daughter is good at her lessons and caning should be kept for serious offences like stealing."
An ILEA spokesman said today that corporal punishment was a "confidential matter between the school and the home," an ILEA spokesman said today.[sic] He confirmed Sue's mother was due to meet officials to discuss a new school.