Daily Express, London, 26 October 1974
Ouch! Charles looks back on a sore point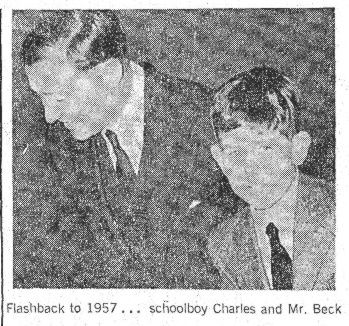 PRINCE CHARLES finally came clean yesterday over a couple of rather sore points -- two beatings for "ragging" at his old preparatory school.
The painful memories were brought out of hiding by a chance meeting in a Tasmanian forest.
The Prince, on a tour of Australia, was speaking to journalists when one, Philip Beck, said he remembered him from his days at Cheam School.
"How extraordinary," mused the Prince -- then the penny dropped: Mr. Beck's father was his old head master.
Fighting
Then the Prince added: "I remember him well. He caned me twice for ragging -- this other boy and I were always fighting.

Click to enlarge
More than 12,000 miles away retired head master Mr. Peter Beck was reluctant to discuss the incident.
At home on the Mull of Kintyre, Scotland, 65-year-old Mr. Beck said:--
"What happened was a very personal and private matter. Prince Charles was caned for ragging but I do not wish to discuss the details."
---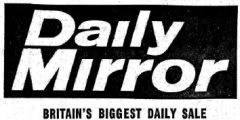 Daily Mirror, London, 26 October 1974
Why I was caned at school -- by Charles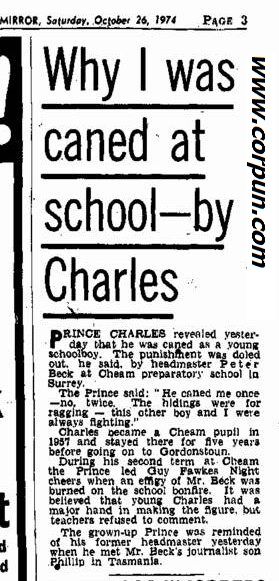 Click to enlarge
PRINCE CHARLES revealed yesterday that he was caned as a young schoolboy. The punishment was doled out, he said, by headmaster Peter Beck at Cheam preparatory school in Surrey.
The Prince said: "He caned me once -- no, twice. The hidings were for ragging -- this other boy and I were always fighting."
Charles became a Cheam pupil in 1957 and stayed there for five years before going on to Gordonstoun.
During his second term at Cheam the Prince led Guy Fawkes Night cheers when an effigy of Mr. Beck was burned on the school bonfire. It was believed that young Charles had a major hand in making the figure, but teachers refused to comment.
The grown-up Prince was reminded of his former headmaster yesterday when he met Mr. Beck's journalist son Phillip in Tasmania.
---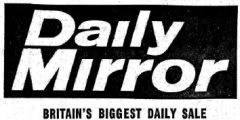 Daily Mirror, London, 28 October 1974
Inside
Beating time
By William Wolff
Click to enlarge
MICHAEL WHEELER still canes the boys at Cheam, Prince Charles' old school near Newbury in Berkshire.
"We have not gone soft," he told Inside.
Wheeler followed Peter Beck as headmaster of the school.
And Beck, as Charles revealed at the weekend, twice caned him for "ragging" -- fighting with another boy in his dormitory.
That offence, said Wheeler, no longer rates the cane under his more lenient hand. Only the slipper.
"The cane is now used so rarely that I cannot even remember when the last boy was caned," he added.
He gave an example of the sort of heinous offence for which he still beats boys: "If a boy crept downstairs and took half the next day's breakfast, I'd whack him pretty hard."