The Times, London, 18 October 1973
The Times Diary
Beating their privileged bottoms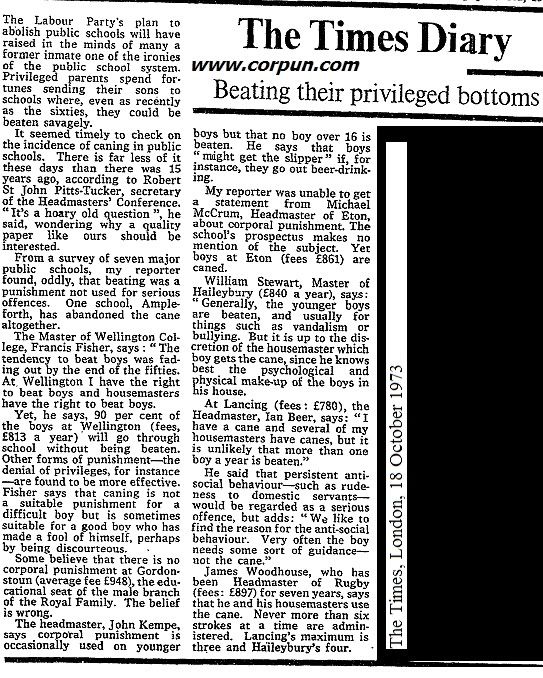 The Labour Party's plan to abolish public schools will have raised in the minds of many a former inmate one of the ironies of the public school system. Privileged parents spend fortunes sending their sons to schools where, even as recently as the sixties, they could be beaten savagely.
It seemed timely to check on the incidence of caning in public schools. There is far less of it these days than there was 15 years ago, according to Robert St John Pitts-Tucker, secretary of the Headmasters' Conference. "It's a hoary old question", he said, wondering why a quality paper like ours should be interested.
From a survey of seven major public schools, my reporter found, oddly, that beating was a punishment not used for serious offences. One school, Ampleforth, has abandoned the cane altogether.
The Master of Wellington College, Francis Fisher, says: "The tendency to beat boys was fading out by the end of the fifties. At Wellington I have the right to beat boys and housemasters have the right to beat boys.
Yet, he says, 90 per cent of the boys at Wellington (fees, £813 a year) will go through school without being beaten. Other forms of punishment -- the denial of privileges, for instance -- are found to be more effective. Fisher says that caning is not a suitable punishment for a difficult boy but is sometimes suitable for a good boy who has made a fool of himself, perhaps by being discourteous.
Some believe that there is no corporal punishment at Gordonstoun (average fee £948), the educational seat of the male branch of the Royal Family. The belief is wrong.
The headmaster, John Kempe, says corporal punishment is occasionally used on younger boys but that no boy over 16 is beaten. He says that boys "might get the slipper" if, for instance, they go out beer-drinking.
My reporter was unable to get a statement from Michael McCrum, Headmaster of Eton, about corporal punishment. The school's prospectus makes no mention of the subject. Yet boys at Eton (fees £861) are caned.
William Stewart, Master of Haileybury (£840 a year), say: "Generally, the younger boys are beaten, and usually for things such as vandalism or bullying. But it is up to the discretion of the housemaster which boy gets the cane, since he knows best the psychological and physical make-up of the boys in his house.
At Lancing (fees: £780), the Headmaster, Ian Beer, says: "I have a cane and several of my housemasters have canes, but it is unlikely that more than one boy a year is beaten."
He said that persistent anti-social behaviour -- such as rudeness to domestic servants -- would be regarded as a serious offence, but adds: "We like to find the reason for the anti-social behaviour. Very often the boy needs some sort of guidance -- not the cane."
James Woodhouse, who has been Headmaster of Rugby (fees: £897) for seven years, says that he and his housemasters use the cane. Never more than six strokes at a time are administered. Lancing's maximum is three and Haileybury's four.