Times Educational Supplement, London, 15 August 1969
Teacher's smack 'within bounds of reasonableness'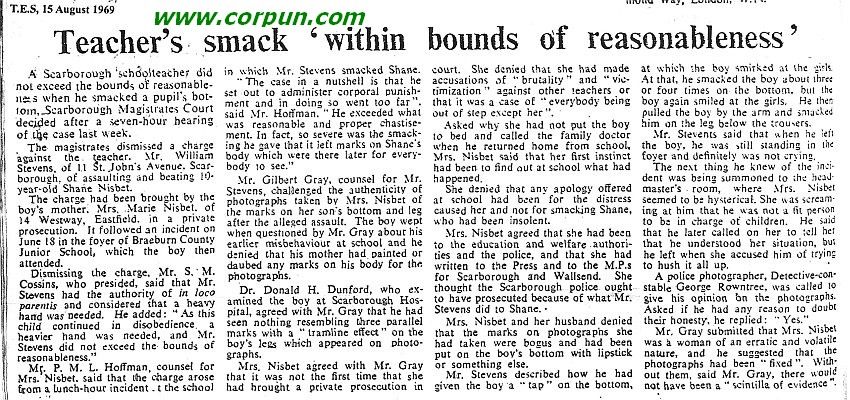 Click to enlarge
A Scarborough schoolteacher did not exceed the bounds of reasonableness when he smacked a pupil's bottom, Scarborough Magistrates Court decided after a seven-hour hearing of the case last week.
The magistrates dismissed a charge against the teacher, Mr. William Stevens, of 11 St. John's Avenue, Scarborough, of assaulting and beating 10-year-old Shane Nisbet.
The charge had been brought by the boy's mother, Mrs. Marie Nisbet, of 14 Westway, Eastfield, in a private prosecution. It followed an incident on June 18 in the foyer of Braeburn County Junior School, which the boy then attended.
Dismissing the charge, Mr. S.M. Cossins, who presided, said that Mr. Stevens had the authority of in loco parentis and considered that a heavy hand was needed. He added: "As this child continued in disobedience, a heavier hand was needed, and Mr. Stevens did not exceed the bounds of reasonableness."
Mr. P.M.L. Hoffman, counsel for Mrs. Nisbet, said that the charge arose from a lunch-hour incident at the school in which Mr. Stevens smacked Shane.
"The case in a nutshell is that he set out to administer corporal punishment and in doing so went too far", said Mr. Hoffman. He exceeded what was reasonable and proper chastisement. In fact, so severe was the smacking he gave that it left marks on Shane's body which were there later for everybody to see."
Mr. Gilbert Gray, counsel for Mr. Stevens, challenged the authenticity of photographs taken by Mrs. Nisbet of her son's bottom and leg after the alleged assault. The boy wept when questioned by Mr. Gray about his earlier misbehaviour at school and he denied that his mother had painted or daubed any marks on his body for the photographs.
Dr. Donald H. Dunford, who examined the boy at Scarborough Hospital, agreed with Mr. Gray that he had seen nothing resembling three parallel marks with a "tramline effect" on the boy's legs which appeared on photographs.
Mrs. Nisbet agreed with Mr. Gray that it was not the first time that she had brought a private prosecution in court. She denied that she had made accusations of "brutality" and "victimization" against other teachers or that it was a case of "everybody being out of step except her".
Asked why she had not put the boy to bed and called the family doctor when he returned home from school, Mrs. Nisbet said that her first instinct had been to find out at school what had happened.
She denied that any apology offered at school had been for the distress caused her and not for smacking Shane, who had been insolent.
Mrs. Nisbet agreed that she had been to the education and welfare authorities and the police, and that she had written to the Press and to the M.P.s for Scarborough and Wallsend. She thought the Scarborough police ought to have prosecuted because of what Mr. Stevens did to Shane.
Mrs. Nisbet and her husband denied that the marks on photographs she had taken were bogus and had been put on the boy's bottom with lipstick or something else.
Mr. Stevens described how he had given the boy a "tap" on the bottom, at which the boy smirked at the girls. At that, he smacked the boy about three or four times on the bottom, but the boy again smiled at the girls. He then pulled the boy by the arm and smacked him on the leg below the trousers.
Mr. Stevens said that when he left the boy, he was still standing in the foyer and definitely was not crying.
The next thing he knew of the incident was being summoned to the headmaster's room, where Mrs. Nisbet seemed to be hysterical. She was screaming at him that he was not a fit person to be in charge of children. He said that he later called on her to tell her that he understood her situation, but he left when she accused him of trying to hush it all up.
A police photographer, Detective-constable George Rowntree, was called to give his opinion on the photographs. Asked if he had any reason to doubt their honesty, he replied: "Yes."
Mr. Gray submitted that Mrs. Nisbet was a woman of an erratic and volatile nature, and he suggested that the photographs had been "fixed". Without them, said Mr. Gray, there would not have been a "scintilla of evidence".