Times Educational Supplement, London, 14 February 1969
Rods in young hands
By Sara Payne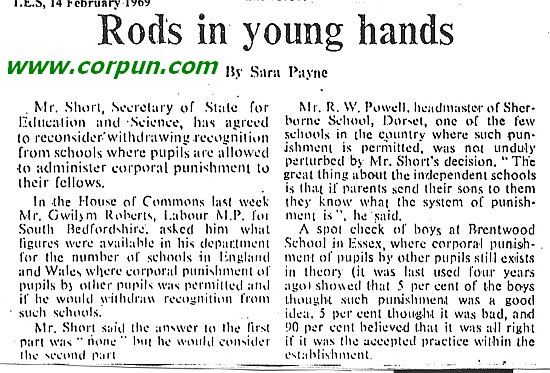 Click to enlarge
Mr. Short, Secretary of State for Education and Science, has agreed to reconsider withdrawing recognition from schools where pupils are allowed to administer corporal punishment to their fellows.
In the House of Commons last week Mr. Gwilym Roberts, Labour M.P. for South Bedfordshire, asked him what figures were available in his department for the number of schools in England and Wales where corporal punishment of pupils by other pupils was permitted and if he would withdraw recognition from such schools.
Mr. Short said the answer to the first part was "none" but he would consider the second part.
Mr. R.W. Powell, headmaster of Sherborne School, Dorset, one of the few schools in the country where such punishment is permitted, was not unduly perturbed by Mr. Short's decision. "The great thing about the independent schools is that if parents send their sons to them they know what the system of punishment is", he said.
A spot check of boys at Brentwood School in Essex, where corporal punishment of pupils by other pupils still exists in theory (it was last used four years ago) showed that 5 per cent of the boys thought such punishment was a good idea, 5 per cent though it was bad, and 90 per cent believed it was all right if it was the accepted practice within the establishment.
Article: School corporal punishment in Britain
Other external links: UK school CP