Corpun file 20963 at www.corpun.com
The Times, London, 4 June 1968, p.3
Heads defend right to cane
(extract)
From our Education Correspondent -- Plymouth, June 3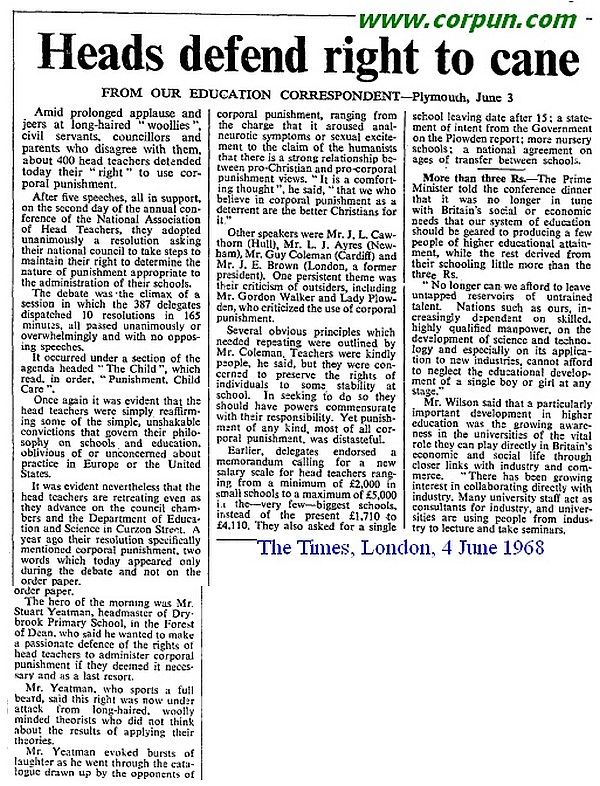 Click to enlarge
Amid prolonged applause and jeers at long-haired "woollies", civil servants, councillors and parents who disagree with them, about 400 head teacher defended today their "right" to use corporal punishment.
After five speeches, all in support, on the second day of the annual conference of the National Association of Head Teachers, they adopted unanimously a resolution asking their national council to take steps to maintain their right to determine the nature of punishment appropriate to the administration of their schools.
The debate was the climax of a session in which the 387 delegates dispatched 10 resolutions in 165 minutes, all passed unanimously or overwhelmingly and with no opposing speeches.
It occurred under a section of the agenda headed "The Child", which read, in order, "Punishment, Child Care".
Once again it was evident that the head teachers were simply reaffirming some of the simple, unshakable convictions that govern their philosophy on schools and education, oblivious of or unconcerned about practice in Europe or the United States.
It was evident nevertheless that the head teachers are retreating even as they advance on the council chambers and the Department of Education and Science in Curzon Street. A year ago their resolution specifically mentioned corporal punishment, two words which today appeared only during the debate and not on the order paper.
The hero of the morning was Mr. Stuart Yeatman, headmaster of Drybrook Primary School, in the Forest of Dean, who said he wanted to make a passionate defence of the right of head teachers to administer corporal punishment if they deemed it necessary and as a last resort.
Mr. Yeatman, who sports a full beard, said this right was now under attack from long-haired, woolly minded theorists who did not think about the results of applying their theories.
Mr. Yeatman evoked bursts of laughter as he went through the catalogue drawn up by the opponents of corporal punishment, ranging from the charge that it aroused anal-neurotic symptoms or sexual excitement to the claim of the humanists that there is a strong relationship between pro-Christian and pro-corporal punishment views. "It is a comforting thought", he said, "that we who believe in corporal punishment as a deterrent are the better Christians for it."
Other speakers were Mr. J.L. Cawthorn (Hull), Mr. L.J. Ayres (Newham), Mr. Guy Coleman (Cardiff) and Mr. J.E. Brown (London, a former president). One persistent theme was their criticism of outsiders, including Mr. Gordon Walker and Lady Plowden, who criticized the use of corporal punishment.
Several obvious principles which needed repeating were outlined by Mr. Coleman. Teachers were kindly people, be said, but they were concerned to preserve the rights of individuals to some stability at school. In seeking to do so they should have powers commensurate with their responsibility. Yet punishment of any kind, most of all corporal punishment, was distasteful.
[...]