The Times, London, 15 February 1968, p.2
Teachers plan to call in police
Alternative to cane
From our South Wales Correspondent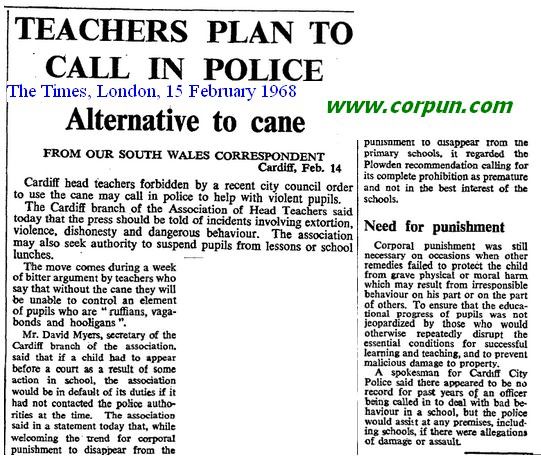 Click to enlarge
Cardiff, Feb. 14
Cardiff head teachers forbidden by a recent city council order to use the cane may call in police to help with violent pupils.
The Cardiff branch of the Association of Head Teachers said today that the press should be told of incidents involving extortion, violence, dishonesty and dangerous behaviour. The association may also seek authority to suspend pupils from lessons or school lunches.
The move comes during a week of bitter argument by teachers who say that without the cane they will be unable to control an element of pupils who are "ruffians, vagabonds and hooligans".
Mr. David Myers, secretary of the Cardiff branch of the association, said that if a child had to appear before a court as a result of some action in school, the association would be in default of its duties if it had not contacted the police authorities at the time. The association said in a statement today that, while welcoming the trend for corporal punishment to disappear from the primary schools, it regarded the Plowden recommendation calling for its complete prohibition as premature and not in the best interest of the schools.
Need for punishment
Corporal punishment was still necessary on occasions when other remedies failed to protect the child from grave physical or moral harm which may result from irresponsible behaviour on his part or on the part of others. To ensure that the educational progress of pupils was not jeopardized by those who would otherwise repeatedly disrupt the essential conditions for successful learning and teaching, and to prevent malicious damage to property.
A spokesman for Cardiff City Police said there appeared to be no record for past years of an officer being called in to deal with bad behaviour in a school, but the police would assist at any premises, including schools, if there were allegations of damage or assault.
---
Follow-up: 1 March 1968 - Cardiff may drop no-cane rule
Illustrated article: UK school CP
Other external links: UK school CP