The Times, London, 22 December 1966
Administrative view of the tawse
Click to enlarge
School teachers in Walsall, Staffordshire are to be asked to give their views on the use of the tawse as a method of corporal punishment in primary and secondary schools in the borough.

This follows criticism of the practice at a meeting of the town's finance and general purposes subcommittee of the education committee, when Councillor Cyril Andrew asked for the "vicious article" to be withdrawn. The tawse -- an 18-inch thonged leather strap -- is standard issue to schools in the borough for children from the age of five.

"I am a strong believer in discipline and an advocate of corporal punishment in the proper place, but when it comes to using something like a miniature cat o'-nine-tails on children aged five plus, it's about time something was done about it", Mr. Andrew said.

Dr. T. Ross, Walsall medical officer of health for schools, yesterday described the tawse as "a pretty harmless weapon that makes far more noise than it inflicts pain".

The council's school governors and management committee has been asked to prepare a report after testing the opinion of teachers throughout the borough.
---
The Times, London, 30 December 1966
Tawse questions for teachers
From our Correspondent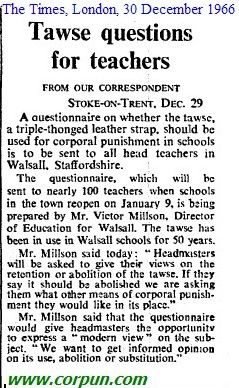 Click to enlarge
Stoke-on-Trent, Dec. 29
A questionnaire on whether the tawse, a triple-thonged leather strap, should be used for corporal punishment in schools is to be sent to all head teachers in Walsall, Staffordshire.
The questionnaire, which will be sent to nearly 100 teachers when schools in the town reopen on January 9, is being prepared by Mr. Victor Millson, Director of Education for Walsall. The tawse has been in use in Walsall schools for 50 years.
Mr. Millson said today: "Headmasters will be asked to give their views on the retention or abolition of the tawse. If they say it should be abolished we are asking them what other means of corporal punishment they would like in its place."
Mr. Millson said that the questionnaire would give headmasters the opportunity to express a "modern view" on the subject. "We want to get informed opinion on its use, abolition or substitution."
Other external links: UK school CP