The Times, London, 23 August 1966
Cleared of assault after caning boy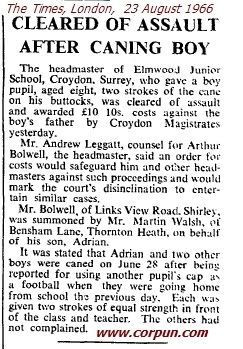 The headmaster of Elmwood Junior School, Croydon, Surrey, who gave a boy pupil, aged eight, two strokes of the cane on his buttocks, was cleared of assault and awarded £10 10s. costs against the boy's father by Croydon Magistrates yesterday.
Mr. Andrew Leggatt, counsel for Arthur Bolwell, the headmaster, said an order for costs would safeguard him and other headmasters against such proceedings and would mark the court's disinclination to entertain similar cases.
Mr. Bolwell, of Links View Road, Shirley, was summoned by Mr. Martin Walsh, of Bensham Lane, Thornton Heath, on behalf of his son, Adrian.
It was stated that Adrian and two other boys were caned on June 28 after being reported for using another pupil's cap as a football when they were going home from school the previous day. Each was given two strokes of equal strength in front of the class and teacher. The others had not complained.
Other external links: UK school CP
Topics A to Z: School caning in England & Wales