The Times, London, 11 February 1965, p.7
Eton Head's Reply on Punishment
From Our Correspondent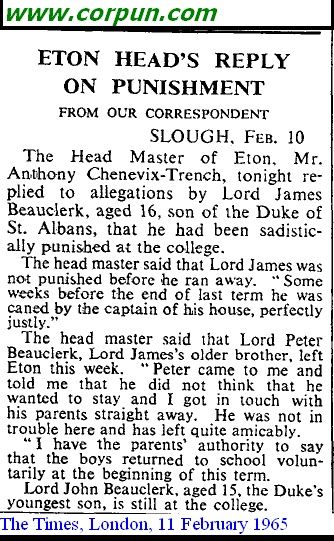 Click to enlarge
SLOUGH, FEB. 10

The Head Master of Eton, Mr. Anthony Chenevix-Trench, tonight replied to allegations by Lord James Beauclerk, aged 16, son of the Duke of St. Albans, that he had been sadistically punished at the college.

The head master said that Lord James was not punished before he ran away. "Some weeks before the end of last term he was caned by the captain of his house, perfectly justly."

The head master said that Lord Peter Beauclerk, Lord James's older brother, left Eton this week. "Peter came to me and told me that he did not think that he wanted to stay and I got in touch with his parents straight away. He was not in trouble here and has left quite amicably.

"I have the parents' authority to say that the boys returned to school voluntarily at the beginning of this term.

Lord John Beauclerk, aged 15, the Duke's youngest son, is still at the college.
---
---
Daily Mail, London, 20 February 1965
The boys at Blundell's saw screen striptease
Whack! That's for watching Sophia
By Daily Mail Reporter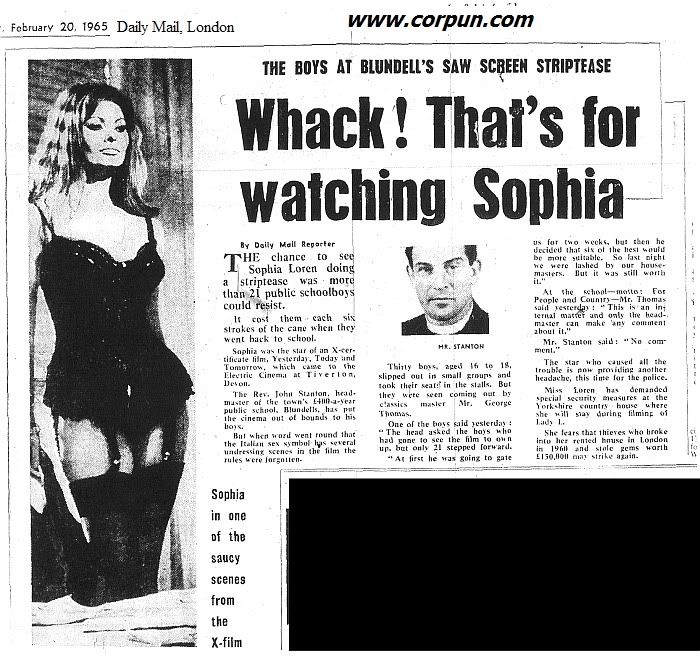 Click to enlarge
THE chance to see Sophia Loren doing a striptease was more than 21 public schoolboys could resist.
It cost them each six strokes of the cane when they went back to school.
Sophia was the star of an X-certificate film, Yesterday, Today and Tomorrow, which came to the Electric Cinema at Tiverton, Devon.
The Rev. John Stanton, headmaster of the town's £400-a-year public school, Blundells, has put the cinema out of bounds to his boys.
But when word went round that the Italian sex symbol has several undressing scenes in the film the rules were forgotten.
Thirty boys, aged 16 to 18, slipped out in small groups and took their seats in the stalls. But they were seen coming out by classics master Mr. George Thomas.
One of the boys said yesterday: "The head asked the boys who had gone to see the film to own up, but only 21 stepped forward.
"At first he was going to gate us for two weeks, but then he decided that six of the best would be more suitable. So last night we were lashed by our housemasters. But it was still worth it."
At the school -- motto: For People and Country -- Mr. Thomas said yesterday: "This is an internal matter and only the headmaster can make any comment about it."
Mr. Stanton said: "No comment."
[...]
Illustrated article: UK school CP
Other external links: UK school CP